Nancy Mace's Chances of Beating Trump-Backed Katie Arrington: Polls
Incumbent Republican Representative Nancy Mace is facing off in a South Carolina GOP primary against former state House Representative Katie Arrington, who has been endorsed by former President Donald Trump, on Tuesday—with multiple polls showing the current GOP congresswoman in the lead.
Mace, who supported Trump in 2020, drew the former president's ire after she publicly criticized him in interviews following the events of January 6, 2021, when Trump's supporters attacked the U.S. Capitol. Although the Republican lawmaker declined to vote in favor of impeaching him, she told NBC News after the vote that "more" GOP House members would have likely been on board if the process had not been rushed by Democrats.
On Saturday evening, Trump posted to his Truth Social account to again attack Mace and tout his support for Arrington.
"Don't forget that Katie Arrington, a wonderful person, is running against the terrible Nancy Mace, who really let us down," the former president wrote. "Nancy fights Republicans all the time and is not at all nice about it. Frankly, she is despised by almost everyone, and who needs that in Congress, or in the Republican Party."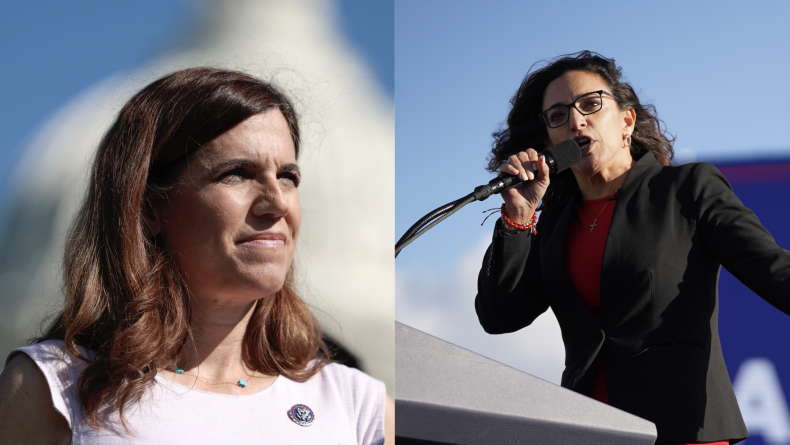 Despite Trump's backing of her Republican challenger, two recent polls showed Mace ahead of Arrington.
A survey carried out by the Trafalgar Group from May 26 to May 29 showed Mace ahead by about six points. The GOP incumbent was supported by 46.4 percent of likely voters compared to 40.5 percent who backed her Trump-endorsed rival. Meanwhile, 13.1 percent of respondents said they remained undecided.
The poll included 556 respondents, and had a margin of error of plus or minus 4.1 percent.
Another recent poll conducted by Basswood Research for Winning for Women Action Fund, which backs Mace, showed a much larger margin of 20 points in favor of the incumbent congresswoman. Arrington only had support from 24 percent of likely voters while Mace was backed by 44 percent. However, an additional 28 percent were undecided.
The survey of 400 respondents had a margin of error of 4.9 percent. It was carried out from May 21 to 22.
Although Mace leads in those polls, multiple smaller straw polls of county GOP members have shown Arrington to be the favorite. A Charleston County Republican Party straw poll on June 6 showed Arrington with 86 percent support compared to Mace's 14 percent. Similarly, a Berkeley County GOP straw poll on June 4 had Arrington at 76.3 percent and Mace at only 17.2 percent.
In February, the Republican incumbent dismissed Trump's opposition. "I'm gonna win without him," Mace said in an interview with The State, and that she would "spend every dime" and "break every record" in order to achieve her goal.
"This district is unique in South Carolina. We march to the beat of our own drum. We respect people that have an independent voice. We respect it when you don't tow the party line 100% of the time," the congresswoman said.