Donald Trump Heads to North Carolina as Legal Troubles Mount
Former President Donald Trump will head to North Carolina on Friday amid mounting legal concerns to attend a rally in support of Republican U.S. Senate candidate and current U.S. Representative Ted Budd.
Budd is in a close race with his Democratic opponent, Cheri Beasley, as the GOP fights to take control of the Senate and President Joe Biden's party appears favored to keep the chamber.
Trump's visit to the state comes during a week where his legal issues have continued to rumble on and speculation has been rife that more problems could arise for the former president.
On Thursday, senior U.S. District Judge Raymond Dearie, who is serving as special master in a case involving an FBI investigation of the handling of White House documents at Mar-a-Lago, asked Trump's legal team to provide any proof they have that the FBI planted materials during their August 8 search of the premises.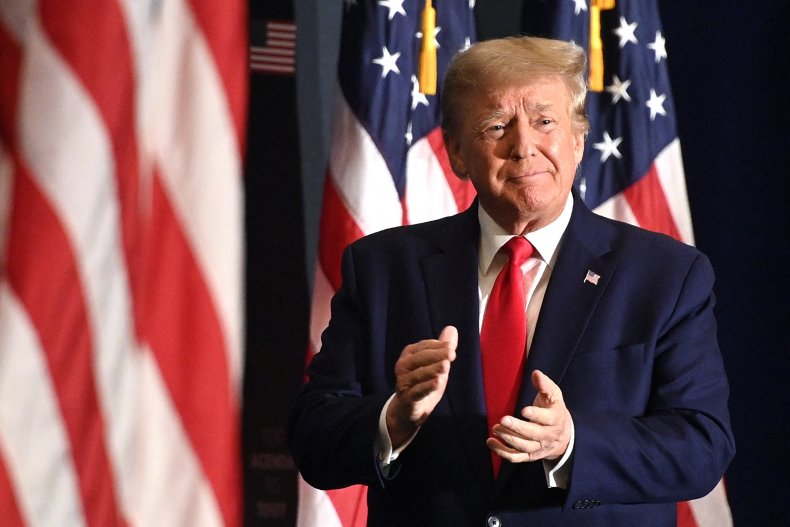 Trump and some of his allies have suggested FBI agents had planted documents but his attorneys have not made that argument in legal filings.
Dearie has instructed Trump's legal team to submit "a declaration or affidavit" that includes "A list of any specific items set forth in the Detailed Property Inventory that Plaintiff asserts were not seized from the Premises on August 8, 2022" by September 30.
Trump's team had sought a special master to review the seized documents and listed Dearie as one of their two choices.
Also on Thursday, a trio of attorneys representing Trump was photographed leaving a federal courthouse in Washington, D.C. They had reportedly been there to represent the former president in a case involving the January 6, 2021 riot at the U.S. Capitol.
That led to some speculation that the former president could be facing indictment, but he has not been charged with any crime. Newsweek reached out to Trump's office for comment about the attorneys' visit to the courthouse.
New York Attorney General Letitia James announced a $250 million civil lawsuit against Trump, the Trump Organization and his children, Donald Trump Jr., Eric Trump and Ivanka Trump on Wednesday. That suit alleges that Trump had inflated his net worth and cheated lenders and others with false and misleading financial statements over a period of 20 years.
He has denied wrongdoing and called James, who is Black, a "racist" in a post on his Truth Social platform on Thursday. Trump has accused James of racism in the past, as well as arguing her investigation is politically motivated.
James said she will be making a criminal referral to federal prosecutors and the IRS.
Trump suffered a legal defeat on Wednesday when a panel of three judges from the U.S. Court of Appeals for the 11th Circuit ruled that the FBI can access around 100 documents bearing classification markings seized in the August 8 raid.
That put on hold a decision by U.S. District Judge Aileen Cannon that had prevented the FBI from reviewing the documents.
Trump will rally for Budd in Wilmington, North Carolina on Friday night and he may bring up some of his recent legal issues in his remarks.
Jonathan Felts, a Budd campaign adviser, welcomed Trump's visit, telling Reuters: "Trump won North Carolina twice, and an in-person rally is helpful," and that the rally could help voter turnout, particularly "with unaffiliated and/or undecided voters concerned about the economy."
Budd, who has been a member of the House of Representatives since 2017, is facing Democrat and former State Supreme Court Chief Justice Cheri Beasley in what is shaping up to be a close race.
Poll tracker FiveThirtyEight rates Budd as slightly favored to win but the most recent polls show how tight the race is. An Emerson College poll conducted from September 15 to 16 showed the Republican ahead by two points, while a Civiqs poll from September 17 to 20 showed the Democrat ahead by one point.