Donald Trump's Nuclear Weapons Treaty Exit Opposed by Most in U.S., Including Republicans
President Donald Trump's decision to withdraw from a key nuclear weapons treaty was opposed by most people in the United States, including fellow members of his Republican Party, a new survey has shown.
The University of Maryland's Program for Public Consultation and Center for International and Security Studies conducted a survey of 1,131 registered voters between January 7 and February 1 in order to determine national views regarding President Donald Trump's withdrawal from the Intermediate-range Nuclear Forces (INF) treaty, signed by the U.S. and the Soviet Union in order to ban the deployment of land-based missiles with ranges between 310 and 3,420 miles. The findings were published Tuesday by the Institute for Public Integrity, a Washington-based investigative journalism hub that consulted on the poll.
The results showed two-thirds of respondents opposed Trump's recent exit from the INF, which both Washington and Moscow have accused one another of violating in recent years, favoring a diplomatic resolution. Up to 55 percent of Republicans were among those who believed pulling out of the treaty was the wrong move, while 77 percent of Democrats believed the same.
"Concerns about Russian cheating, while substantial, were not strong enough to override support for this treaty-based effort to control nuclear arms," Steven Kull, director of Program for Public Consultation, said in a quote carried by the Institute for Public Integrity.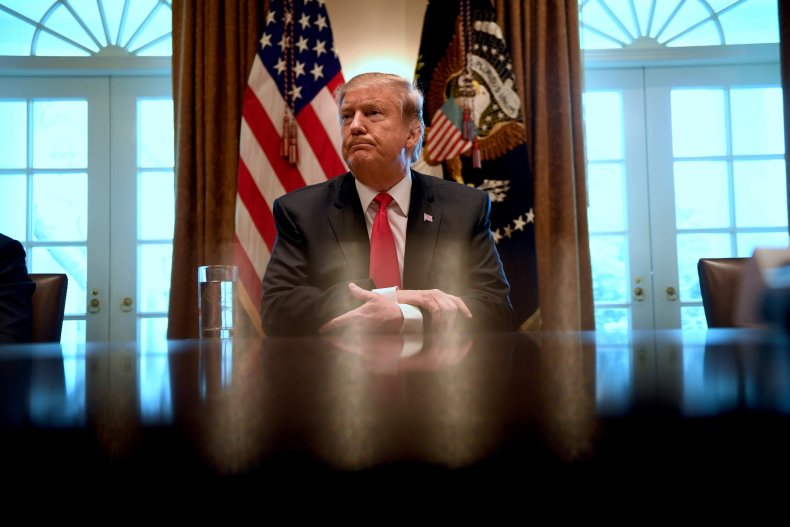 Washington's accusations of Moscow breaking the terms of the INF treaty date back to at least 2014. Following much speculation, it was officially revealed in 2017 that the missile being scrutinized was the Novator 9M729, an update to the existing 9M728 missile launched by the Iskander short-range ballistic missile system that has been deployed more extensively as tensions with the U.S.-led NATO Western military alliance.
Russia has counterclaimed that the U.S. has broken its end of the deal by setting up an advanced missile defense infrastructure on NATO's side of the borders in Eastern Europe, weapons Moscow has claimed could be also used offensively. Russia has also dismissed the accusations that its 9M729 traveled more than 310 miles, arguing it actually was just under 300 miles, or a few miles less than its predecessor, during the missile's public debut last month.
On Friday, Secretary of State Mike Pompeo announced the U.S. would suspend its duties as outlined by the treaty and would fully withdraw in 180 days. Trump then issued a statement affirming the decision, warning he was developing his "own military response options and will work with NATO and our other allies and partners to deny Russia any military advantage from its unlawful conduct."
The stern message came in response to Moscow's threats of countermeasures should the U.S. leave the INF, a move Russian President Vladimir Putin and a number of his top officials have said could destabilize the international arms control regime.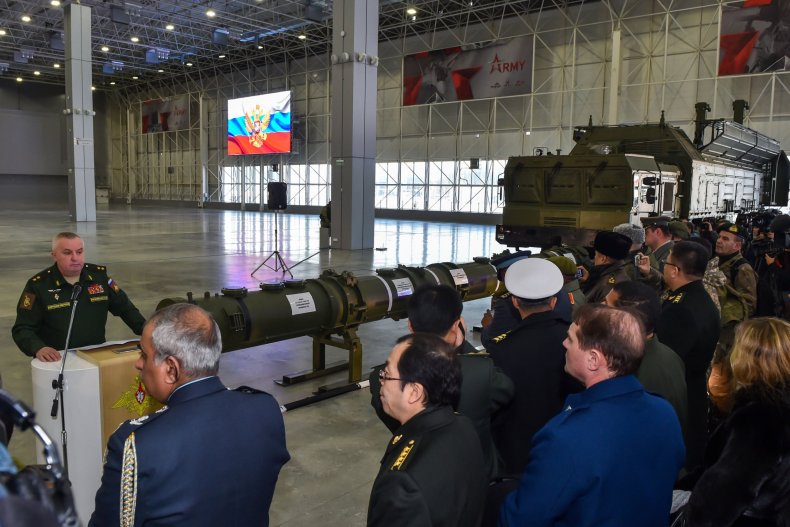 In one of the first blows to post-Cold War arms control efforts, the U.S. pulled out of the 1972 Anti-Ballistic Missile (ABM) treaty in 2002. Putin said during an interview last March with NBC that an "arms race... began at that very moment." One of the lead influencers of that decision was John Bolton, then President George W. Bush's Under Secretary of State for Arms Control and International Security Affairs. Bolton was appointed Trump's national security adviser just weeks after Putin's NBC interview aired.
With the INF facing a similar fate, Russian officials have consistently warned about the prospects of renewing the New Strategic Arms Reduction Treaty (START), signed by former President Barack Obama and Russian President Dmitry Medvedev in 2011. The deal is a follow-up to the expired START established by in 1991 during the final days of the Soviet Union and has led to a major reduction in the number of deployed and non-deployed warheads and launchers possessed by the U.S. and Russia.
Russian Foreign Minister Sergey Lavrov said during a press conference Tuesday that the U.S. exit showed "the basic concepts of the security architecture that was shaped after World War II being undermined, key strategic stability agreements being dismantled," as he accused Washington of failing to provide evidence for its claims. That same day, Russian Defense Minister Sergei Shoigu said Putin has ordered "tit-for-tat mirrored measures" to alleged intermediate-range weapons systems already being developed by the Pentagon.