Donald Trump to Owe $10K Each Day He Remains in Contempt of New York Court
A New York judge has ordered former President Donald Trump to pay $10,000 each day that he remains in contempt for refusing to comply with a subpoena from state Attorney General Letitia James.
New York Supreme Court Justice Arthur Engoron on Tuesday finalized an order to fine Trump every day "until he purges such contempt" and "complies in full" with the subpoena. James is conducting a civil investigation into whether the former president and the Trump Organization misrepresented the value of business assets for financial gain. She first subpoenaed Trump to produce related documents and evidence last December.
Earlier this month, James moved to hold Trump in contempt for refusing to comply with the subpoena, with Engoron ruling in her favor on Monday. Last week, a filing from Trump attorney Alina Habba claimed that the former president's legal team had attempted to comply with the subpoena but had determined that he was "not in possession" of the requested documents, suggesting that the Trump Organization may have them instead.
During Monday's hearing, Engoron directly addressed Trump. The judge told the former president, who was not present in court, that "I know you take your business seriously and I take mine seriously" before announcing the fine, according to ABC News.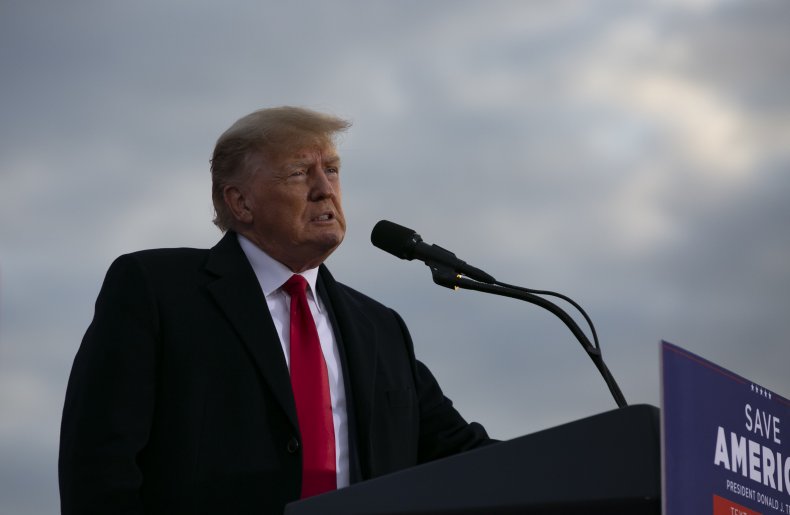 Engoron's order on Tuesday noted that Trump previously raised "boilerplate objections" to the subpoena in an untimely manner before claiming that he could not find any of the requested documents. The judge concluded that Trump's search for the documents had not been "conducted in a good faith effort" and that he had "willfully disobeyed a lawful order."
"Today, justice prevailed," James said in a statement following the ruling on Monday. "For years, Donald Trump has tried to evade the law and stop our lawful investigation into him and his company's financial dealings. Today's ruling makes clear: No one is above the law."
Habba indicated that Trump intends to appeal the decision and said that he and his legal team "respectfully disagree with the court's decision" in a statement shared with Newsweek on Monday.
"All documents responsive to the subpoena were produced to the attorney general months ago," Habba said. "The only issue raised by the attorney general at today's hearing was with an affidavit submitted which copied the form mandated by the attorney general."
"This does not even come close to meeting the standard on a motion for contempt and, thus, we intend to appeal," she continued.
Trump has sued James in federal court in an attempt to end her investigation and remove her from office. In addition to James' civil investigation, Trump and his company are also the subject of an ongoing parallel criminal investigation conducted by Manhattan District Attorney Alvin Bragg.
Newsweek reached out to Trump's office and Habba for comment.