Trump, Under Fire for Flynn Pardon, Has Used Clemency Power Less Than Any President in a Century
As President Donald Trump faces criticism over granting a pardon to former national security adviser Michael Flynn, figures show he has wielded his clemency power less than any commander-in-chief in recent history.
Trump detailed a full pardon for Flynn on Wednesday, calling it his "great honor" to be able to bestow this. He faced swift criticism from Democrats and condemnation on social media.
While Trump's use of his clemency power has been questioned, with the commutation of Roger Stone's sentence earlier this year facing similar backlash, he has used it less than his predecessors.
According to figures tallied by Pew Research Center, as of November 23 Trump had granted 28 pardons and 16 commutations over his term in office. This amounted to 0.5 percent of such requests being granted.
In comparison, Barack Obama over his two terms gave 212 pardons and 1,715 commutations, around 5 percent of requests made.
Pew looked at president's back to William McKinley. Trump's figures were lower than any of the presidents listed, in terms of overall numbers and percentage of requests granted.
The Justice Department statistics this was based on do not detail clemency granted through proclamation or executive order, Pew noted. Some clemency recipients are counted twice if they received both a pardon and commutation.
The graphic below, from Statista, shows how recent presidents rank in terms of clemency actions.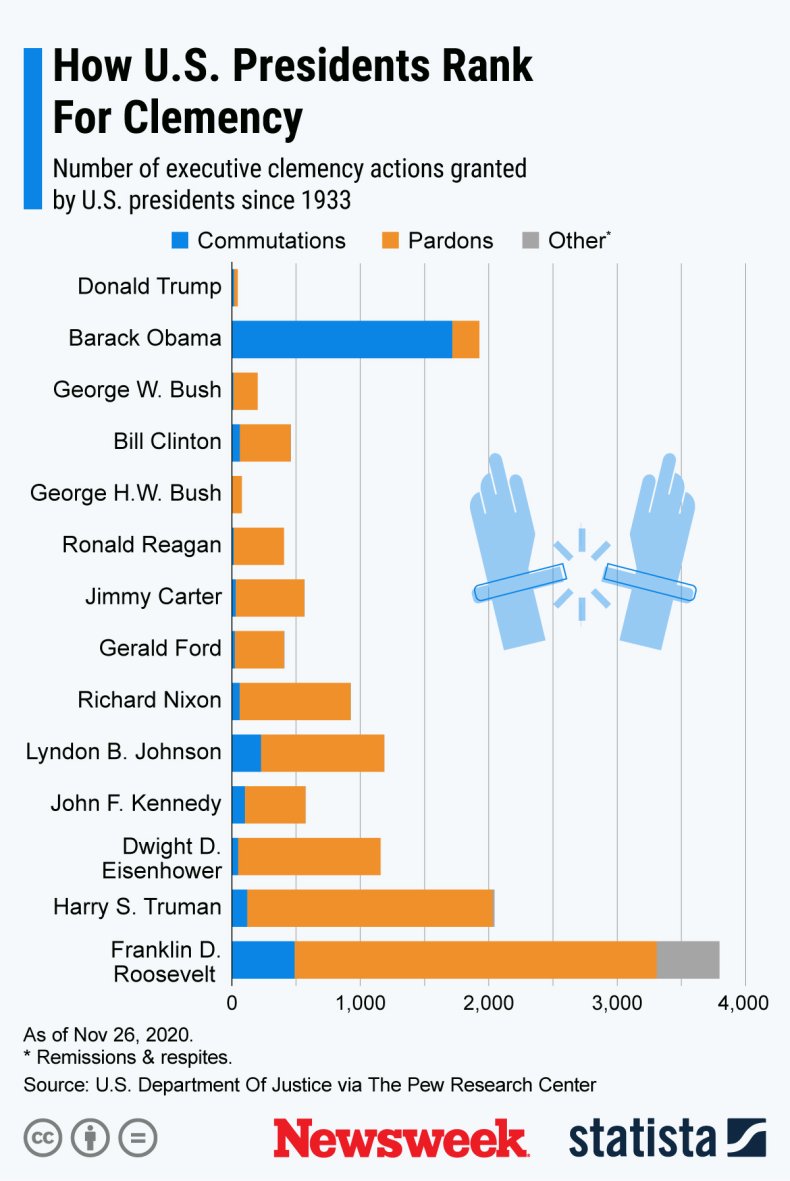 Newsweek has contacted the White House for comment on the president's use of clemency power.
Following Trump's pardon for Flynn, he retweeted a video in which it was suggested he should grant one to himself.
Trump has previously suggested he has the power to do this, though said he would not need to as he has not committed wrongdoing. He faces potential lawsuits and criminal investigations following his term in the White House.
There is no precedent for a president granting a pardon to themself, with a split in thinking over whether one could do so.
While the academic thought on the matter is torn, polling indicates public opinion is against such action.
An NBC LX/YouGov poll asked 1,200 registered voters on November 22: "In your opinion, should sitting US presidents be allowed to pardon themselves?"
Nearly three quarters, 72 percent, said they should not compared to 13 percent who said they should be able to.