Donald Trump's Chances of Winning Primaries in Nebraska and West Virginia
The primaries in West Virginia and Nebraska will be the latest test of how much an endorsement from Donald Trump influences voters as his chosen candidates go into Tuesday's elections.
The two Republican states, which voted for Trump in 2020, are the latest battleground as the former president hopes to shape the Republican Party in his image ahead of November's midterms.
So far, Trump is currently 55-0 with regards to picking candidates who went on to win their respective elections, albeit with some of these choices advancing into runoffs and others including incumbents who were already the overwhelming favorite to win the race.
On Tuesday, it will be seen if Trump can continue his streak of picking eventual winners, with voters set to decide if they want his choices in GOP gubernatorial and House primaries.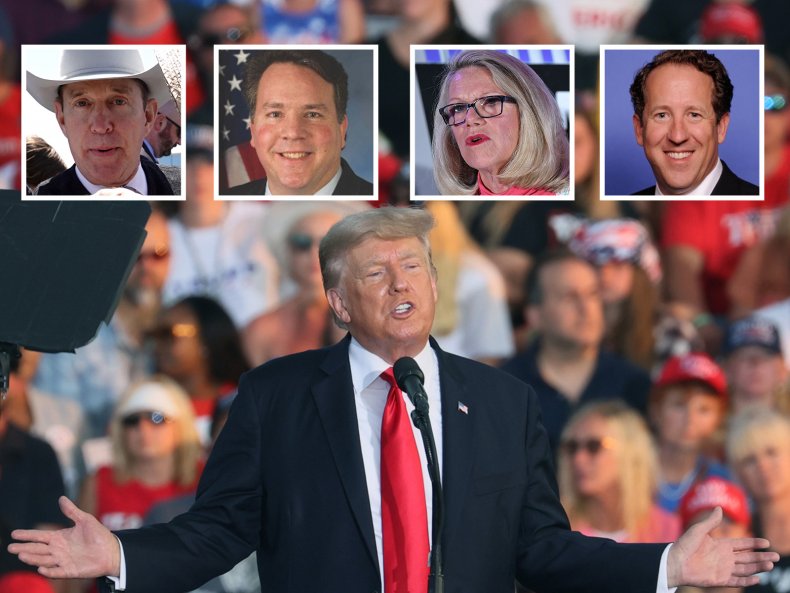 Rep. Alex Mooney, West Virginia's 2nd District
The fiercely contested race in West Virginia's newly-formed 2nd Congressional District is rare as the two main candidates are Republican incumbents.
The race is essentially down to Representative Alex Mooney, who got the backing of Trump in November, and fellow Republican Congressman David McKinley.
The former president endorsed Mooney for the new district as the congressman opposed Joe Biden's $1.2 trillion infrastructure bill, whereas McKinley was one of only 13 House Republicans to support the spending package.
McKinley was also one of 35 Republicans who backed the creation of a House committee to investigate the January 6, 2021, attack on the U.S. Capitol.
While Mooney has the much sought-after backing of Trump, McKinley is endorsed by Republican West Virginia Governor Jim Justice, who said the former president "made a mistake" by backing Mooney.
However, it seems like Mooney may be the candidate who wins between the two sitting lawmakers. According to a West Virginia MetroNews survey released Friday, Mooney is way ahead in the polls, leading McKinley by 48 percent to 33 percent.
Rep. Carol Miller, West Virginia's 1st Congressional District
Incumbent Carol Miller, who voted not to impeach Trump for allegedly inciting the January 6 attack at the Capitol, currently represents West Virginia's 3rd Congressional District but is expected to retain her seat as she runs in the state's 1st Congressional District against four Republicans who aren't considered serious challengers.
Charles Herbster, GOP gubernatorial candidate, Nebraska.
The power of Trump's influence will be more highlighted should his pick in the three-way race gubernatorial primary in Nebraska come out on top.
Charles Herbster, a longtime ally of Trump, has had his lead in the polls slip since reports in mid-April alleging he sexually assaulted eight women emerged, which the candidate denies.
In March, Herbster, whom Trump endorsed in October, held a 9 percent lead over a University of Nebraska regent Jim Pillen in a KAConsulting LLC survey and a 10 percent lead over fellow GOP primary candidate, Senator Brett Lindstrom.
Weeks later, a WPA Intelligence survey conducted between April 30 and May 2 showed Pillen, who is endorsed by the state's governor Pete Ricketts, holding a 5 percent lead over Herbster (31 percent to 26 percent) ahead of Tuesday's vote. Pillen is the bookmaker's favorite to win.
According to Betfair, Pillen's odds of winning the race are 5/4, followed by Herbster at 7/4 and Lindstrom on 5/2.
"Despite Donald Trump traveling to Nebraska on Sunday to rally support for businessman Charles Herbster, Jim Pillen leads the way in the betting for the Republican primary Nebraska gubernatorial race," Betfair Spokesperson Sam Rosbottom told Newsweek.
Rep. Adrian Smith, Nebraska's 3rd Congressional District
Things look set to be more straightforward for Trump's pick in Nebraska's 3rd district, where longtime incumbent Adam Smith is expected to defeat political newcomer and veteran of the U.S. Marine Corps and National Guard, Mike Calhoun.
Smith, who has been a congressman for 15 years, was one of 147 Republicans who voted against the Electoral College's certification of President Biden's win in the 2020 presidential election.
Trump endorsed Smith on May 3, describing the lawmaker as a "tremendous advocate" for the people of Nebraska's 3rd Congressional District.
"During my Administration, Adrian worked with us to pass historic Tax Cuts, and he is fighting hard to Grow our Economy, Promote American Agriculture, Support our Military and Vets, and Protect and Defend the Second Amendment. Adrian Smith has my Complete and Total Endorsement," Trump said in a statement.