Everything Donald Trump Has Said About Prince Harry and Meghan Markle
Donald Trump has repeatedly expressed he is not a fan of royal couple Meghan Markle and Prince Harry, and in his Monday interview with former Good Morning Britain (GMB) host Piers Morgan, the former president predicted that the pair's marriage would end badly.
"Harry is whipped, do you know the expression? the former president said on Piers Morgan Uncensored."I won't use the full expression but Harry is whipped like no person I think I've ever seen. I'm not a fan of Meghan, I'm not a fan and I wasn't from the very beginning. I think poor Harry is being led around by his nose."
When asked if he thought their relationship would end, he said it would end badly while also remarking how good he is at predictions.
During the interview, Trump also insisted he and Queen Elizabeth, Harry's grandmother, disagree on how to deal with Meghan and Harry. He argued the pair should be stripped of their royal titles.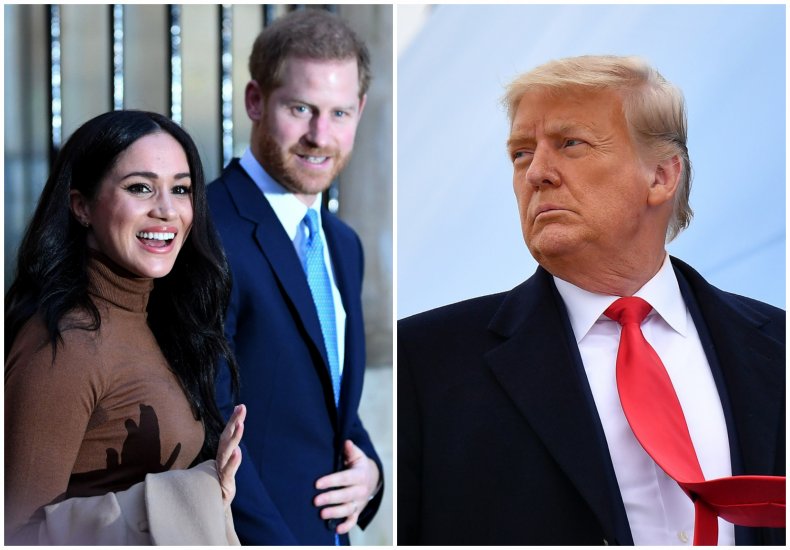 In December of last year, Trump accused Meghan of being disrespectful to the Queen while also reflecting on her relationship with Harry. He also said, again, that he has never been a "fan" of Meghan.
"I'm not a fan of hers. I wasn't from day one," Trump said. "I think Harry has been used horribly and I think someday he will regret it. I think Harry's been used and been used terribly. I think it's ruined his relationship with his family, and it hurts the Queen. I think she's very disrespectful to the Royal Family and most importantly, to the Queen."
Trump said similarly that he was "not a fan" when Meghan and Harry released a video ahead of the 2020 U.S. presidential election. In the video, the royal couple called on American citizens to do their part and cast their vote but did not endorse a candidate. Trump responded to the video at a September 2020 press conference and suggested Harry would need "luck" going forward.
"I'm not a fan of hers. I would say this, and she has probably heard that, I wish a lot of luck to Harry because he's going to need it," the then-president said.
Meghan and Harry made this video after the pair had decided to step down as senior royals and move to the United States. Meghan is a U.S. citizen who was born in Los Angeles. Following their decision, Trump said that the U.S. would not be paying for the couple's security.
"I am a great friend and admirer of the Queen and the United Kingdom, Trump tweeted in March 2020. "It was reported that Harry and Meghan, who left the Kingdom, would reside permanently in Canada. Now they have left Canada for the U.S. however, the U.S. will not pay for their security protection. They must pay."
Newsweek contacted Donald Trump for comment.