Former President Donald Trump asserted that he's definitely considering running for the White House again in 2024.
In a Thursday phone interview with Fox Business show Mornings With Maria, Trump strongly criticized President Joe Biden following the commander in chief's speech to Congress overviewing his achievements during his first 100 days in office, as well as his ambitions for further legislation and government action. Trump took aim at Biden over proposed tax increases for the wealthy, his policy toward China and the influx of undocumented migrants at the southern border.
Trump also said that he is certainly weighing running for the presidency again. Asked by host Maria Bartiromo about his plans, he quickly responded, "Yes, 100 percent."
He added, "And the polls show that everybody wants me to do it. One hundred percent I'm thinking about running, and we will, I think, be very successful."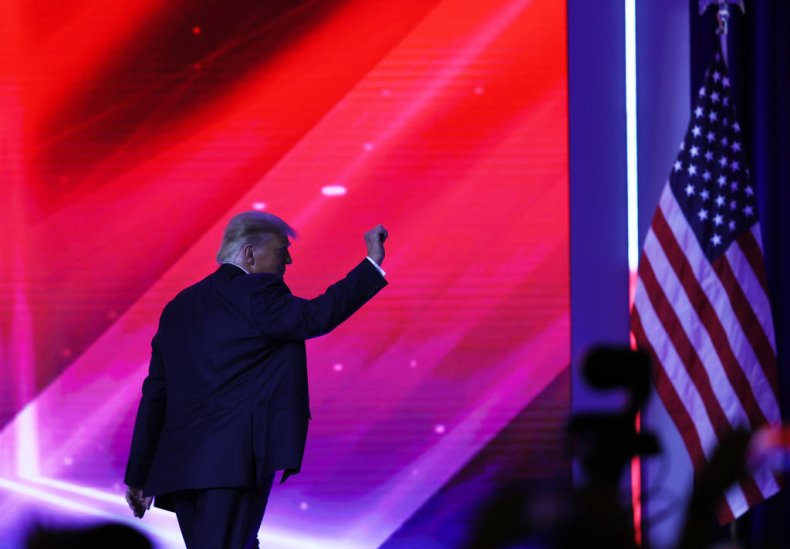 During the wide-ranging interview, Trump defended his record of addressing the coronavirus pandemic, claiming that "if I wasn't president, we wouldn't have a vaccine." He also slammed the Biden administration's response to China, saying, "China will take over this country if they don't do something very quickly."
The former president argued that Biden's proposed tax increases on the wealthy and corporations will have a "devastating impact" on the economy and that the situation at the border will "destroy our country."
"Have courage," Trump said. "It's going to happen, we are going to turn it around. I am with you," he said.
Polls have consistently shown that Trump as a leading contender for the Republican Party's 2024 nomination. Despite the former president helping to incite a violent mob of his supporters to attack the U.S. Capitol on January 6, GOP voters continue to largely back him. Many GOP voters view the 10 House Republicans and the seven GOP senators that supported his impeachment following the insurrection as "disloyal."
A Harvard CAPS-Harris Poll released at the beginning of March showed that Trump was the clear front-runner for the 2024 GOP nomination. A majority (52 percent) of Republicans said they will back the former president, while Trump's former vice president, Mike Pence, placed a distant second, with just 18 percent support.
Biden has brushed aside questions about Trump's potential 2024 run, saying he's focused on leading the country. During a late-March press conference, Biden was asked directly whether he believes he'll be running against Trump again in the next election.
"Oh, come on. I don't even think about—I have no idea. I have no idea if there will be a Republican Party. Do you?" Biden responded. While some have speculated that Biden, who is 78, may not seek a second term, he said it was his "plan" and "expectation" to run again. Trump is 74.
The former president and his supporters continue to baselessly claim that the 2020 election was "rigged" or "stolen," leading a sizable portion of GOP voters to believe that Biden is not the legitimately elected president. But dozens of election lawsuits filed by Trump and his backers have failed in state and federal courts. Even judges appointed by Trump and other Republicans have dismissed and rejected the claims of widespread voter fraud.
Last November, the Cybersecurity and Infrastructure Security Agency at the Department of Homeland Security said the 2020 election was the "most secure in American history." The agency, which was led by a Trump appointee, asserted that "there is no evidence that any voting system deleted or lost votes, changed votes, or was in any way compromised."
Former Attorney General William Barr, who was widely viewed as one of Trump's most loyal Cabinet members, said at the beginning of December that there was "no evidence" of fraud that would change the election's outcome. Multiple audits and recounts in key battleground states, including in states where elections were overseen by Republicans, have reaffirmed Biden's victory.
This story has been updated with additional information.