Donald Trump Says He Used 'Moron' John Bolton to Intimidate Foreign Leaders
Former President Donald Trump has described his former national security adviser, John Bolton, as a "moron" and suggested he had used Bolton to intimidate foreign leaders.
Trump made the criticisms on his Truth Social platform on Friday morning, following an interview Bolton gave to CBS News on Thursday where he described the former president's 2024 re-election campaign as "poison" for the Republican Party.
"I found John Bolton to be one of the dumbest people in Government but, I am proud to say, I used him well," Trump wrote.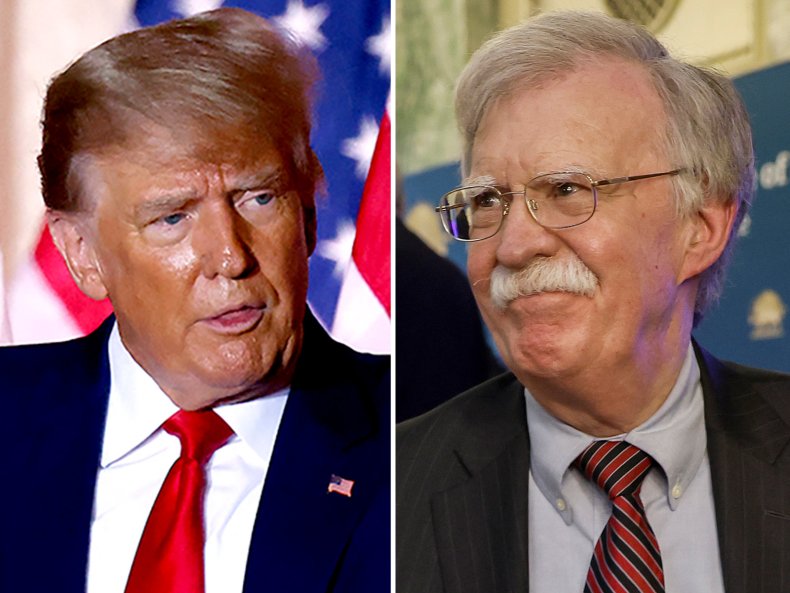 "A total & unhinged WARMONGER, the red faced 'boiler ready to explode' was one of those very stupid voices that got us into the Middle East quicksand, Seven Trillion Dollars, & Millions of deaths later, NOTHING!" the former president went on.
Trump was referring to the cost of wars in the Middle East and has cited the $7 trillion in the past. However, fact checking site PolitiFact rated that claim half true after the president made it in April 2018.
The figure is based on studies that forecast the costs of financial commitments in countries including Iraq and Afghanistan in the 30 years or so following the studies.
"The good news is that I won big negotiations with this moron by my side. When I brought him into a room with hostile foreign leaders, they thought I was going to war, CONCEEDED ALL!" Trump said, though he did not offer details.
Bolton, who is regarded as a foreign policy "hawk," has served in a variety of national security positions and became Trump's national security adviser in April 2018 and left that position in September 2019.
He's since emerged as a vocal public critic of Trump and told CBS News' Robert Costa on Thursday that he was considering launching a 2024 presidential campaign himself.
Bolton said he thought Trump's campaign was "going downhill and I think it'll continue to go downhill."
"I think Republicans, especially after the November 8 elections last year, see that he's poison to the ticket. He cannot be elected president. If he were the Republican nominee, he would doom our chances to get a majority in the Senate and the House. I don't think he's going to be the Republican nominee," he said.
When Costa asked him if he was considering running for president himself, he responded that the characterization was "exactly right."
Bolton also told CBS News that he believed Trump was a threat to national security, saying "the damage he did during his term was significant but repairable."
"I strongly opposed him getting a second term because I worried that what he would do in a second term might be irreparable," he said.
Trump launched his new presidential campaign shortly after the midterm elections and he is so far the only high profile Republican to formally declare his candidacy.
Newsweek has reached out to John Bolton's PAC for comment.