Donald Trump Says It Would Be 'Inappropriate' to Call DeSantis 'Meatball'
Former President Donald Trump has said it would be "inappropriate" for him to call Florida Governor Ron DeSantis "meatball" following reports he has begun using the nickname in private.
Trump took to his Truth Social platform on Friday and said he wouldn't use the term but also criticized DeSantis, who is widely viewed as a strong potential rival for Trump if he chooses to seek the Republican presidential nomination.
"I will never call Ron DeSanctimonious 'Meatball' Ron, as the Fake News is insisting I will," Trump wrote.
He has previously referred to the governor as "Ron DeSanctimonious" and The New York Times reported on Sunday that the former president has been using other nicknames for DeSantis, including "Meatball Ron."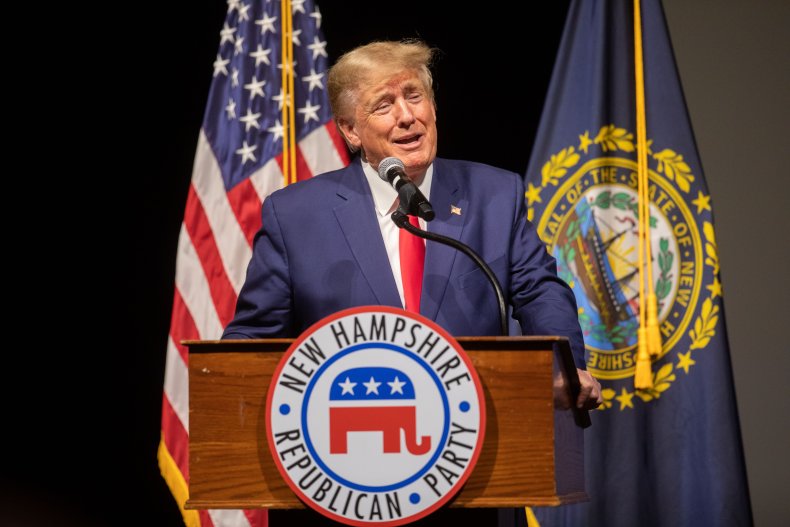 Trump went on: "Even though FoxNews killing lightweight Paul Ryan is revered by him, Low Energy Jeb Bush is his hero and always at his side, his beaches and State were closed for long periods of time, his testing, testing, testing for the China Virus didn't work out too well, and his loyalty skills are really weak, it would be totally inappropriate to use the word 'meatball' as a moniker for Ron!"
Former Republican Speaker of the House Paul Ryan was appointed to the Fox Corporation Board of Directors in March, 2019, while former Florida Governor Jeb Bush lost the 2016 GOP presidential nomination to Trump.
DeSantis has not formally declared his intention to seek the Republican presidential nomination for 2024 but speculation has been rife about his intentions and polling suggests he is the strongest potential rival to Trump.

Trump's post gives a taste of the verbal attacks DeSantis can expect if he throws his hat into the 2024 presidential ring. He has so far held back from responding to Trump's jibes.
The former president's post on Truth Social also referred to measures DeSantis had taken at the beginning of the COVID-19 pandemic. According to The New York Times, Trump has also been considering the nickname "Shutdown Ron" in reference to COVID restrictions.
Last month, DeSantis moved to permanently ban COVID mandates in the state of Florida by extending indefinitely penalties for companies that require all their employees to receive the COVID vaccine.
Trump has repeatedly touted the development of the COVID vaccine and Operation Warp Speed, a public–private partnership initiated by his administration for the speedy development of a vaccine.
Earlier this week, Trump denied he was working on nicknames for DeSantis, writing on Truth Social: "All of the Fake News is reporting that I spend large amounts of my time coming up with a good 'nickname' for Ron DeSanctimonious, who is obviously going to give the presidential 'thing' a shot."
"They are all 100% wrong, I don't even think about it — A very unimportant subject to me!!!" the former president wrote.
So far, only Trump and former U.S. Ambassador to the U.N. Nikki Haley have officially declared they are seeking the Republican party's nomination.
Newsweek has reached out to Ron DeSantis' team for comment.