Donald Trump Says Migrants Bring 'Large Scale Crime and Disease' to America
President Donald Trump claimed that Central American asylum seekers waiting in Tijuana, Mexico, to make their asylum claims in the U.S. will bring "large-scale crime and disease" to America, repeating a claim previously made by Fox News commentators.
Launching into a Twitter spree on immigration early Tuesday morning, Trump accused Democrats of wanting "Open Borders for anyone to come in" to the U.S. "This brings large-scale crime and disease," he tweeted.
Read more: Migrants are climbing over and digging under the border wall despite Trump's tough words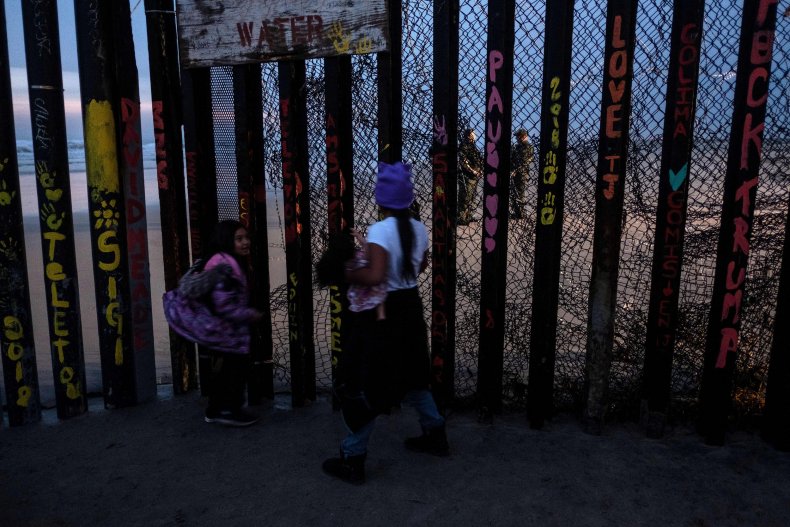 The claim that asylum seekers bring "disease" to the U.S. is one that has been made on Fox News several times, with Fox Nation host Tomi Lahren warning earlier this month, without any evidence, that Americans could get diseases, including tuberculosis, HIV/AIDS, chickenpox and hepatitis, from asylum seekers.
Meanwhile, former Immigration and Customs Enforcement agent David Ward also appeared on Fox News in October to assert, also without evidence, that asylum seekers were carrying a number of diseases and were going to "infect our people in the United States."
Trump also claimed on Tuesday that asylum seekers "have not been able to get through "newly-built Walls, makeshift Walls & Fences, or Border Patrol Officers & Military. They are now staying in Mexico or going back to their original countries."
While asylum seekers who do cross the border outside designated ports of entry are typically apprehended by Border Patrol officers, photos taken at the U.S.-Mexico border near the San Ysidro port of entry in San Diego show migrants, including families with small children, crossing over border walls and fences into the U.S.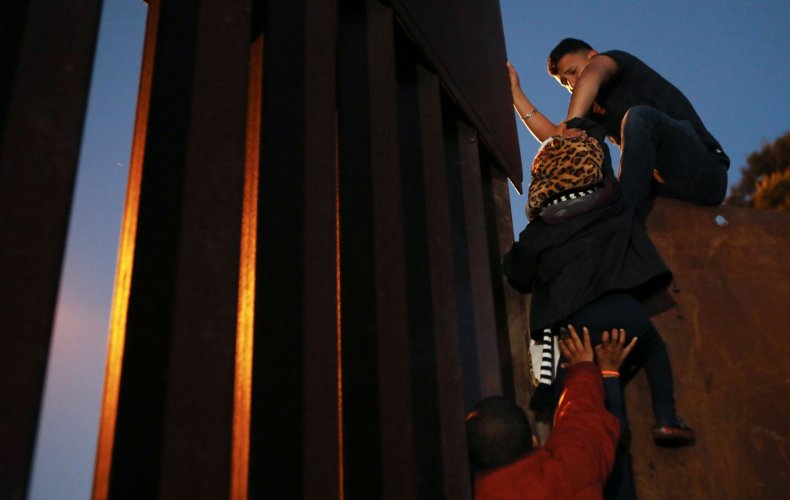 While as many as 5,000 asylum seekers are currently still in Tijuana, many more are waiting to make asylum claims at the U.S. border, while some have opted to "self-deport" back to the home countries they fled.
In his Twitter tirade, Trump also said he was looking forward to his meeting with House Minority Leader Nancy Pelosi and Senate Minority Leader Chuck Schumer, with many hoping the last-ditch talks will help prevent a partial government shutdown before Christmas over funding for Trump's U.S.-Mexico border wall.
"I look forward to my meeting with Chuck Schumer & Nancy Pelosi," Trump tweeted on Tuesday.
"In 2006, Democrats voted for a Wall, and they were right to do so," he said. "Today, they no longer want Border Security. They will fight it at all cost, and Nancy must get votes for Speaker. But the Wall will get built."
Noting that parts of the wall have already been constructed, Trump said that "people do not yet realize how much of the Wall, including really effective renovation, has already been built."
"If the Democrats do not give us the votes to secure our Country, the Military will build the remaining sections of the Wall. They know how important it is!" Trump said.
The president has repeatedly threatened that a partial shutdown could be in the cards if he does not get the $5 billion in funding he has demanded for the construction of his U.S.-Mexico border wall.
Democrats, Republicans and the White House have until December 21 to reach a budget deal and prevent the shutdown from taking place.
Schumer has previously said that Trump should accept $1.6 billion in border wall funding. But the president has maintained that his administration needs more money to see his border wall campaign promise brought to fruition.