Donald Trump Slams 'Loser' Paul Ryan Amid 2024 Comments
Donald Trump attacked former House Speaker Paul Ryan on Sunday after he said he would skip the 2024 Republican National Convention (RNC) if the former president wins the GOP presidential nomination.
Ryan, a Wisconsin Republican who led the House of Representatives from 2015 to 2019, has long had a rocky relationship with the former president despite working closely together during the first two years of the Trump administration. Ryan is one of several Republicans who has advocated for the GOP to move away from Trump leading into the 2024 presidential race, despite the ex-president being viewed as the frontrunner, as he remains popular with large swaths of Republican voters.
During an interview with Milwaukee-based television news station WISN-TV on Sunday, Ryan was pressed on whether he would attend the 2024 RNC, which is scheduled to be held in Milwaukee, the largest city in the critical swing state of Wisconsin.
He said his attendance would depend "on who the nominee is."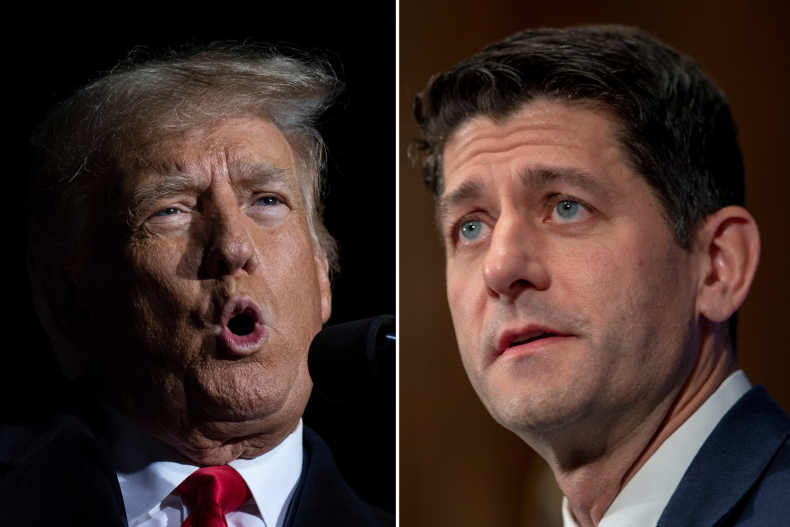 "I'll be here if it's not somebody named Trump," Ryan added.
In a Truth Social post Sunday afternoon, the former president slammed Ryan and appeared to blame him for Senator Mitt Romney's 2012 presidential loss. Ryan ran on Romney's ticket as his vice president, but ultimately lost to former President Barack Obama's reelection.
"Paul Ryan is a loser, Mitt Romney could have won without him. I won twice, did much better the second time, and was 233 Wins out of 253 Races in the Midterms. Paul Ryan is destroying Fox, and couldn't get elected dogcatcher in the Republican Party!" Trump wrote, appearing to reference his own unfounded claims of widespread voter fraud in the 2020 presidential election.
Despite Trump boasting about his endorsed candidates performing well during the 2022 GOP primaries, Ryan raised concerns about Trump's electability, pointing to several candidates he supported underperforming during last November's midterms.
"We know we're going to lose with him," the former House speaker said. "He cost us the House in 18. He lost the White House in 20. He cost us the Senate in 20. He cost us the Senate again in 22. He cost us probably a good dozen House seats in 2022. This is a lesson we don't need to repeat again."
Despite criticism from Ryan, Trump remains popular with many GOP voters, as polls show him as the favorite to win the 2024 nomination. Polls also show a tight race against President Joe Biden, should the two find themselves in a rematch of the 2020 election.
Both Trump and Ryan have previously feuded after Ryan spoke out against the former president following the end of his presidency, specifically after a mob of Trump supporters rioted at the U.S. Capitol building in a failed effort to prevent Congress from certifying Biden's Electoral College victory. Ryan also criticized members of his party who "didn't have the guts to impeach Trump" following the insurrection.
Trump, meanwhile, has called Ryan a "RINO," the acronym for Republican in Name Only, for opposing his leadership. Ryan on Sunday said that while he may be seen as a "RINO" in the contemporary GOP, he maintains that he is conservative on important issues.
"Back in my day a 'RINO was somebody who was more moderate versus conservative. I'm a conservative. Today, a RINO is how much fealty you pledge to Donald Trump. I'm very low on that," he said.
Newsweek reached out to Ryan's office for comment.