Donald Trump Supporters Call on Gay Marriage to Be Overturned Next
A video showing supporters of former President Donald Trump calling on the Supreme Court to overturn Obergefell v. Hodges, the 2015 ruling that legalized same-sex marriage in the United States has gone viral on social media.
The comments came after Justice Clarence Thomas said in a concurring opinion to the court's decision to overturn Roe v. Wade last week that the court has "a duty to 'correct the error' established" in rulings like Obergefell.
In the video, Jason Selvig, a member of the comedy duo the Good Liars, speaks to a man and woman wearing Trump apparel. It is not clear where the video was taken but the caption states that Selvig spoke to the pair over the weekend. The footage has so far been viewed over 400,000 times and shows Selvig trying to find out their opinions on the historic overturning of Roe v. Wade, the landmark 1973 case that secured the right to abortion in the United States.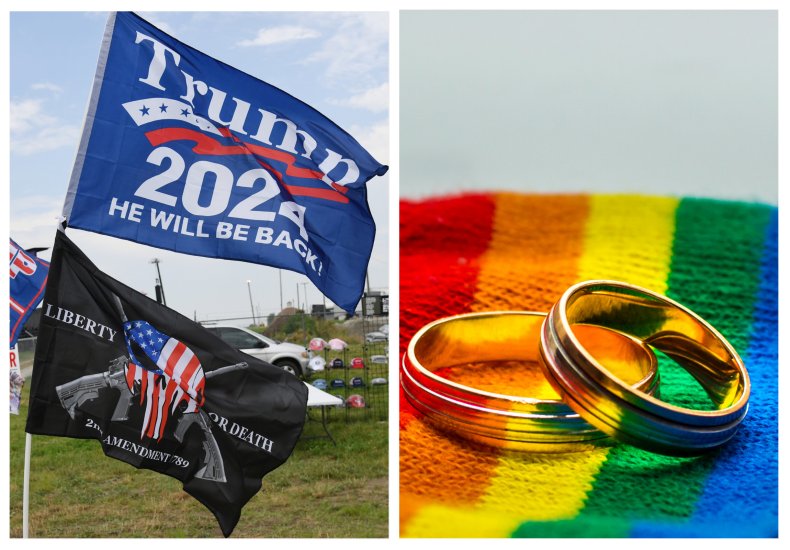 After the woman said she was against abortion, Selvig asked: "There's been some talk with some people saying we need to protect life, sperm is the seed of life. Would you be in favor of all males who are not married getting vasectomies?"
The man responded "no" to the question, while the woman said: "to each their own."
The video then skipped to when Selvig highlighted Thomas' comments about Obergefell v. Hodges. Selvig asked in the video: "Clarence Thomas, said yesterday, maybe we should take a look at the same-sex marriage ruling. Is that something you think we should look at as well?"
The pair said they did not believe that same-sex couples should be able to get married. Selvig then confirmed whether they would like to see this decision reversed, and the pair agreed. When asked why the female Trump supporter said: "[It is] just how I was brought up and how I believe...It is to each their own, but everyone should have respect in their own biblical sense."
"So, to each their own, but you don't want gay people getting married, and you don't want women choosing what to do with their body?" Selvig said, to which the woman replied "right."
Newsweek reached out to the Good Liars for comment.