Watch and Cringe as Donald Trump Tells Irish Reporter She Has a 'Nice Smile'...While on the Phone With Ireland's PM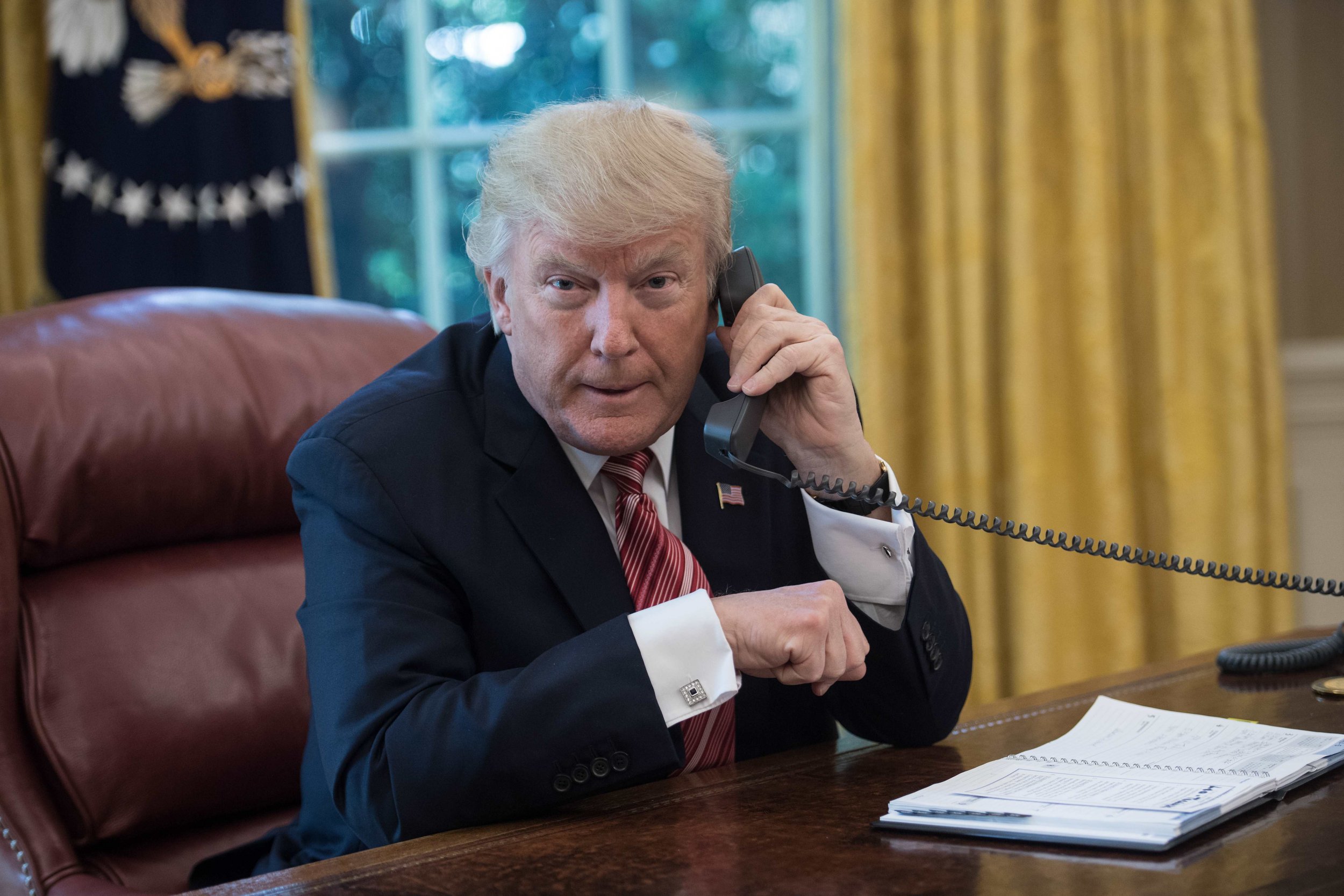 President Donald Trump reminded everyone of his past as a pageant owner on Tuesday, when he praised the physical attributes of a female White House correspondent.
Trump was in the Oval Office on the phone with Leo Varadkar, Ireland's newly-elected prime minister (a title known as Taoiseach in Gaelic) surrounded by journalists reporting on the first call between the two leaders.
"We have a lot of Irish press watching us. Where are you from?" he said, pointing at one of the reporters in the crowd. He then gestures to the female reporter to come closer to his desk. "Come here, Come here. Where are you from? We have all of this beautiful Irish press."
Catriona Perry, Washington correspondent and U.S. bureau chief with Irish public service broadcaster RTÉ News, still holding her mobile phone in her hand to film the event, tentatively walked up to him, introducing herself.
"Catriona Perry," Trump repeated. "She has a nice smile on her face. So I bet she treats you well," he added with a laugh, speaking to Varadkar, Ireland's first openly gay prime minister.
Perry tweeted the video of the encounter, describing it as the "bizarre moment when President Donald Trump called me over during his call with Taoiseach Leo Varadkar."
President Trump has a reputation for remarking on women's looks, commenting on the appearance of journalists like Megyn Kelly, of political rivals like Hillary Clinton or Carly Fiorina, and of his own daughter Ivanka Trump.
During the presidential campaign, Trump came under fire for a series of lewd and sexist remarks. These included comments body-shaming Miss Universe pageant winner Alicia Machado, when he owned the pageant show, boasting about committing sexual assault on tapes from Access Hollywood, and remarking on The Apprentice contestants' appearance and attractiveness.
In an episode of Celebrity Apprentice, Trump, then the star of the show, was told how one of the contestants, American model Brande Roderick, dropped to her knees to beg for forgiveness. "Excuse me, you dropped to your knees?" Trump asked Roderick. "Must be a pretty picture, you dropping to your knees."