Putin vs. Trump: Who's More Sexist? Ask Hillary Clinton or Megyn Kelly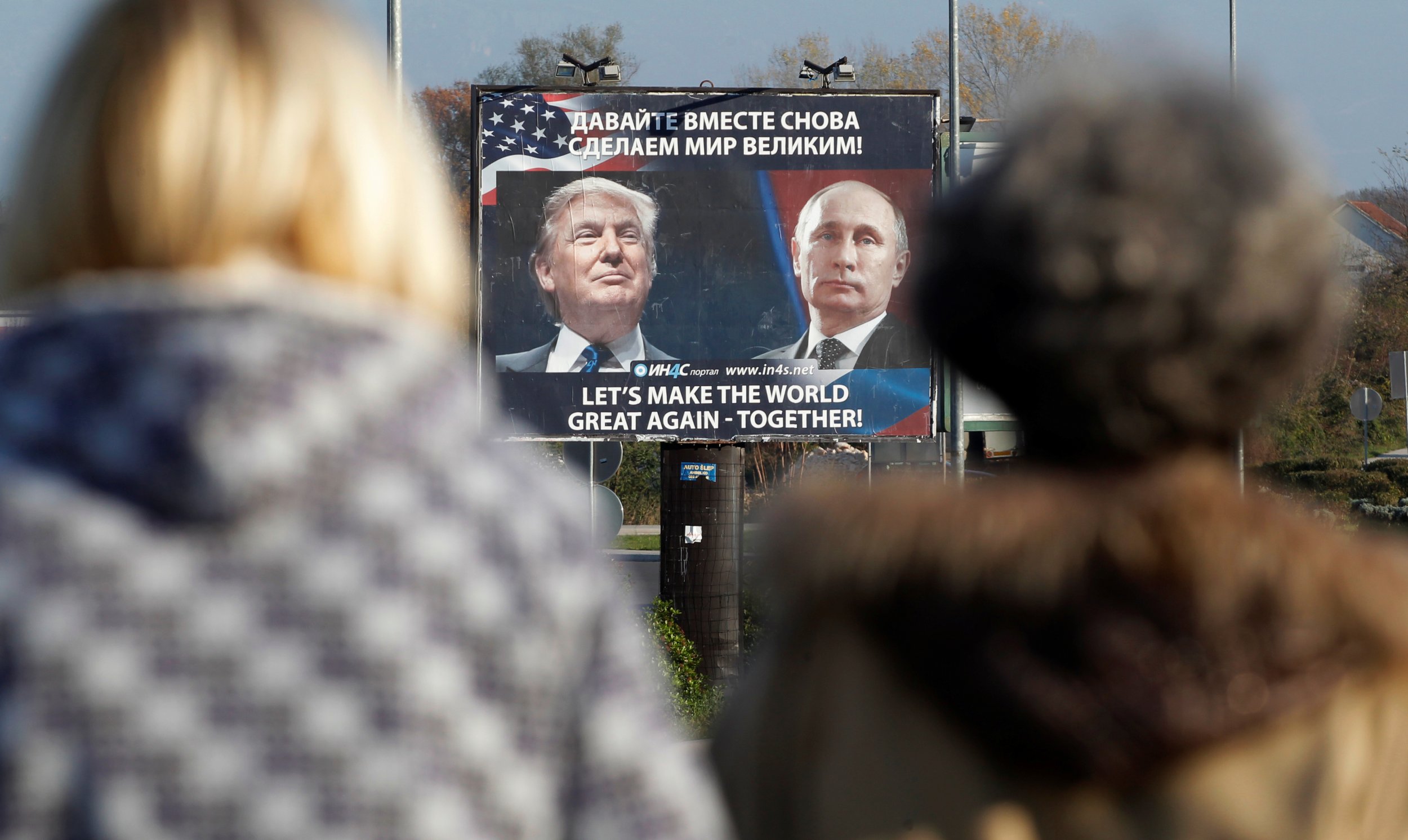 With his recent comments on women's "bad days" and "natural cycles," Russian President Vladimir Putin showed that few world leaders can rival him when it comes to sexist remarks—but U.S. President Donald Trump can match his record.
And what a matchup it is. In one corner of the ring stands Putin, an experienced politician who has held his country's highest political offices since the year 1999: first as prime minister, then president, then again as prime minister and then once again as president.
Putin's respect for Mother Russia is well known, as is his admiration of Russian women. In his 2016 calendar, the month of March is dedicated to them in honor of International Women's Day. "I like all Russian women. I personally think Russian women are the most talented and the most beautiful," read a quote attributed to the president captioning a picture of him holding a flower.
(In the 2017 calendar, however, Putin was pictured holding a cat. The caption read: "Me and my pussy cat became friends immediately. I love animals. Evidently, they feel this too.")
In the other corner stands Trump, a man whose turbulent love life has featured in innumerable tabloid headlines, who owned and judged a beauty contest for women and who beat the first female presidential candidate of a major American political party to the highest office of the land, notwithstanding numerous accusations of sexual assault and a particularly damning recording of lewd remarks.
Trump is known for his admiration of his daughter and his wife, as he's mentioned in past interviews with broadcaster Howard Stern and reported by CNN in October. Among the many comments on having sex with women during their menstrual cycles and threesomes, Trump called his daughter "voluptuous" and said he'd stick by his wife if she were in a car accident, provided certain reassurances about the state of her breasts.
But when the two heavyweights were presented with the same target for sexist abuse, their styles differed.
Round 1: Megyn Kelly
The Russian president recently had a run-in with journalist Megyn Kelly, who interviewed him on various thorny subjects, including allegations that the Trump administration may have colluded with Russia to win the U.S. presidential election. Putin took the opportunity to make a joke at the reporter's expense. Turning to the crowd, he asked, "Does someone have a pill?" suggesting medication was required to stop Kelly's "hysteria."
Kelly's tough questioning had previously unsettled Trump too. When she moderated a debate of Republican presidential hopefuls on Fox News in 2015, Kelly confronted Trump over comments in which he called women "fat pigs" and "slobs." In a CNN interview the next day, Trump said: "You could see there was blood coming out of her eyes. Blood coming out of her wherever." (He later said he meant to imply her nose, or ears.)
Round 2: Hillary Clinton
In an illuminating segment about Putin's attitude to women who defy his authority, the Russian president took jabs at Hillary Clinton. He'd met Clinton when she served as secretary of state for President Barack Obama. She compared his annexation of Crimea to Adolf Hitler's actions leading up to World War II.
Putin criticized Clinton's rhetoric with a reference to her gender: "When people cross the boundary of good manners, this attests to their weakness, not their strength. But for a woman, weakness is not the worst quality."
Trump had months of confrontations with Clinton in the 2016 presidential campaign. During the second debate, he hovered around her whenever she spoke. He had previously questioned her suitability as a president, saying: "She doesn't have the look, and she doesn't have the stamina," and accused her of "playing the woman's card."
Round 3: Pussy Riot
Few women have publicly challenged Putin's authority like Pussy Riot, the all-female punk band that caught the world's attention in 2012 with their punk prayer invoking the Virgin Mary to get rid of Putin.
Two members of the group were arrested on the charge of hooliganism, interpreted as disrespect for the Russian Orthodox Church after performing their song in Moscow's Orthodox Cathedral. A third woman was also detained and later released on appeal.
In 2012, before granting amnesty to the imprisoned members of Pussy Riot, Putin said, "If they had not broken the law, they would now be at home doing the housework," The Independent reported at the time.
In another encounter with the press who questioned him about the band, Putin reacted "with visible disgust" and then asked the journalist to translate the band name, The Guardian reported. When the journalist said he could not say the word in front of Putin, he remarked: "You see, if you can't say it in front of me, it means it's an indecent word. These girls must be talented—they forced you all to say that word."
One of the members of Pussy Riot, Nadezhda Tolokonnikova, made a song about Trump ahead of the U.S. presidential election and drew comparisons between him and Putin in an interview. "We are still surrounded by such creatures as Putin and Trump, who view women on the same level as expensive watches," Tolokonnikova told news website Afisha Daily.
Trump does not seem to have ever remarked on the punk band itself.
Bonus Round
Putin was the target of confrontation from the FEMEN activist group. During a 2013 visit to Germany, the Russian president was met by a bare-breasted activist who had anti-Putin slogans written across her chest and back. The activist was immediately blocked by security, but Putin managed to give her two thumbs up. He later ridiculed the protest as "performance."
"Regarding this performance, I liked it," he said, quoted in Reuters. He added: "I did not catch what they were shouting, I did not even see if they were blondes, brunettes or chestnut-haired.... I don't see anything terrible in [the protest], though I think...it is better to be dressed if one wants to discuss political matters."