Donald Trump and Texas Gov. Greg Abbott to Visit Border: 'Unmitigated Disaster Zone'
Former President Donald Trump announced Tuesday that he plans to meet with GOP Texas Governor Greg Abbott to tour the "unmitigated disaster zone" of the U.S.-Mexico border later this month.
Trump said that he would be making the visit on June 30 at the invitation of Abbott. The former president boasted that U.S. border security had been "the envy of the world" under his watch while accusing President Joe Biden and Vice President Kamala Harris of "dereliction of duty" for the current situation, as well as for allegedly turning the U.S. into "one giant sanctuary city" after he left office.
"The Biden Administration inherited from me the strongest, safest and most secure border in U.S. history and in mere weeks they turned it into the single worst border crisis in U.S. history," Trump said in a statement. "It's an unmitigated disaster zone...Biden and Harris have handed control of our border over the cartels, criminals and coyotes."
"Our nation is now one giant sanctuary city where even dangerous criminals are being cut loose and set free inside the U.S. interior on a daily basis," added Trump. "What Biden and Harris have done, and are continuing to do on our border, is a grave and willful dereliction of duty."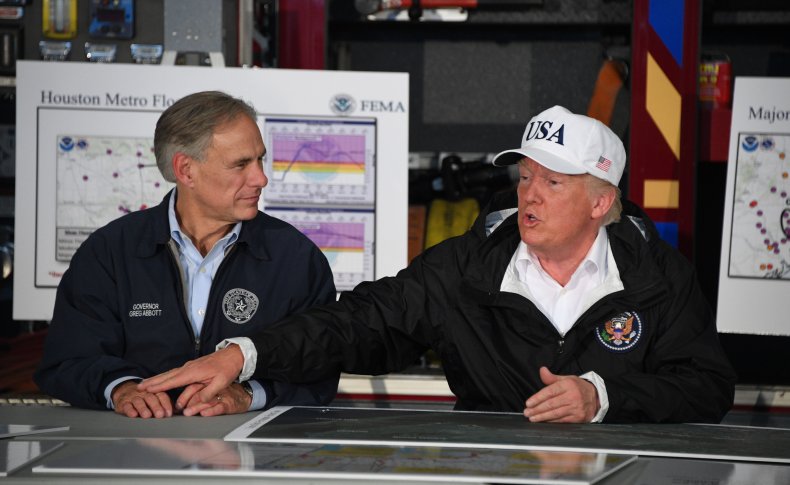 Trump also denounced Biden and Harris for not touring "the scenes of the wreckage they created" and not visiting Immigration and Customs Enforcement (ICE) "heroes" and Border Patrol agents who were "risking their lives to defend our Nation at a time when the White House is doing everything it can to make their job totally impossible."
After an extended period of largely Republican criticism, Harris committed to making a personal visit to the border last week, although she has yet to announce a date for the visit. Biden tasked the vice president to lead his administration's efforts to deal with the recent surge of migrants at the border.
Republicans have blamed the surge on Biden's policies. Some leaders from south of the border have agreed with at least part of the criticism. In March, Mexican President Andrés Manuel López Obrador suggested that a belief Biden would treat migrants more humanely had encouraged migration.
Abbott, an ardent ally of Trump, has been especially critical of Biden's policies. He vowed to "finish what Trump started" on Tuesday by building a wall along the border using donations from the public.
Critics quickly questioned whether a state governor has the legal authority to construct a wall along an international border, an effort that would normally fall under federal jurisdiction.
Trump said that his planned visit to the border would "shine a spotlight" on Biden and Harris' alleged "crimes against our Nation" and provide a morale boost for ICE and Border Patrol agents.
Newsweek reached out to the White House for comment.