Donald Trump Tops iTunes Charts: 'Wow!'
A song by a group of men who were incarcerated as a result of their involvement in the January 6 Capitol attack has risen to number 1 on the iTunes singles chart, besting the likes of Miley Cyrus, Lady Gaga and Rihanna for the top spot.
"Justice for All" by the J6 Prison Choir, featuring the voice of Donald Trump, is aimed at "supporting certain prisoners denied their constitutional rights," according to the single's official webpage, and consists of a rendition of "The Star-Spangled Banner" interspersed with the former president's pledge of allegiance.
Trump has previously called for the January 6 rioters to be released, saying they had been treated unfairly and that e would consider pardoning their sentences should his 2024 presidential bid be successful.
The single, released on March 3, has sat at the top spot on the iTunes chart for the U.S. since Friday. Reacting to its popularity on his Truth social media platform, Trump wrote on Sunday: "Wow!"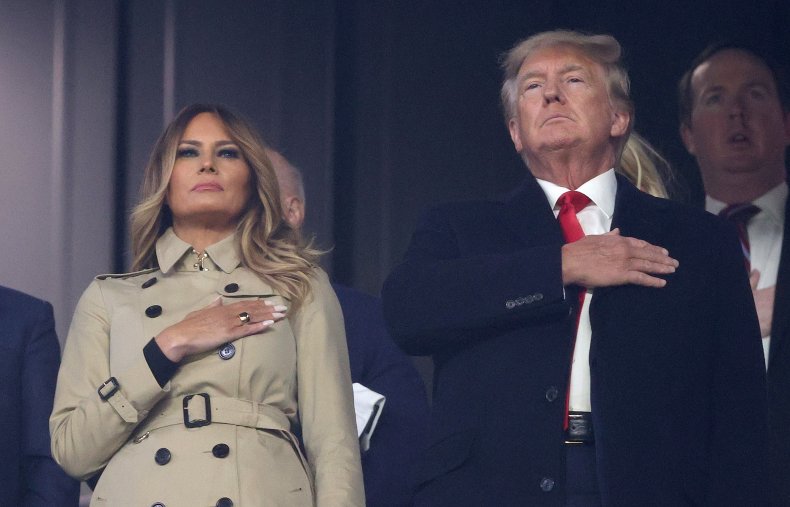 As of 4:20 a.m. ET on Monday, the song remained above Miley Cyrus' "Flowers", which is dominating other charts globally, and Lady Gaga's "Hold My Hand" in third place.
It is only ranking on iTunes in its U.S. chart; elsewhere in the world, it is nowhere to be seen, and it is not featured among the top streamed songs on Spotify or YouTube. The song is available on all major streaming platforms.
According to Forbes, Trump recorded his voiceover at his Mar-a-Lago residence in Florida in February, while the inmates were recorded over a prison phone earlier in the year. Funds from the profits will reportedly be dispersed to families of people who did not assault police officers during the riot.
The official website for the single said that the choir "continues to make their voices heard through the power of music," and claims that they sing the national anthem before going to sleep every evening.
On January 6, 2021, supporters of Trump stormed the U.S. Capitol in an attempt to prevent the certification of Joe Biden as president after an election Trump has on numerous occasions described as "rigged."
The riot resulted in the deaths of five people. Around 1,000 arrests have been made and approximately 220 people have been sentenced to prison time, according to the latest Department of Justice statistics.
It came after Trump had refused to concede the 2020 presidential election to Joe Biden, and had propagated claims about the election being stolen through voter fraud, of which no evidence has been uncovered since.
In a speech on Saturday, Mike Pence, his former vice president, who was in the U.S. Capitol at the time of the uprising, said Trump's statements at the time "endangered my family and everyone at the Capitol that day."
He added: "Make no mistake about it, what happened that day was a disgrace. And it mocks decency to portray it any other way."
However, Trump has not only continued to claim that the election was rigged, but has called for justice for those who had been imprisoned as a result of their involvement in the uprising.
Following the release of CCTV footage by Fox News' Tucker Carlson—which was criticized by Republicans as painting it in a mostly "peaceful" light—Trump argued that it was proof that those imprisoned were "totally innocent."
In a tweet, Barb McQuade, a former U.S. attorney and law professor at the University of Michigan, described the song as "a disinformation tactic right out of the authoritarian playbook—wrap lies in patriotism."
Newsweek has reached out to Trump's campaign and Justice for All for comment.