Today in Trump Transition: President-Elect Peddles False Claims of Voter Fraud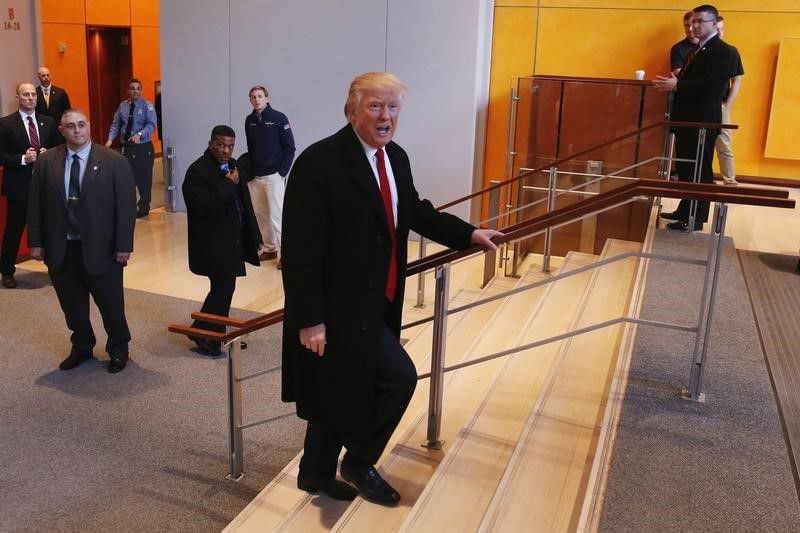 Welcome to Newsweek's daily rundown of President-elect Donald Trump's transition process. There are about 4,000 positions to fill, and we'll be keeping track of appointees through the January 20 inauguration.
Thought the holiday weekend meant all would be quiet on the Trump front? Absolutely not. On Sunday, Trump once again took to Twitter, this time to falsely claim that "millions" of people voted illegally in the U.S. presidential election. Despite winning the electoral college vote in the election nearly three weeks ago, Trump claimed that there was "serious voter fraud" in Virginia, New Hampshire and California.
His unsubstantiated claims, widely seen as repeats of conspiracy theories peddled in fringe corners of the Internet, come as the number of actual votes for Hillary Clinton continue to rise. Clinton won the popular vote, and her vote lead has now surpassed the two million mark. Trump claimed in his tweets that were it not for the so-called fraudulent votes, he would also have won the popular vote.
Trump also lashed out over what he called the "ridiculous" vote recount in Wisconsin, which could begin later this week. On Friday, Green Party officials filed for a recount in that state over potential discrepancies in areas that used paper ballots. Jill Stein, who ran for president on the Green Party ticket, has already raised more than $5 million for the effort. Trump released a statement on Saturday stating that the recount is "just a way for Jill Stein, who received less than one percent of the vote overall and wasn't even on the ballot in many states, to fill her coffers with money."
Cabinet nominee tally: 4
Attorney General: Jeff Sessions
CIA Director: Mike Pompeo
U.N. Ambassador: Nikki Haley
Education Secretary: Betsy DeVos
White House staff tally: 5
Chief of Staff: Reince Priebus
National Security Advisor: Lt. General Michael Flynn
Deputy National Security Advisor: Kathleen Troia "KT" McFarland
Senior Counselor: Stephen Bannon
Assistant to the President and White House Counsel: Donald F. McGahn
Trump will be holding several meetings on Monday, beginning with Fran Townsend, former national security and counterterrorism adviser under President George W. Bush. The president-elect will also meet with Sandeep Mathrani, the CEO of General Growth Properties; Paul Atkins; Kathleen White; General David Petraeus; David Steward, founder of World Wide Technology; Scott Pruitt, attorney general of Oklahoma; Milwaukee County Sheriff David Clarke; and John Allison, CEO of UNIO Holdings.
Petraeus is seen to be under consideration for secretary of state, while Clarke, a potential pick for homeland security secretary, once referred to Black Lives Matter protesters as "black slime" and "filth" that "needs to be eradicated."
Related: Who will be in Donald Trump's cabinet? Here's a list of possibilities
On Tuesday, Trump will meet with Tennessee Representative Marsha Blackburn; Pete Hegseth, former executive director of Concerned Veterans of America; Marion Blakey, president of CEO of Rolls-Royce North America; Tennessee Senator Bob Corker, chairman of the Senate Foreign Relations Committee; Texas Representative Mike McCaul; Pennsylvania Representative Lew Barletta; and former Massachusetts Governor Mitt Romney.
Romney is proving to be a highly contentious presence, with Trump's former campaign manager, Kellyanne Conway, continuing to tweet her apparent disapproval of the idea of picking him. Asked about Romney during the transition team's daily press briefing on Monday, Jason Miller, the transition's communications director, repeatedly deflected questions and said Trump would announce his decision when he's ready. Asked specifically about the need for a second meeting with Romney—the two met last weekend in Bedminster, New Jersey—Miller said: "The two, quite frankly, hadn't spent that much time together, so this gives them a little more time to do so."
Miller also criticized the media for giving "this much attention and oxygen" to the recount effort, and said more focus should be given to Trump's claims of voter fraud.
Vice President-elect Mike Pence warned reporters to "buckle up" and get ready for "a busy week" as he strolled through the gilded lobby of Trump Tower on Monday morning. Perhaps we should take his advice.
Read more at Newsweek.com
-Today in Transition: Trump in Florida as questions swirl around Mitt Romney
-Trump takes to Twitter to threaten Cuba
-The seven ways Trump is destroying the free press