As President Donald Trump berates Twitter for interfering with his posts, Americans think he uses it too much and nearly two-fifths believe nothing he says on the social media platform, according to a poll.
Of the 1,500 adults polled nationwide, 63 percent said the president tweets "too frequently." Asked if they believe his tweets, 38 percent said they believed none compared with 7 percent who said they believed all tweets.
The poll, from The Economist/YouGov, was conducted among 1,500 adults citizens, between May 31 and June 2. It has a margin of error of plus or minus 3.2 percent.
In terms of the focus placed on Trump's tweeting, around a third, 33 percent, said they pay no attention to his posts. Another 35 percent said not much attention, while 25 percent said some and 7 "a great deal."
While people were unsure of their own belief in his tweets, more felt the president likely believes in his posts. Around a third, 34 percent, said they think he believes all of his posts, while 25 percent thought he likely did most.
Newsweek has contacted the White House for comment.
Trump has recently seen his posts flagged by Twitter, in moves the platform has said are in accordance with its policies.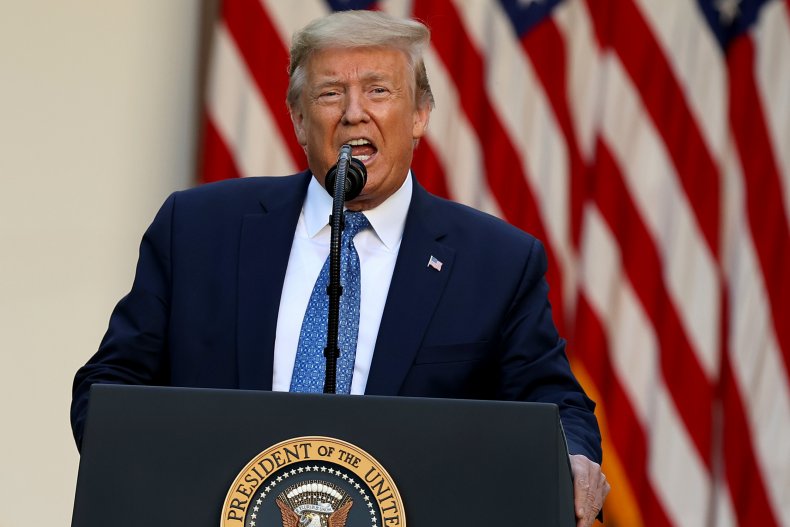 Two posts from the president about mail-in voting, in which he said it was linked to voter fraud, were marked with labels linking to further information.
These said "Get the facts about mail-in ballots" and directed users to a page, which said previous studies of voting by mail have not shown a link between the practice and widespread voter fraud.
Following this, Trump threatened to shut down social media platforms, after stating: "Republicans feel that Social Media Platforms totally silence conservatives voices."
Just days later, the president signed an executive order targeting social media companies, which would remove a liability shield for the platforms provided under the Communications Decency Act should they edit content.
Section 230 of the Communications Decency Act gives the platforms the protection of not being treated as the publisher of information on the sites by third-party users, while allowing them to restrict access to objectionable content if done so in good faith.
The president, when signing the executive order, said social media platforms had "unchecked power to censure, restrict, edit, shape, hide, alter virtually any form of communication between private citizens or large public audiences."
Twitter said the executive order was "reactionary and politicized."
A statement from the platform said: "Section 230 protects American innovation and freedom of expression, and it's underpinned by democratic values. Attempts to unilaterally erode it threaten the future of online speech and Internet freedoms."
Following the executive order, Twitter has since further flagged posts from Trump, most recently restricting a post which it said violated its rules for "glorifying violence."
Tweeting about protests following the death of George Floyd, Trump wrote the phrase: "Once the looting starts, the shooting starts."
In a statement to Newsweek following the post being marked, a Twitter spokesperson said Trump's tweet violated its "policies regarding the glorification of violence based on the historical context of the last line, its connection to violence, and the risk it could inspire similar actions today."
The tweet had a warning put over it and users were unable to like, share or reply to it.