Donald Trump Is 'Vain' and Doesn't Want to Look 'Ridiculous' in Mask After Seeing Joe Biden Wear One, Says Brit Hume
Donald Trump is "vain" and does not want to look "ridiculous" wearing a face mask, according to Fox News commentator Brit Hume.
The president previously retweeted a photo of presumptive Democratic nominee Joe Biden wearing a mask on Memorial Day, which Hume had posted suggesting it showed why Trump does not want to wear such a face covering.
Biden said he thinks the president is a "fool to talk that way" when asked by CNN about Trump sharing the post, which it was suggested was "making fun" of the former vice president.
"This macho stuff, for a guy, I shouldn't get going, but it just, it's cost people's lives. It's costing people's lives," he said.
Biden also said leading doctors recommend wearing a mask in a crowd, particularly where one might get closer than 12 feet away from others, with social distancing measures recommending at least 6 feet in distance apart.
Asked about whether wearing a mask projects strength or weakness, he said: "What it presents and projects is leadership. Presidents are supposed to lead, not engage in folly and be falsely masculine."
Trump has repeatedly chosen not to wear a mask publicly during the COVID-19 crisis, with neither him nor first lady Melania Trump opting to use them during their engagements on Memorial Day.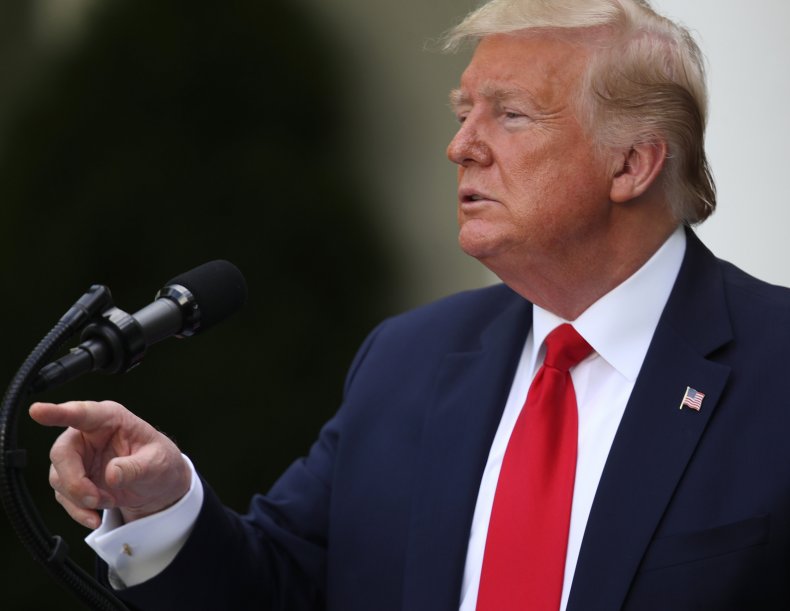 Political analyst Hume said the argument over wearing a mask had split politically.
"It's amazing to me that this issue of whether to mask or not mask has become this huge flash point," he said, speaking to Fox News' Martha MacCallum. "It's breaking down on the same lines that every controversy around this whole COVID-19 outbreak has broken down.
"It's largely political, people who tend to be conservative and or support Donald Trump tend to think the danger of this outbreak has been overblown, and people who think it's absolutely terrifying and that we all might [be] likely to die tend to be people who do not support Mr. Trump and are not conservatives, and that's just the way it goes."
Hume responded to Biden's comments and said: "I don't think it makes much of an example to wear a mask in a situation where nearly all of the data we have indicated that it's not necessary and, on top of that, it looks absurd."
The Centers for Disease Control (CDC) recommends wearing cloth face coverings "in public settings where other social distancing measures are difficult to maintain," suggesting people over the age of 2 should use them in such circumstances.
It states that doing so "may slow the spread of the virus and help people who may have the virus and do not know it from transmitting it to others."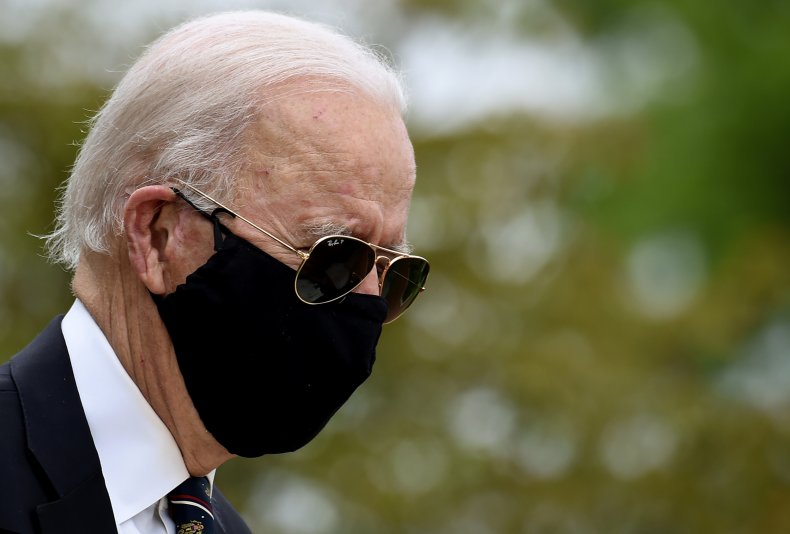 Continuing his comments on Trump's decision not to use a mask, Hume said: "You know, as vain as Donald Trump is, I mean, think of what he goes through every day to prepare himself to be seen you know.
"He goes through this whole ritual with his hair where he sprays it into submission and he's got it all combed up in a certain way so that it covers his forehead.
"He's obviously very, very concerned about his appearance. A lot of people don't think he has very good taste but this is the way he wants to look, and he cares a lot about it and doesn't like to look any other way.
"And I think he put on that mask at the plant out in Michigan, or wherever it was, the other day and I don't think he liked the way it looked on him."
Hume said he thinks the president sees Biden and thinks he looks "ridiculous" in a mask and he "doesn't want to look that way."
"The fact that he retweeted that tweet of mine, which I certainly didn't expect, suggests that he agrees with what I said. This is why he won't wear a mask, he doesn't want to look funny," said Hume.
As well as Biden responding to the situation, his supporters have also criticized negative comments in regards to him wearing a mask, in what was his first public appearance since March to lay a wreath at a Memorial Day event in Delaware.
Rufus Gifford, Biden's deputy campaign manager, responding to Hume's tweet, said: "The equivalent of mocking someone for wearing a seatbelt. Or a bike helmet. Such a shameful and embarrassing post."
White House Press Secretary Kayleigh McEnany was asked about Trump's retweet at a press conference and said: "Look, you know, the president's excited to see Joe emerge from the basement. It is a bit peculiar though that in his basement, right next to his wife, he's not wearing a mask, but he's wearing one outdoors when he's socially distanced, so I think there's a discrepancy there.
"He [Trump] is not shaming anyone, as the president noted himself he wore this mask in private at the Ford facility, and he's said he's open to it if the circumstance mandates it."
Asked about guidance to wear a mask while out, McEnany said: "The guidance is it's recommended but not required, so it's the personal choice of the individual, but it didn't strike him as a very data driven decision in that particular incidence."
During a visit to a Ford factory in Michigan Trump was pictured not wearing a mask, though said he had had done so in an area not accessible to the press.
Asked about not wearing one during public parts of the trip, he said: "I didn't want to give the press the pleasure of seeing it."
As reported by Newsweek previously, Trump is not the only world leader to have been seen not wearing a mask publicly during engagements in recent months.
Newsweek has contacted the White House, representatives for Biden, and Fox News for comment.
Coronavirus case figures continue to rise in the U.S. with more than 1.6 million confirmed, according to Johns Hopkins University data.
The graphic below, from Statista, shows the worst-hit states as of May 26, with New York suffering the highest number of cases.