Has Donald Trump's Venezuela Gamble Failed? U.S. Withdraws Last Diplomats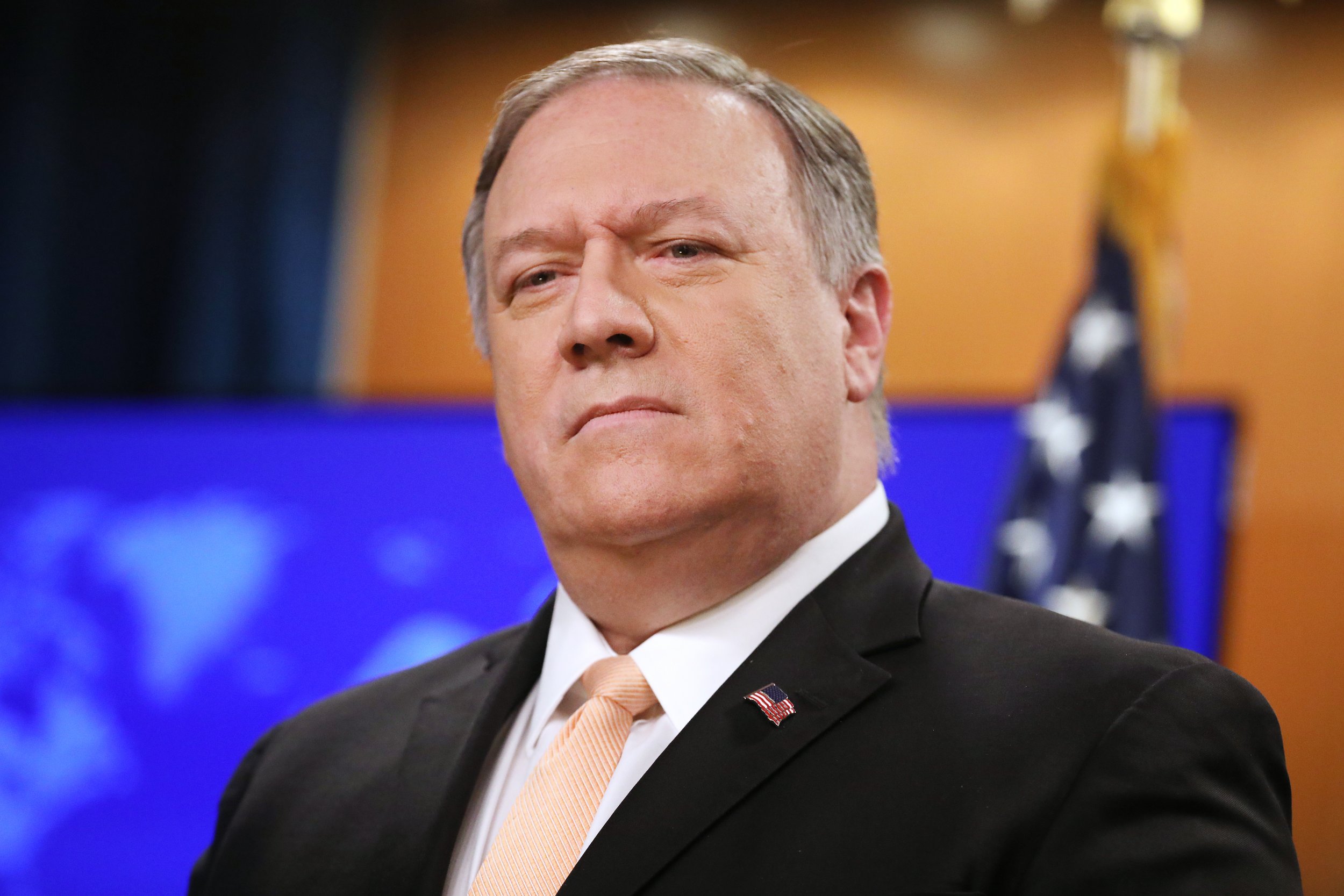 The U.S. government has ordered the last of its diplomats in Venezuela to leave the crisis-stricken country as political and economic efforts to push President Nicolás Maduro from power appear to have faltered.
Secretary of State Mike Pompeo announced Monday that the last American diplomats would be withdrawn from the country, which is caught in a power struggle between Maduro and self-declared interim president Juan Guaidó. All American staff will be home by the end of the week, Pompeo said.
The crisis situation has been exacerbated by a power cut affecting much of the country, which has left food supplies rotting, major cities consumed by darkness and transport services paralyzed. Maduro has blamed the blackouts on a U.S. cyberattack on one of the country's hydroelectric dams. Pompeo has dismissed the accusation.
"This decision reflects the deteriorating situation in Venezuela as well as the conclusion that the presence of U.S. diplomatic staff at the embassy has become a constraint on U.S. policy," Pompeo wrote on Twitter.
Maduro has been in power since succeeding the late Hugo Chávez in 2013. He has overseen economic crises that have left the country on its knees and pushed millions to flee abroad. His administration has been accused of wide-ranging corruption and persistent human rights abuses as it has accumulated wealth and protected its power.
Guaidó—the 35-year-old leader of the opposition-controlled National Assembly—declared himself interim president in January. He said Maduro's electoral victory in May last year was illegitimate and cited a clause in the Venezuela constitution that said in such cases the leader of the National Assembly will become an interim president until new elections can be held.
President Donald Trump quickly threw his weight behind Guaidó, recognizing the young leader as a legitimate interim president and calling for Maduro to step down. Maduro responded by ordering all Americans to leave the country.
Though Maduro later relented and allowed diplomatic staff to stay, Washington decided to withdraw the families of diplomatic staff and some nonessential personnel.
The White House hoped that its recognition of Guaidó would quickly set in motion a chain of events leading to Maduro's downfall. According to The Wall Street Journal, the administration coordinated its efforts with Guaidó directly following months of discussion and planning.
But the powerful military—vital for the stability of any would-be government—has remained loyal. Though Guaidó and Washington have tried to encourage a change of allegiance, there has been a only trickle of military defections rather than the desired flood.
NBC News reported that as many as 50 countries have declared their support of Guaidó, but Russia and China—among others—have maintained support for Maduro. With backing from Beijing and Moscow, the 56-year-old president could hang on far longer than Washington initially hoped.
As diplomatic and economic efforts to pressure Maduro have stalled, there are suggestions that more aggressive options may be considered. In the past, Trump reportedly asked why the U.S. could not simply invade the oil-rich nation and depose the strongman leader, apparently to the horror of senior aides and military officials.
Observers now suggest national security adviser John Bolton—a well-known foreign policy hawk—is pushing for a harder line on Venezuela. Bolton made headlines when he was photographed carrying a pad of paper bearing the words, "5,000 troops to Colombia," one of the nations bordering Venezuela.
Meanwhile, the appointment of Elliott Abrams—who once helped President Ronald Reagan supply money and weapons to right-wing Nicaraguan rebels during the 1980s—as special representative for Venezuela raised suspicions that covert efforts to undermine Maduro's regime may be in the offing. Abrams was also implicated in a 2002 failed coup attempt against Chávez.
Though Maduro is unpopular in Venezuela, experts have warned any perception that a Guaidó victory was led and controlled by Washington would undermine his appeal. The long history of U.S. meddling in South America means few there trust U.S. leaders' declared intentions, and Maduro has been eager to portray the campaign against him as an attempted imperialist coup.
Maduro has warned that any invasion of his country would turn into "a Vietnam worse than [the U.S.] can imagine." He also called on Americans to dissuade the government from direct military intervention.
With Monday's announcement, it appears the Trump administration has given up on its diplomatic corps in the beleaguered nation. As Pompeo said, a diplomatic presence is now "a constraint" on policy, whatever it develops into next.