Donald Trump Highlights 'Voting Surge' Among Red Wave After FBI Raid
Donald Trump has claimed the Republicans could win "many additional seats, both in the House & Senate" as a result of the FBI's raid on his Florida residence.
Agents entered Mar-a-Lago on August 8 as part of an investigation into a number of possible crimes, including a potential breach of the Espionage Act. The raid sparked a furious reaction from Trump and his political allies, some of whom argued the operation was politically motivated.
On Monday, the former president predicted the investigation will boost Republicans at the upcoming November midterms.
Posting on his Truth Social website, he said: "Republicans could win many additional seats, both in the House & Senate, because of the strong backlash over the raid at [Mar]-a-Lago.
"Polls are showing that some lost Republican territory over the last number of weeks has been more than made up with the unannounced Break In by the FBI, which should never have happened!"
The post received over 26,000 likes and 7,300 "retruths," the Truth Social equivalent of a retweet.
Trump also shared a number of news stories suggesting the Mar-a-Lago raid could boost the Republicans politically.
One, from Newsweek, reported on a new Trafalgar Group and Convention of States Action poll which found more than 80 percent of Republicans say they are more likely to vote following the FBI operation.
Commenting on the poll, Mark Meckler, president of the Convention of States Action, said: "Independent and Republican voters are united in their outrage about this unprecedented and tragic event in American history.
"This gestapo-style injustice has created a voting surge that is so significant, the polling doesn't even begin to reflect what is coming from grassroots voters in November."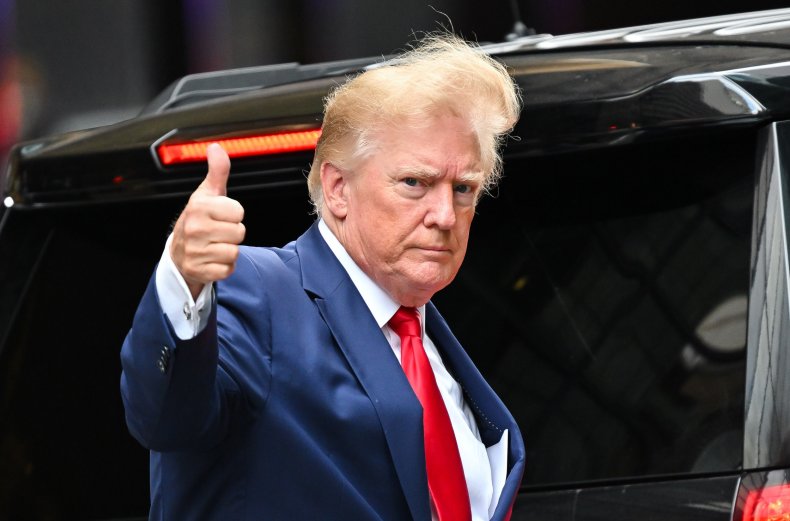 On Monday, Trump also claimed the FBI had seized his passports during the Mar-a-Lago raid.
On Truth Social, he wrote: "Wow! In the raid by the FBI of Mar-a-Lago, they stole my three Passports (one expired), along with everything else. This is an assault on a political opponent at a level never seen before in our Country. Third World!"
However, a Justice Department official told NBC News the passports have been returned to Trump and are no longer in the FBI's possession.
During the Mar-a-Lago raid, FBI agents seized 11 sets of classified documents, four of which were marked "top secret."
Trump allegedly took 15 boxes of documents with him when he left the White House, which the National Archives and Records Administration demanded he return.
After coming to suspect the papers included classified information, the Department of Justice opened an investigation.
Sources close to the investigation told The Washington Post there are fears the documents include classified papers on nuclear weapons.
The exact nature of what the FBI uncovered in the raid has yet to be made public.
After Mar-a-Lago was raided, the FBI and Department of Homeland Security said there had been an "increase in violent threats posted on social media against federal officials."
They said some of the threats were "specific in identifying proposed targets, tactics, or weaponry," with a number singling out the judge who approved the search.
On Friday, 42-year-old Ricky Shiffer, armed and clad in body armor, was killed after trying to breach an FBI building in Ohio.
Speaking to NBC News, law enforcement insiders said they believe Shiffer was in Washington, D.C., during the Capitol riot on January 6, 2021, though he was not arrested.
Donald Trump has been contacted for comment.