Donald Trump's Climate Change Tweet Lambasted by Scientists: 'He's a Dangerous Clown'
Scientists have called out President Donald Trump after he once again used the cold weather to question the existence of global warming.
On Thursday, the president tweeted: "Brutal and Extended Cold Blast could shatter ALL RECORDS - Whatever happened to Global Warming?"
Trump appeared to be pointing to forecasts that Thanksgiving in the Northeast could be among the coldest on record, due to chilly air traveling down from the Arctic Circle.
Thanks to high pressure sweeping south from Canada to the East Coast, temperatures in the Northeast are predicted to drop between 15° to 25°F lower than is normal in November. New York could see lows not experienced since 1901.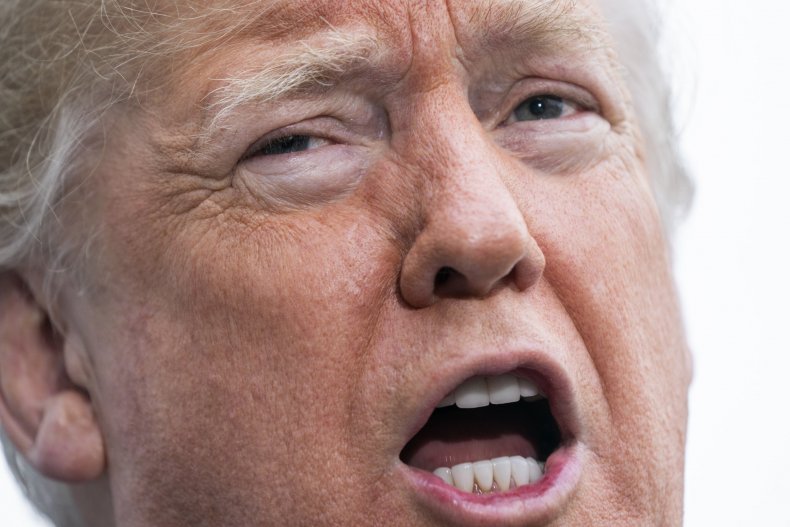 But experts were quick to point out a flaw in Trump's argument: the difference between weather and climate. The term "weather" relates to conditions in the atmosphere over a short period of time, whereas "climate" denotes long-term trends, according to NASA.
Environmentalist Bill McKibben responded to the president's tweet with a chart illustrating this important difference, by demonstrating how global temperatures have risen by 1.2°C above preindustrial levels.
Dr. Michael Mann, professor of atmospheric science at Pennsylvania State University, told Huffington Post "[the tweet] demonstrates once again that Donald Trump is not an individual to be taken seriously on any topic, let alone matters as serious as climate change.
"He is a clown — a dangerous clown," he said.
Mann told Newsweek: "It is disturbing to see the titular head of our nation misinforming the public about the greatest threat we face—the threat of catastrophic climate change impacts. Not only has Trump sought to dismantle the environmental protections put in place by previous administrations, he has also sought to lower the level of discourse by making nonsensical public comments that are untruthful factually, and deliberately conflate normal day-to-day weather fluctuations with climate change.
"It is shameful, irresponsible and most unbecoming of someone who would call himself President of the United States."
This is not the first time Trump has seized a cold snap as an opportunity to question whether climate change is real.
Last year, he tweeted the U.S. "could use a little bit of that good old Global Warming that our Country, but not other countries, was going to pay TRILLIONS OF DOLLARS to protect against. Bundle up!"
At the time, climate expert Marshall Shepherd explained for Forbes that cold weather events can in fact be a symptom of the wider trend of global warming. A phenomenon known as polar amplification is partly to blame: where a shift in net radiation (the total energy contained in the atmosphere) causes larger changes in temperature at the Earth's poles when compared with the global average. Net radiation can be tweaked by factors including a spike in greenhouse gasses. The consequences, like polar ice caps melting, can trigger extreme weather events: from cold snaps to droughts.
Since taking office, Trump has welcomed fellow climate change skeptics into top positions in his administration. Most recently, physics professor and well-known climate change skeptic William Happer was appointed to the National Security Council as the senior director for emerging technologies. Similarly, Scott Pruitt—who has claimed humans are not the biggest contributor to global warming—was the administrator of the Environmental Protection Agency, before resigning in August.
Earlier this month, the Environmental Protection Agency ceased to update its websites with information on climate change. Last year, the agency removed around 80 URLs associated with climate change, including epa.gov/climatechange. At the time, the organization said it was a temporary move. But a recent report published by the Environmental Data & Governance Initiative non-profit which assesses federal data on the environment said a note saying the website was under construction was changed to "we want to help you find what you are looking for."
This article has been updated with comment from Professor Michael Mann.