Donald Trump's Free Speech Defense 'Utterly Baseless,' House Impeachment Managers Argue
House impeachment managers have responded to the final brief from Donald Trump's legal team, rebutting their claims that the upcoming trial is unconstitutional and that Trump's actions ahead of the January 6 riot are protected by the First Amendment.
"The evidence of President Trump's conduct is overwhelming. He has no valid excuse or defense for his actions. And his efforts to escape accountability are entirely unavailing," the 10 Democratic managers wrote.
Their response came shortly after the former president's defense squad, led by David Schoen and Bruce Castor Jr., filed a 75-page brief urging lawmakers to dismiss the charges. Trump has been charged with "incitement of insurrection" after a mob of his supporters stormed the U.S. Capitol.
The filing continued the Trump team's primary argument that the impeachment proceeding is unconstitutional as Trump no longer occupies the White House. The attorneys also asserted that the then president's 70-minute speech ahead of the insurrection, during which he told supporters to "fight like hell," was protected by his right to free speech.
"Words do matter and the words of President Trump's January 6th speech speak for themselves," the brief read. "President Trump did not direct anyone to commit lawless actions, and the claim that he could be responsible if a small group of criminals (who had come to the capital of their own accord armed and ready for a fight) completely misunderstood him, were so enamored with him and inspired by his words that they left his speech early, and then walked a mile and a half away to 'imminently' do the opposite of what he had just asked for, is simply absurd."
Trump's attorneys noted that Trump only used the word fight a handful of times in his remarks and argued it was used "in the figurative sense that has long been accepted in public discourse." They also pointed to his remark urging supporters to "peacefully and patriotically make your voices heard."
The House impeachment team, led by Representative Jaime Raskin of Maryland, hit back at the free speech defense in its reply on Monday.
"President Trump's incitement of insurrection was itself a frontal assault on the First Amendment. As a matter of law and logic—not to mention simple common sense—his attempted reliance on free speech principles is utterly baseless," the managers wrote.
They added, "Also, to be clear, this is not a case about 'protected speech.' The House did not impeach President Trump because he expressed an unpopular political opinion. It impeached him because he willfully incited violent insurrection against the government. We live in a Nation governed by the rule of law, not mob violence incited by Presidents who cannot accept their own electoral defeat."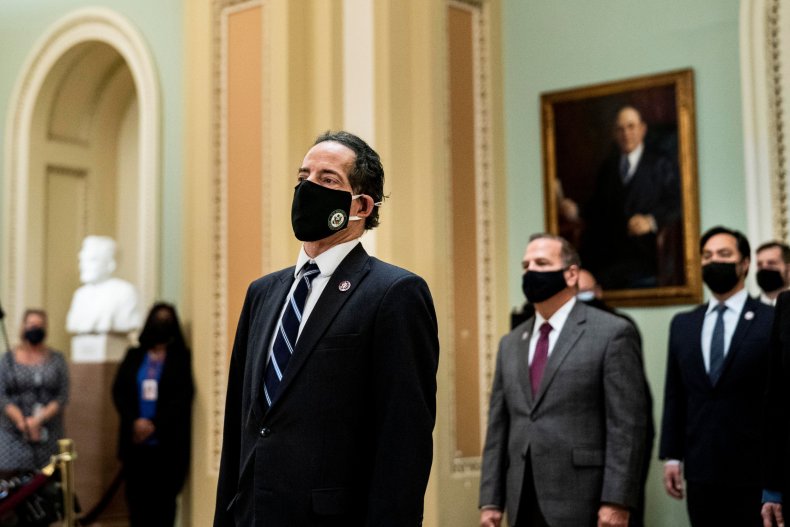 It has been reported that impeachment managers and the ex-president's attorneys will debate the issue of constitutionality of the trial on Tuesday, which will be followed by a simple majority vote. Then starting Wednesday at noon, both will have up to 16 hours per side for presentations.
Trump's team released a statement Monday afternoon stating the former president and his counsel were "pleased that there was bipartisan support on how to structure the impeachment trial. We appreciate that Senate Republican leadership stood strong for due process and secured a structure that is consistent with past precedent. This process will provide us with an opportunity to explain to Senators why it is absurd and unconstitutional to hold an impeachment trial against a private citizen."
Senators from both parties have signaled that Trump's impeachment trial could be the shortest in history. Some lawmakers have said the proceedings could be finished in under one week.
The White House said Monday that President Joe Biden will leave the pace and progress of the impeachment trial up to members of Congress and that Biden won't have much time to watch the proceedings.
"The president himself would tell you that we keep him pretty busy and he has a full schedule this week," press secretary Jen Psaki told reporters at a briefing. She added, "I think it's clear from his schedule and from his intention he will not spend too much time watching the proceedings."
Newsweek reached out to Trump's attorneys for comment on the impeachment managers' response to their pretrial brief but did not hear back in time for publication.
Update (2/8/2021, 5 p.m. ET): This story has been updated to include a statement from Trump's legal team.