Donbas Woman Used by Russian Propagandists Rips Putin Over War: 'Calamity'
An elderly Ukrainian woman in the country's eastern Donbas region, who was utilized by Russian propagandists, slammed Russian President Vladimir Putin's internationally condemned invasion of her country, calling the war "a huge calamity."
Anna Ivanova was filmed in early April holding up a Soviet Union flag as Ukrainian soldiers passed her home. The elderly woman was viewed in Russia as approving of Putin's assault on her country, as they believed the flag was a symbol of her support for reconstituting the long-defunct Soviet Union. Ivanova disputed this assessment in an interview published Sunday by The Wall Street Journal, as well as a previous interview earlier this month with The Moscow Times.
"I wish I could call Putin and tell him: Why was it impossible to solve this question without war, so neither their boys nor ours would have to die? It's a huge calamity, for Ukraine and for Russia," Ivanova told the Journal. "What have we, Ukraine, done to Russia so they have to kill us? Russia started it. Ukraine didn't touch them."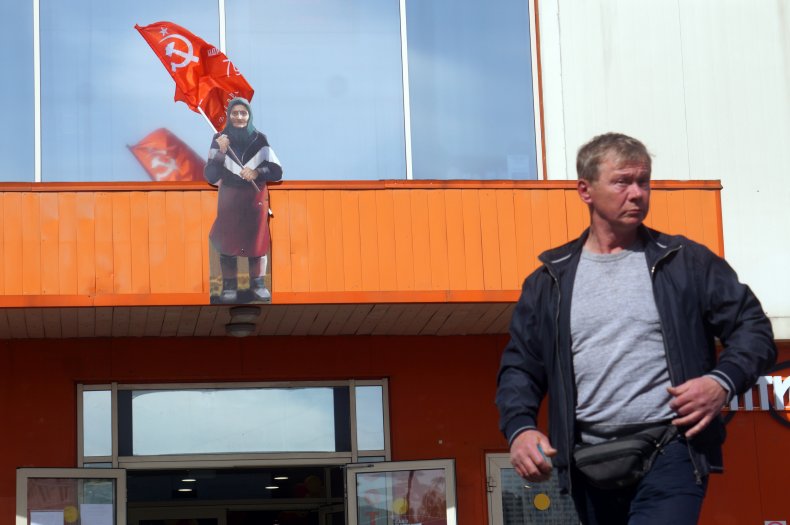 Ivanova explained that she has long-viewed the Soviet flag as a symbol of peace that helped end World War II against Nazi-led Germany and that it had nothing to do with support for Putin.
"To me, it is a flag of peace, the flag with which the war ended in Germany. It is not a flag of evil but a flag of love," she said.
Ivanova previously told The Moscow Times on May 11 that it was "awful that Russia came to us with war. Very awful."
Despite her actual views, Ivanova has been touted by Russian leaders and state-run media, and is referred to fondly as "Grandma Anna." A statue of her was even erected by Russia in Mariupol, with her image also being displayed by supporters of Putin's war in Moscow.
"She is the symbol of the fight against Nazism and fascism, she has become the grandmother for all of Donbas and for all of Russia," Sergey Kirienko, deputy chief of staff to Putin, said in recent remarks. "Grandma Anna is the symbol of our mother, the motherland, for the entire Russian world...for all those who demand the right to speak Russian."
Putin and other Russian leaders have bizarrely claimed that Ukraine is led by Nazis, who are trying to erase the Russian culture and language. In reality, Ukraine's President Volodymyr Zelensky is Jewish and was elected in 2019 with nearly three-quarters of the vote. At the time, Ukraine's prime minister was also Jewish. Zelensky was even mocked by his critics for not speaking Ukrainian well, as he was a native Russian speaker.
Putin's assault against Ukraine resulted in swift international backlash immediately after it was launched. A substantial majority of the United Nations General Assembly members voted to condemn the full-scale invasion on March 2, about a week after the war began on February 24. Only four countries—Belarus, Eritrea, North Korea and Syria—voted along with Russia against the widely supported U.N. resolution.
The U.S. and its NATO allies quickly implemented severe financial sanctions targeting the Russian economy, Moscow elite and Putin himself. They have additionally provided billions of dollars of humanitarian and military aid to Kyiv's forces, which have thus far largely repelled Russia's westward advance.
Newsweek reached out to the Russian foreign ministry for comment.