'Don't Touch Me': Kyrsten Sinema Confronted in Airport for Second Time This Month
Democratic Arizona Senator Kyrsten Sinema told a constituent, "Don't touch me," when they confronted the legislator in an airport. The incident, which was captured on video, marked the second time this month that someone confronted the senator in an airport.
The video begins with Sinema walking through an airport escorted by two other men. A woman approaches from Sinema's left side and says, "I'm from Tucson, Arizona, and I'm wondering, I know you've met with dozens of lobbyists—"
Sinema turns to look at the woman and says, "Please don't touch me." Sinema then turns away from the woman.
The woman responds, "I did not touch you." She then continues, telling Sinema, "I know you're meeting with dozens of lobbyists and talking with corporate donors about the package."
The package presumably refers to the Democrats' "human infrastructure" package, currently under negotiation in Congress. Sinema and Democratic West Virginia Senator Joe Manchin have held up the package's passage while negotiating ways to decrease its overall cost.
The woman asks Sinema, "How many times will you meet with constituents? How many times have you met with constituents in negotiating bills that are like this?"
Sinema tells the man she's with, "Sorry about this," seemingly referring to the woman who continues to talk as Sinema ignores her. Sinema's escort responds that such encounters are "par for the course" when one is an elected official.
The woman continues to ask, "Why won't you meet with my family who are your constituents? I can have them meet you next week. Every single year in Arizona, it's getting hotter and hotter. We're breaking records ... People are suffering. Your constituents are suffering. What are you going to do about climate change?"
As Sinema turns to get on an escalator, the woman says, "Next week in Glasgow could be the last chance," a reference to the 2021 United Nations Climate Change Conference, which starts October 31.
"Please answer me, senator. My family, my house," the woman pleads. "We're from Tucson. We're constituents."
Sinema then ascends the escalator, leaving the woman silently behind her.
The encounter marked the second time this month that Sinema has been confronted by an activist while walking through the airport.
The first time occurred in early October. At that time, Sinema was confronted by an activist as she walked through the Ronald Reagan Washington National Airport in the nation's capital.
In the video of the encounter, an activist, identified as Kunoor Ojha, asked Sinema, "I wanted to ask if you could explain to the American people why you are planning on cutting from Joe Biden's Build Back Better plan."
Ojha continued, "Do you want to cut climate priorities? Is it eldercare that you want to cut, or is it childcare?"
Sinema, who was on the phone at the time, held her hand up to Ojha, as if asking her to stop speaking while Sinema was on the phone.
Ojha continued to question Sinema and later said, "I'm just trying to get an explanation for the American people."
Sinema didn't appear to answer Ojha's questions.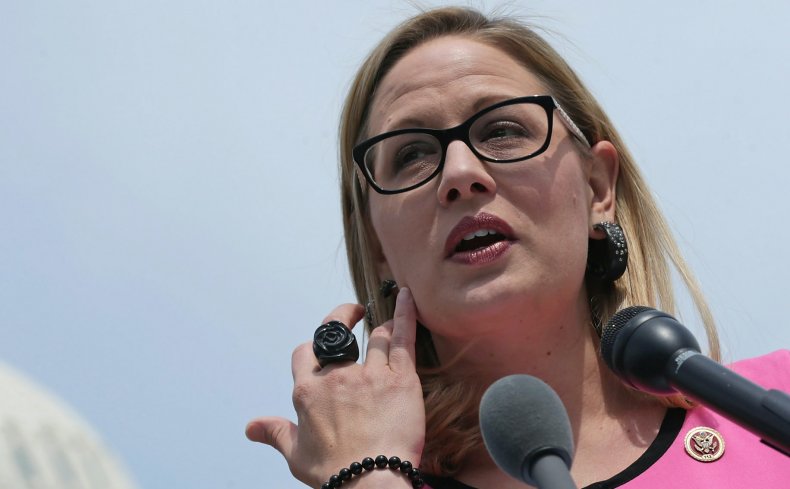 Also this month, Sinema was pursued into the bathroom of an Arizona college by activists. The activists represented Living United for Change in Arizona. They demanded that Sinema support the Build Back Better Act.
One off-camera person in the video of that encounter told Sinema, "We knocked down doors for you to get you elected. And just how we got you elected we can get you out of office if you don't support what you promised us."
Sinema's office said it refused to dignify the activists' behavior with a response.
This same month, Sinema was confronted by a Deferred Action for Childhood Arrivals recipient while onboard a plane. The woman asked Sinema if she would support a pathway for undocumented immigrants to become U.S. citizens. Sinema ignored her, as well.
Sinema has become the focus of Democratic ire due to her holdup of the human infrastructure bill. Concurrently, Sinema has made few public or media appearances as negotiations continue.
Sinema's absence led MSNBC political contributor Jason Johnson to say that she had become harder to find than Waldo and Carmen Sandiego, a reference to two notably hard-to-find characters from two different children's games.
Newsweek contacted Sinema's office for comment.