Dr. Dre 'Looking Good' After Returning Home From Hospital, Says Ice T
Dr. Dre is "looking good" after he returned home following treatment for a reported brain aneurysm in hospital, his friend and fellow rapper Ice T has said.
Rapper and producer Dre, aged 55, was taken to Cedars-Sinai Medical Center in Los Angeles, California, earlier this month.
On Friday, Ice T, who stars on Law and Order: Special Victims Unit, said he had spoken to Dre over FaceTime following his release from hospital.
"Update: Just FaceTimed with @drdre," Ice T wrote on Twitter. "He just made it home. Safe and looking good."
An attorney for Dre has been contacted for comment.
Dre, whose real name is Andre Young, took to Instagram earlier this month to say he was "doing great and getting excellent care from my medical team."
"Thanks to my family, friends and fans for their interest and well wishes," he said in the post. "I'm doing great and getting excellent care from my medical team. I will be out of the hospital and back home soon. Shout out to all the great medical professionals at Cedars. One Love!!"
It came after TMZ reported that he had suffered a brain aneurysm on January 4 and was recovering at the hospital.
Hours after the story broke, Dre's home in the Brentwood neighborhood of Los Angeles was the target of an attempted burglary, police said.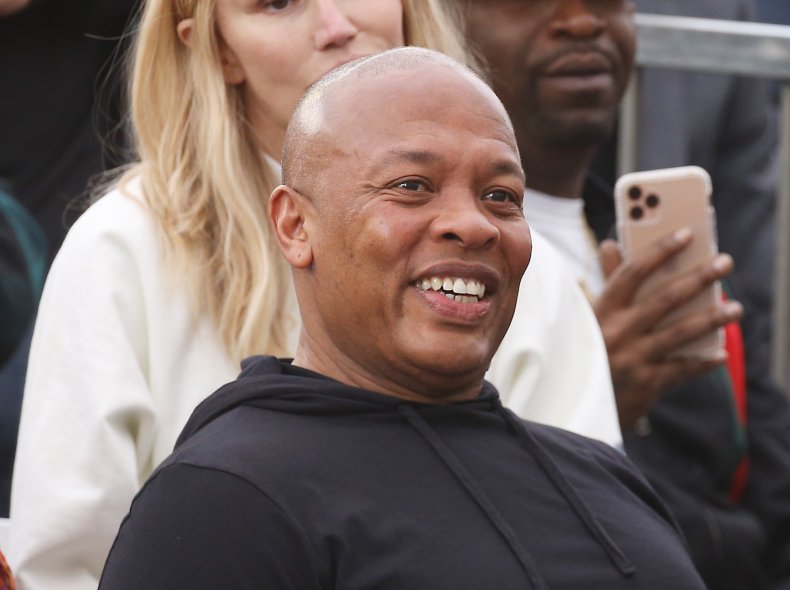 ABC7 reported that a group of burglars attempted to break into the property at around 10 p.m. on January 5, but weren't able to get in. Four suspects were arrested following a pursuit after officers spotted a white SUV leaving the area.
Police discovered a backpack filled with tools, including saws and crowbars, inside of the vehicle.
According to ABC7, authorities had initially believed it was the nearby home of Vice President-elect Kamala Harris that was being targeted, but later determined it was Dre's.
The Los Angeles Police Department has been contacted for additional comment.
Dre is currently going through divorce proceedings with his estranged wife, Nicole Young. The couple have two children—23-year-old son Truice and 19-year-old daughter Truly.
Dre was a co-founding member of hip hop group N.W.A. and founded Death Row Records. He was instrumental in the careers of artists including Eminem, Kendrick Lamar and Snoop Dogg.
In 2008, he founded Beats Electronics with Jimmy Iovine, the founder of Interscope Records. Later, they launched a streaming subscription service, Beats Music. Apple acquired both in a $3 billion deal in 2014.
Dre is of the country's wealthiest hip hop stars, with an estimated fortune of around $800 million, according to Forbes.