Dr. Dre's home became a target of an attempted burglary just hours after it was announced he had been hospitalized with a suspected brain aneurysm, police have said.
Los Angeles Police Department (LAPD) said four people have been arrested after being stopped by undercover officers in West Hollywood around 9.30 p.m. on Tuesday.
It followed a short chase after officers spotted an SUV believed to have been involved, ABC7 reported.
Newsweek has contacted the LAPD for comment.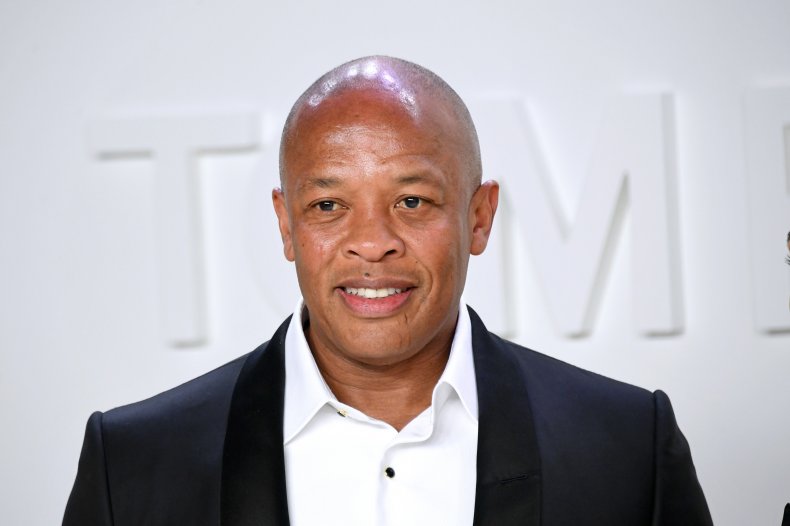 Footage broadcast on Fox LA on Wednesday shows police vehicles and officers surrounding what is reportedly Dr. Dre home in Brentwood. In one shot, an officer can be seen patting down a man in handcuffs; another shows a stationary white car with all its doors open.
It comes after the 55-year-old, whose real name is Andre Romelle Young, was taken to Cedars-Sinai Medical Center in LA on Monday for a suspected brain aneurysm.
In a post on Instagram, he said: "Thanks to my family, friends and fans for their interest and well wishes. I'm doing great and getting excellent care from my medical team. I will be out of the hospital and back home soon. Shout out to all the great medical professionals at Cedars. One Love!!"
Fellow stars sent their well wishes to the rapper including Ice Cube, his former NWA bandmate who tweeted: "Send your love and prayers to the homie Dr. Dre."
Snoop Dogg also wrote on Instagram: "GET WELL DR DRE WE NEED U CUZ and Missy Elliott said: "Prayers up for Dr. Dre and his family for healing & Strength over his mind & body." And singer Ciara tweeted: "Praying for you Dr. Dre. Praying for a full recovery."
"Dre is recovering nicely," wrote LL Cool J. Rapper Juicy J tweeted: "Noooooo not Dr Dre. praying for a speedy recovery."
"Dr. Dre is supposedly stable. Keep him in your thoughts. F***," tweeted It's The Real.
"PRAYERS UP FOR DR DRE," G-Eazy said.
The attempted burglary and hospitalization comes as Dr. Dre is going through divorce proceedings with his estranged wife, Nicole Young.
The couple split after a 24-year marriage, citing irreconcilable differences. They have two adult children together, 23-year-old son Truice and 19-year-old daughter Truly.
Dr. Dre, who co-owns Death Row Records, has been shaping west coast rap since the 1980s and was instrumental in the careers of stars like Snoop Dogg, Eminem, 50 Cent and Kendrick Lamar.
He founded Beats Electronics in 2008 with Jimmy Iovine and the duo later launched the Beats Music streaming subscription service. Apple acquired both in 2014.