Dr. Fauci Says Complacency Due to Drop in COVID Cases Could Drive Another Surge
Dr. Anthony Fauci, the nation's leading infectious diseases expert, said Tuesday that complacency due to declining coronavirus cases could lead to another virus surge in the United States.
Speaking on CNN, Fauci noted that infections in the U.S. have gone down significantly but warned that unless Americans continue to get vaccinated and take necessary precautions, there could be another spike.
"When people look at that curve, every day in the newspaper it's very steeply going down, which is terrific news. The infections per day are going down. We can't pull back on that and get complacent. Because if we do, we could see a surge," said Fauci, the director of the National Institute of Allergy and Infectious Diseases.
He added that it's important for Americans to get vaccinated "as quickly and as efficiently as possible" in order to reach levels of herd immunity and stave off new variants of the virus that are more infectious.
"We have got to, as quickly and as efficiently as possible, get as many people vaccinated as we can, at the same time that we continue with our public health measures," he said.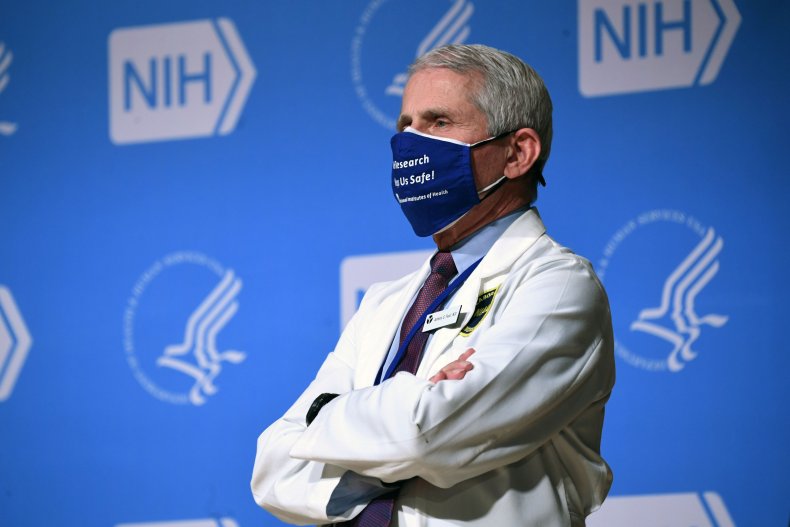 Coronavirus cases and hospitalizations have been on the decline in recent weeks. According to the COVID Tracking Project, 54,403 Americans are hospitalized for COVID-1, the lowest figure since early November.
Over the past 14 days, cases have declined by 40 percent, while hospital admissions have steadily dropped since mid-January, when the seven-day average reached about 130,000, according to a New York Times database.
Even so, the U.S. passed a grim milestone on Monday, when the COVID-19 death toll officially surpassed 500,000, which is higher than any other country in the world.
Roughly one in 670 Americans has now died from COVID-19, which has become the leading cause of death in the country, the Times reported.
So far, over 44 million Americans have received at least one dose of a coronavirus vaccine, while more than 19 million have received both shots, according to the U.S. Centers for Disease Control and Prevention.
President Joe Biden's goal is to have at least 100 million vaccine doses administered by the end of his first 100 days in office. But those efforts were met with new challenges last week when winter storms delayed the delivery and administration of roughly 6 million doses.
Speaking to Newsweek in December, Fauci said that 70 to 85 percent of the population will need to be fully vaccinated for the country to begin reaching herd immunity.
"If you don't get a substantial proportion of the people vaccinated, and you have a recalcitrant group that prevents you from achieving herd immunity, you can get into a chronic state of a lower level of infection," he said.
"But if you really wanted to get epidemic control, it would be very important to get the overwhelming majority of the people vaccinated," he added.
As of Tuesday, there have been over 28 million coronavirus infections and 500,443 deaths in the U.S., according to Johns Hopkins University.
Newsweek, in partnership with NewsGuard, is dedicated to providing accurate and verifiable vaccine and health information. With NewsGuard's HealthGuard browser extension, users can verify if a website is a trustworthy source of health information. Visit the Newsweek VaxFacts website to learn more and to download the HealthGuard browser extension.