U.S. Hits Half a Million COVID Deaths Even as Cases Decline
Despite a downward trend in coronavirus cases and increasing vaccination rollouts across the nation, the virus has claimed more than half a million American lives.
On Monday, the U.S. COVID-19 death toll officially surpassed 500,000—a figure no other country has reached and one that underscores the Trump administration's mixed messages about the pandemic.
"If you look back historically, we've done worse than any other country, and we're a highly developed rich country," the nation's top infectious disease expert, Dr. Anthony Fauci, said during a Monday appearance on Good Morning America.
"There were things back then, if you go back and think about what you might have done, the kind of disparate responses of different states, rather than having a unified approach. But you know, it's so tough to go back and try to do a metaphorical autopsy on how things went. It was just bad. It is bad now," Fauci added.
Globally, COVID-19 has claimed more than 2 million lives, and the virus has infected more than 111 million.
President Joe Biden is expected to mark the somber milestone at a White House candle-lighting ceremony on Monday evening with first lady Jill Biden, along with Vice President Kamala Harris and her husband, Doug Emhoff. The president will deliver remarks on the tragedy before a moment of silence.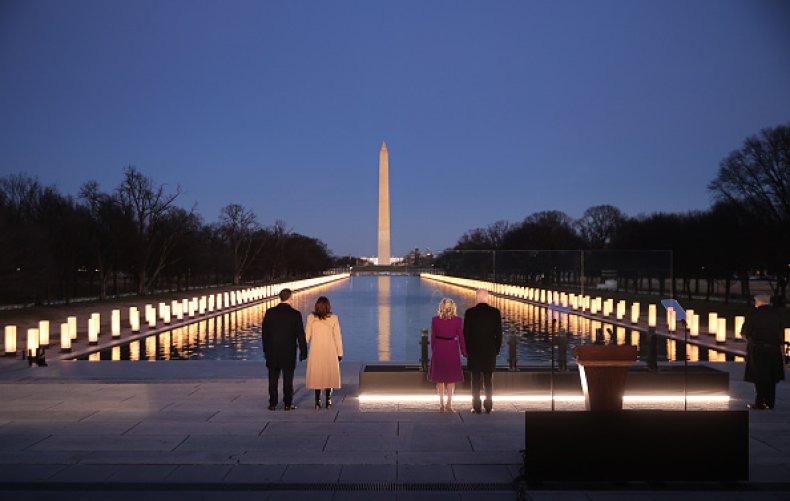 The evening before Inauguration Day, Biden and Harris observed the 400,000-death milestone at the Lincoln Memorial.
A little over a month later, another 100,000 Americans have died, with new and more contagious variants of the virus emerging across the country.
However, new coronavirus cases and hospitalizations are on the decline. According to the COVID Tracking Project, 56,159 Americans are hospitalized for COVID-19—the lowest figure since November 7. Hospital admissions have steadily declined since mid-January, when the seven-day average reached about 130,000, according to a New York Times database.
The Biden administration's goal is to have at least 100 million vaccine doses administered by the end of his first 100 days in office. But those efforts were met with new challenges last week when winter storms delayed the delivery of roughly 6 million doses.
Vaccination rollouts across the country have also frustrated many hospital officials who have the ability to vaccinate many more Americans than the doses they received. But the supply shortage should come to an end soon as manufacturing ramps up and approval for a third vaccine nears.
Even though coronavirus metrics are beginning to decline and more Americans are becoming vaccinated every day, many experts continue to warn the public to avoid becoming complacent about wearing face masks and maintaining social distance.
Newsweek, in partnership with NewsGuard, is dedicated to providing accurate and verifiable vaccine and health information. With NewsGuard's HealthGuard browser extension, users can verify if a website is a trustworthy source of health information. Visit the Newsweek VaxFacts website to learn more and to download the HealthGuard browser extension.