Delivery of Over A Million COVID Vaccines Shots Delayed by U.S. Winter Storm
The U.S. is projected to see "widespread delays" in COVID-19 vaccine shipments and deliveries over the next few days due to the ongoing winter storm sweeping across the country.
The delivery of over a million COVID-19 vaccine doses have been impacted so far, including 407,000 first doses and 333,650 second doses in Texas, 200,000 total doses in Florida and 133,000 in Colorado.
Several states have been forced to cancel COVID-19 vaccination appointments due to the shipment delays and for safety reasons amid the harsh weather conditions.
"Due to the severe winter weather currently impacting a large swath of the country, the U.S. government is projecting widespread delays in COVID-19 vaccine shipments and deliveries over the next few days," the U.S. Centers for Disease Control and Prevention (CDC) said in a statement.
"Shipping partners are working to deliver vaccine where possible, contingent on local conditions, but the adverse weather is expected to continue to impact shipments out of the FedEx facility in Memphis, Tenn. [Tennessee], as well as the UPS facility in Louisville, Ken. [Kentucky], which serve as vaccine shipping hubs for multiple states," the statement said.
Here we look at some of the states where the COVID-19 vaccine rollout has been impacted by the winter storm.
Texas
Texas has been hit with unprecedented winter storm conditions, which have led to icy roads, traffic deaths, power outages and frozen pipes.
Last Friday, the CDC and shipment companies postponed vaccine shipments for Texas, which included 407,000 first doses and 333,000 second doses, in anticipation of the severe weather, according to a spokesperson for the Texas Department of State Health Services (DSHS).
On Tuesday, the DSHS tweeted: "COVID-19 vaccine shipments postponed. DSHS expects this week's shipments to begin arriving Wednesday at the earliest. Deliveries will be subject to local conditions. Postponed vaccinations will resume as soon as it is safe."
The department noted: "DSHS expects this week's shipments to begin arriving Wednesday at the earliest. Deliveries will be subject to the local situation.
"Local providers have postponed vaccine clinics where it is too dangerous to drive.
"Vaccination will resume as soon as it is safe," the DSHS added.
Florida
Florida Gov. Ron DeSantis tweeted on Tuesday: "Weather conditions across the United States are impacting the shipment of the COVID-19 vaccine to Florida. @FLSERT and @HealthyFla are providing regular updates to our partners to ensure the vaccine is distributed as efficiently as possible as it arrives."
The shipment of 200,000 Moderna COVID-19 vaccines in Florida has been delayed by the winter storm and "are now expected to arrive on Thursday, February 18. The state is still expecting to receive the full allocation of vaccines for Week 10," according to the press secretary for the Florida Division of Emergency Management, Samantha Bequer.
"The state is still expecting to receive the full allocation of vaccines for Week 10," Bequer added.
Vaccine providers have been advised to plan for delivery delays, including "potentially rescheduling vaccine appointments, if necessary. We ask that providers do not cancel appointments, but rather reschedule any appointments that may be impacted by this delay," Bequer noted.
The state continues to monitor the shipments and will provide updates as they become available.
Colorado
Vaccine delays have impacted the state's "allocation of 133,000 vaccines that were expected to arrive today [Tuesday] through Thursday," the Colorado Department of Public Health & Environment noted in a statement Tuesday.
The department is working with the state's health care providers and local public health agencies in a bid to avoid appointment cancellations and closures of vaccination clinics.
The department stated: "In anticipation of the holiday weekend, Colorado requested and received doses Friday that were originally scheduled for this week. This decision helps us have enough on hand to work with providers to move doses around to prevent cancelations.
"The state expects more information about when we will receive the vaccine as the weather clears and shipping operations resume," the statement added.
Arizona
Delays in vaccine shipments to Arizona have forced local health departments to direct the Arizona Department of Health Services (ADHS) to cancel some appointments, according to a statement from the department shared by a reporter for Arizona's ABC15, Nicola Grigg.
"At this time, it appears there are enough Pfizer doses available for state vaccination sites and other sites administering Pfizer to maintain operations without interruption," the statement noted.
The department is in "regular contact with federal and local partners to monitor this situation," the statement said.
Maricopa County will not be canceling appointments but will monitor the supply through Wednesday and coordinate accordingly with the ADHS, the county told Arizona's KTAR News.
It's unknown how many or which counties have canceled appointments at this time. Grigg also tweeted that in the statement "Adhs left out the counties that have reached out to them that will have to cancel appointments."
Michigan
The winter storm has seen the cancellation of scheduled vaccine appointments in several parts of Michigan including Detroit.
Beaumont Health, Michigan's largest health care system, announced the cancellation of 1,884 second dose appointments scheduled for February 18 due to the "unexpected and significant reduction in Pfizer COVID-19 vaccine allocation from the state of Michigan," in a statement Monday.
In Detroit, appointments scheduled for Tuesday at the TCF convention center were moved to February 20, with appointment times remaining the same. "All ride reservations will be rescheduled to Saturday as well," Detroit Mayor Mike Duggan tweeted Monday.
Other counties where vaccination appointments have been rescheduled include Macomb County, Monroe County and St. Clair County.
Appointments in Wayne County booked for Tuesday were also reported to have been rescheduled for February 23.
Vaccination clinics in Oakland County remain open but those who can't make their appointments due to the weather can have their bookings rescheduled, the county's health department noted on its Facebook page.
Georgia
Vaccine deliveries due to arrive this week in DeKalb County have been delayed due to the weather. The deliveries are "being held until they can safely get through the supply chain," the DeKalb County Board of Health said in a statement Tuesday.
Second doses of the Moderna vaccine that were scheduled to be administered on Wednesday at vaccination sites in Doraville and Stonecrest are being rescheduled.
"Individuals with appointments are being contacted via email and phone regarding this situation and will be informed of their new appointment date once it becomes available," the statement added.
Gwinnett, Newton and Rockdale counties were reported to not have cancelled any vaccine appointments at this time, according to Chad Wasdin from the Gwinnett, Newton and Rockdale County Health Departments.
"When we open appointments, we only make appointments available for the vaccine we have on hand. Second dose vaccines are prioritized before we open first-dose appointments to the public. Therefore, we have enough vaccine for the appointments we've made for this week," Wasdin noted.
Illinois
Vaccine shipments in Chicago have also been delayed due to the "inclement weather in the Midwest," the Chicago Department of Public Health said in a statement Tuesday.
All vaccination sites in Chicago were closed on Tuesday due to the Winter Storm Warning in effect across the city.
The department tweeted Tuesday: "People with scheduled appointments will be notified of changes.
"The City is assessing the overall impact from the storm and will make decisions regarding testing and vaccine operations on a day-to-day basis during the inclement weather," it noted in another tweet Tuesday.
Also in a statement Tuesday, the Illinois Department of Public Health noted: "To help offset delayed vaccine deliveries, the State of Illinois proactively ordered vaccine to be delivered to its Strategic National Stockpile Receipt, Store, and Stage site in anticipation of adverse weather.
"Illinois is distributing that vaccine to many providers around the state today [Tuesday] and tomorrow [Wednesday], as weather permits, to continue to support vaccination operations," the department added.
Ohio
Some appointments have been canceled, while some vaccination sites have remained open in Ohio. Vaccine shipments could potentially be delayed, according to Ohio Gov. Mike DeWine.
The governor tweeted Tuesday: "Due to severe weather across Ohio and the country, vaccine shipments coming to providers directly from Pfizer and Moderna could be delayed by 1-2 days. Smaller shipments from the RSS Warehouse are being delivered on a 2-hour delay.
"Some vaccine providers have canceled appointments due to snow emergencies, but many are continuing to vaccinate. If you haven't heard from your provider and are concerned about if your appointment is still scheduled, please contact your provider or visit their website," he noted in another tweet Tuesday.
Missouri
Mass vaccination events in Missouri scheduled for this week were canceled "in the interest of safety due to extreme winter weather." The stormy conditions will also "likely delay some vaccine shipments," Missouri Gov. Mike Parson said in a statement.
The governor tweeted Tuesday: "To ensure that no vaccine doses are endangered, arriving vaccine shipments for this week's Mass Vaccination events (canceled due to weather) will remain in each of the nine regions across the state and be redistributed to community hospitals with emergency generators."
The governor's office advised Monday: '"The state is making every effort to reschedule these events, but individuals who were registered are encouraged to reach out to other vaccinators in their region in the interim. Missourians scheduled to receive a vaccine this week through other providers should check with their vaccinator for any potential schedule changes."
Nevada
Two vaccination clinics in Nevada have been impacted by vaccine shipment delays.
"Severe storms across the country" have caused delays in Nye County and were expected to force the county to delay a planned "point of delivery" (POD) operation, a county spokesperson said.
Those booked for an appointment at a Wednesday clinic will be notified by email, text or phone when a new vaccination clinic has been rescheduled.
"Nye County is monitoring this situation closely and is working with the State of Nevada to get vaccine doses as soon as possible," the spokesperson said.
In a statement Tuesday, Carson City Health and Human Services noted a clinic scheduled to take place at the Lyon County Fairgrounds in Yerington was also rescheduled for Friday.
Those who were booked for second dose appointments will be notified by email or phone when a new date for the clinic has been scheduled.
"Those who were scheduled to receive their second dose at this event will not need to make an appointment. Appointment times will remain the same," the statement said.
The Nevada Department of Health and Human Services is monitoring the situation and working to resolve any delays as soon as possible, the department noted in a statement Tuesday.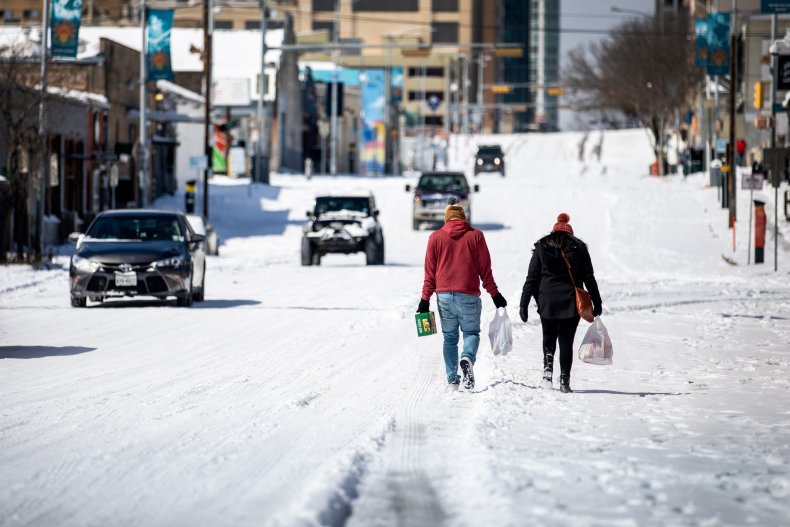 The wider picture
The novel coronavirus has infected more than 109.6 million people, including over 27.7 million in the U.S., since it was first reported in Wuhan, China.
More than 2.4 million people have died worldwide and more than 61.6 million have recovered as of Wednesday, according to Johns Hopkins University.
The graphic below, produced by Statista, illustrates countries with the highest number of COVID-19 vaccine doses administered per 100 people.