Dr. Fauci Says U.S. Has Done 'Worse Than Most' as COVID Deaths Approach Half a Million
Dr. Anthony Fauci, the nation's leading infectious diseases expert, said the U.S. has done "worse than most" other countries on Monday as the nation approaches half a million COVID-19 deaths.
"I believe that if you look back historically, we've done worse than most any other country," Fauci said during a Monday appearance on ABC News' Good Morning America. "And we're a highly developed, rich country."
The U.S. has reported nearly half a million deaths due to COVID-19 since the beginning of the pandemic almost a year ago in March.
According to data from John Hopkins University more than 498,900 people have died of COVID-19 as of Monday morning. Globally, 2.4 million people have passed due to the virus.
The U.S. continues to grapple with the coronavirus pandemic as other countries, such as Australia and New Zealand, have returned to a relatively normal way of life.
"The only thing that I would just encourage all of us is that rather than looking back and saying what the heck happened here, now let's just go forward and be completely committed as a unified country to just go at this together," said Fauci.
"This is a common enemy. We've all got to pitch in," Fauci continued.
The infectious disease expert added that we must continue to vaccinate people "as quickly and as efficiently as possible" and enforce public health measures, including wearing a face mask, avoiding congregate settings, and practicing social distancing.
Fauci called those strategies the "weapons that we have against this horrible disease."
Fauci shared that the U.S. will have 600 million doses of the coronavirus vaccine, enough to vaccinate the nearly country's entire population, by July during an appearance on Fox News Sunday.
President Joe Biden pledged last week to make 600 million doses of the COVID-19 vaccine available by the end of July.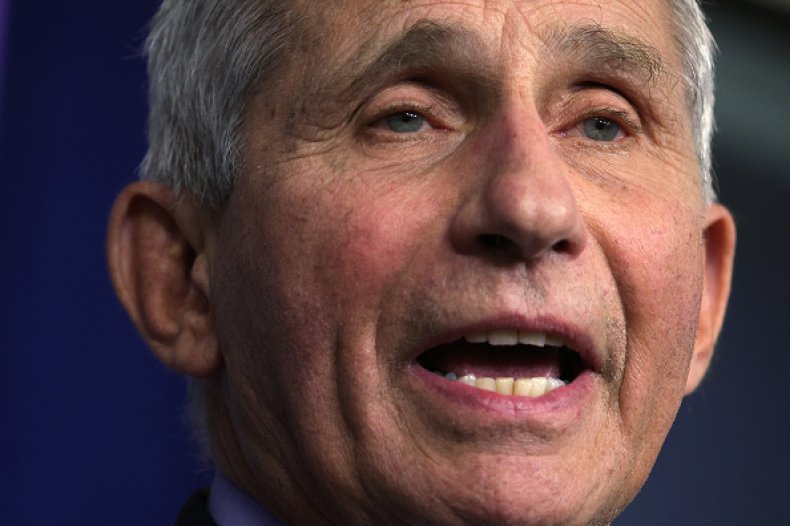 During a Sunday appearance on NBC News' Meet the Press, Fauci called the death toll of the pandemic in the U.S. "stunning."
"It's stunning. It's horrible," Fauci said. "I mean if you look at what has gone on now, and we're still not out of it, a half a million deaths, it's just terrible."
"It is historic. We haven't seen anything even close to this for well over 100 years since the 1918 pandemic of influenza," Fauci said. "It's something that is stunning when you look at the numbers. It's almost unbelievable, but it's true."
The doctor continued: "This is a devastating pandemic. People will be talking about this decades and decades and decades from now."
Newsweek reached out to Fauci through the National Institute of Allergy and Infectious Diseases, but didn't hear back in time for publication.