Dr. Oz Struggles to Answer Abortion Question on Fox News
Republican Pennsylvania Senate hopeful Dr. Mehmet Oz struggled to give a concise answer when asked about his views on abortion during an interview on Fox News.
While speaking to Will Cain about his policies and conservative views, the celebrity heart surgeon was asked about what he believes the laws on abortion should be and whether they should be as strict as in states such as Texas and Mississippi.
Oz said that he is "pro-life," except in three situations: Rape, incest and if the woman's health is at risk.
Cain then asked Oz to clarify when he believes that life begins and when performing an abortion should no longer be legal.
"As a doctor, I appreciate the sanctity of life. And for that reason, I'm strongly pro-life with the three exceptions I've mentioned. That's how I would vote."
When asked again when he believes life begins, Oz said: "If I'm pro-life, then that's a decision that comes back to the sanctity of when you think life does begin. And I believe that begins when you're in the mother's womb."
Cain adds: "When you're in your mother's womb?" But that carries you all the way up to nine months of pregnancy."
"No, of course not, life's already started when you're in your mother's womb," Oz replied. "But it's a rathole to get trapped in the different ways to talk about it.
"We need as a nation to make sure the Constitution is appropriately followed and people like me who are pro-life have our feelings respected, and this is something that should not be taken away from us by judiciary legislating from the bench."
Cain concluded the interview by stating that future answers regarding abortion laws are "going to have to be given specifically" during Oz's campaign trail.
In a statement to Newsweek to clarify his views on abortion, Oz added: "I believe life begins at conception.
"My whole life has been about saving lives. As a heart surgeon, I have held a beating heart in my hand, and I understand how precious life is—it's why I am pro-life. As the Senator for Pennsylvania, I will vote to protect the sanctity of life and the unborn."
Conservative Views
Elsewhere during his appearance on Fox News, the TV host, who was appointed by Donald Trump to the presidential Council on Sports, Fitness and Health, discussed a popular right-wing talking point of so-called "Big tech censorship," claiming that Facebook had recently restricted his campaign's account.
"If you don't go to war with Big Tech, they'll come after you over and over again," Oz added.
Oz also assured potential voters that he does hold conservative views after Cain said that he wasn't even sure if the media personality, who has lived in New Jersey for the past two decades, would be running for the Senate as a Republican.
"Just because I have a show on a topic doesn't mean that I agree with what some of the guests are saying," Oz said.
"I'm pro-life. I'm pro-Second Amendment, lawful abiding individuals should be able to own a gun. There's many other examples where I'm conservative, and these are the values I was raised with.
"When I came over to Pennsylvania last year, I knew darn well exactly how I would campaign because I align very closely with Republican primary voters in this wonderful state."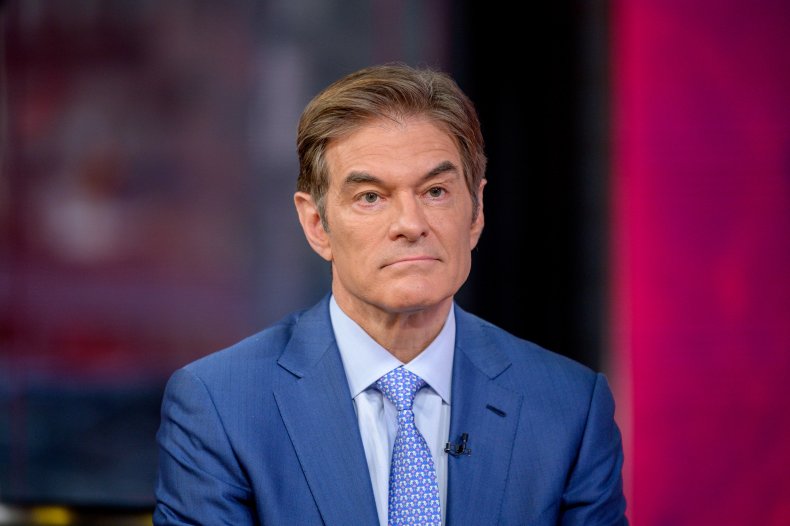 UPDATE 12/17/2021 4:16 a.m. ET: This article has been updated with additional comment from Dr. Mehmet Oz.