Broly and Paragus Character Designs for 'Dragon Ball Super' Movie Released
Broly and his father Paragus are getting new character designs for the upcoming Dragon Ball Super movie releasing in Japan this December.
The first look at the new character designs comes courtesy of the latest issue of V-Jump, showing Broly in his base and Super Saiyan forms and Paragus' drastic new look. Check out the V-Jump scan of Broly and Paragus in the below tweet from YonkouProductions.
Broly's character design hasn't changed much from his first appearance in the Broly film released in 1993. The biggest alteration comes in the scars on his face and chest, which were not present on the character in his first outing in Dragon Ball Z. It's likely the scars will be a part of the Legendary Super Saiyan's backstory, which Dragon Ball creator Akira Toriyama will oversee.
Paragus is receiving a more substantial change to his appearance. He still maintains the scar over his left eye, but the Dragon Ball Super: Broly design for Paragus has noticeably aged the Saiyan. His black hair is now an elderly gray, and he now sports a beard along with his moustache.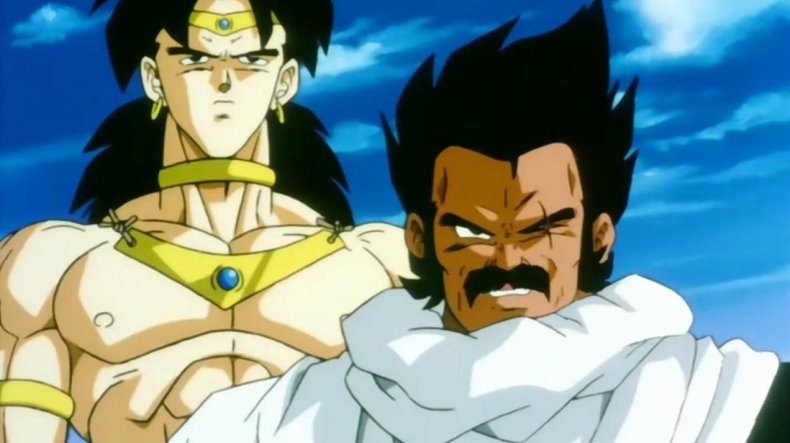 Broly's father is also seen wearing a traditional Frieza Army vest, which likely ties in to how the upcoming movie will explore how Frieza and the Saiyans co-exist. Toriyama teased the Broly movie's synopsis back in March.
"The Dragon Ball Super movie this time will be the next story in the series currently airing on TV. It will be an episode after catching our breath from the climax of the Tournament of Power with the universe's existence on the line; with content that will give a little better understanding about Frieza and the Saiyans, which I hadn't properly depicted up till now; and leading to a mighty foe saved for the occasion, which I think has it shaping up to be a really enjoyable story."
In the original Broly film, Paragus arrives on Earth with his son to seek out Vegeta, intending to rule on a new world built for the surviving Saiyans. However, it later becomes clear Paragus used Broly to conquer this planet and its inhabitants. The Z-Fighters try to stop Paragus, but Broly, who remembers Goku tormenting him when they were both children, loses control and kills his father before going on a rampage against everyone.
Dragon Ball Super: Broly is set to release in Japan on Dec. 14, with North America getting the film sometime in 2019.
What do you think of Broly and Paragus' character designs in the upcoming movie? Let us know in the comments section below.