Drake Breaks Silence on Astroworld Tragedy—'My Heart is Broken'
Drake has broken his silence on the Astroworld Festival tragedy that saw eight attendees die and scores injured following a devastating crowd surge on Friday.
The rapper, full name Aubrey Drake Graham, appeared at the music festival at the NRG Park stadium in Houston, Texas, as a surprise guest alongside banner star Travis Scott, when the crowd of around 50,000 surged toward the stage, sparking a deadly stampede.
And after a notable social media silence on the matter, during which he was criticized by fans, Drake released a statement on Instagram stating that his "heart is broken" for those who lost loved ones in the tragedy.
"I've spent the past few days trying to wrap my mind around this devastating tragedy," the star wrote in his post. "I hate resorting to this platform to express an emotion as delicate as grief but this is where I find myself.
"My heart is broken for the families an friends of those who lost their lives and for anyone who is suffering. I will continue to pray for all of them, and will be of service in any way I can. May God be with you all."
The "God's Plan" hitmaker also appears to have removed a post shared after the event in which he was seen performing onstage alongside Scott.
In the days following the event, Drake and Scott were hit with a lawsuit from an Astroworld attendee, who accused the stars of "inciting" the crowd before the surge.
Kristian Paredes, 23, has accused the musicians, Live Nation Entertainment Inc. and Harris County Sports and Convention Corporation of negligence, according to a complaint.
Paredes—who claims he was permanently injured in the crush—accused Drake in his lawsuit of continuing to perform onstage with Scott as things spun "out of control" among the attendees and "while the crowd mayhem continued."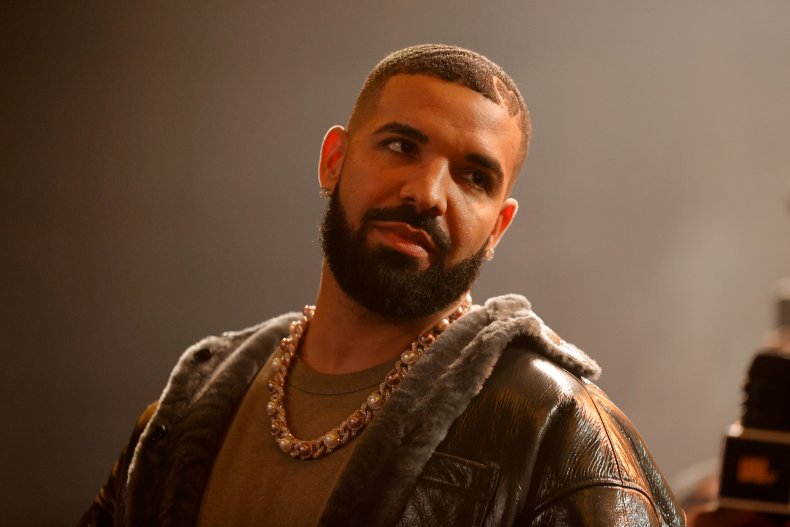 "The crowd became chaotic and a stampede began leaving eight dead and dozens, including Kristian Paredes, severely injured," reads the filing. "Many begged security guards hired by Live Nation Entertainment for help, but were ignored."
As of Monday, at least 14 lawsuits have been filed against Scott and festival organizers Live Nation Entertainment and ScoreMore, in Harris County District Court.
Live Nation told Newsweek in a statement: "We continue to support and assist local authorities in their ongoing investigation so that both the fans who attended and their families can get the answers they want and deserve, and we will address all legal matters at the appropriate time."
An "absolutely devastated" Scott released a statement on Twitter over the weekend addressing the tragic events at Astroworld.
"My prayers go out to the families and all those impacted by what happened at Astroworld Festival," he said. "Houston PD has my total support as they continue to look into the tragic loss of life.
"I am committed to working together with the Houston community to heal and support the families in need. Thank you to Houston PD, Fire Department and NRG Park for their immediate response and support. Love you all."
On Monday, it was announced that Scott plans to cover all funeral costs of the attendees who passed away, and provide free one-on-one online therapy for others affected.