Sixth Graders Hold Down Classmate, Cut Her Dreadlocks at Private Christian School Where Karen Pence Teaches
UPDATE 9/30/2019: The account of the girl in this article has been revealed to be false. On Monday, September 30, Amari Allen, who accused her classmates of hurling verbal abuse at her and forcibly cutting her hair has told reporters that she fabricated the event. The Allen family has formally apologized to both the school and the falsely accused boys. Below is the original story, published September 26.
A group of sixth-grade boys at the private Christian school where second lady Karen Pence is a teacher have been accused of holding down a classmate and forcibly cutting off her dreadlocks because they were "nappy" and "ugly."
The student, 12-year-old Amari Allen, attends Immanuel Christian School in Fairfax County, Virginia, just outside of Washington, D.C. She was allegedly attacked at the school's Springfield campus Monday, September 23, during recess by three white male students. Allen told CBS affiliate WUSA9 that one student covered her mouth with his hands while another held her arms behind her back and another cut her dreadlocks with scissors while taunting her.
"They kept laughing and calling me names," Allen said. "They called me 'ugly,' said, 'I shouldn't have been born.' They called me 'an attention-seeker.'"
Allen was initially afraid to admit what had been done to her. She did not speak up about the matter until Wednesday, when her grandmother, Cynthia Allen, noticed that her granddaughter's hair was shorter and cut unevenly.
"It's very painful," Cynthia Allen said. "I want to see them dismissed from the school. I want to see something done."
The Allen family has filed a complaint with the Fairfax County police department and met with school officials, according to ABC affiliate WJLA-TV. The officials reportedly advised them to pray about the situation and have Amari return to school on Monday.
Tuition to attend Immanuel Christian School for sixth-grade students like Allen is $11,500 per year, according to the school's official website.
The school received attention from news outlets earlier this year when Karen Pence, the wife of Vice President Mike Pence, began working there as an art teacher. Pence had formerly worked as a teacher in Indiana for 12 years before her husband was elected vice president.
According to reporting first conducted by the Huffington Post, Immanuel Christian School refuses to admit LGBT students or hire LGBT faculty and staff. An employee application form read that potential employees were not permitted to engage in homosexual acts if they were to be hired, and that God intended that sex only occur between "a man and a woman who are married to each other."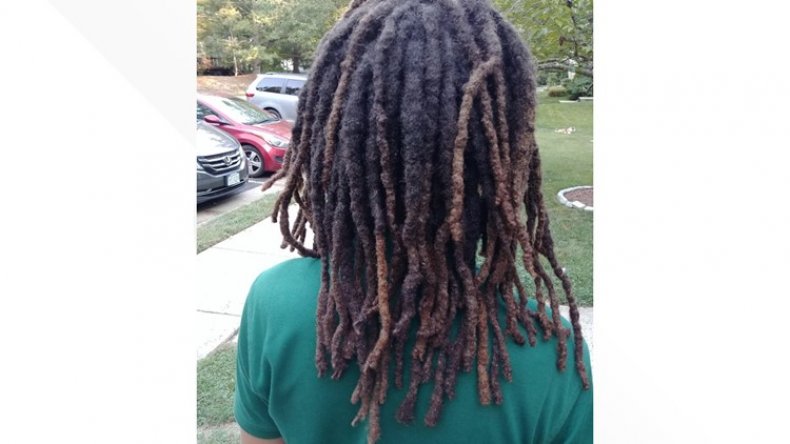 Regarding the hair accusation, Immanuel Christian School released an official comment, which read, "We take seriously the emotional and physical well-being of all our students, and have a zero-tolerance policy for any kind of bullying or abuse. We are deeply disturbed by the allegations being made, and are in communication with the family of the alleged victim to gather information and provide whatever support we can. We have also reached out to law enforcement to ask them to conduct a thorough investigation, and further inquiries should be directed to the Fairfax County Police."
Neither Karen nor Mike Pence had released an official comment on the matter by 4 p.m. Thursday, nor had First Lady Melania Trump, whose Be Best campaign seeks to end bullying in American schools, encouraging children to "#ChooseKind."