Driver's Diary: I Bought a 2022 Ford Maverick
Everybody had stopped making small trucks. I had owned pickup trucks for 27 years, starting from when I got my driver's license, until I bought a 2008 Subaru Impreza because nobody had the type of truck I wanted anymore.
My love for small trucks has never gone away. A few years ago, I was looking into buying a used Subaru Baja. when I found out that Ford was going to be coming out with something smaller than the Ranger.
When they announced the Maverick, I watched every video I could, read every article I could and quickly went down to the dealer and ordered one.
Five and a half months after I ordered it, I took delivery of a 2022 Ford Maverick XLT with the XLT Luxury Package and FX4 Off-Road Package.
The heated steering wheel, heated seats and a windshield wiper de-icer are the main reason I got the XLT Luxury Package.
I added the FX4 Off-Road Package for a little extra protection because I live in rural Maine. I don't plan on going rock crawling or anything, but there's a lot of unimproved roads. If you get out of any major area, a lot of roads aren't paved. There's a lot of recreational trails that aren't serious off-roading areas, but aren't highway smooth.
All-wheel drive makes sense here; so having the skid plate and a couple extra driving modes is good peace of mind.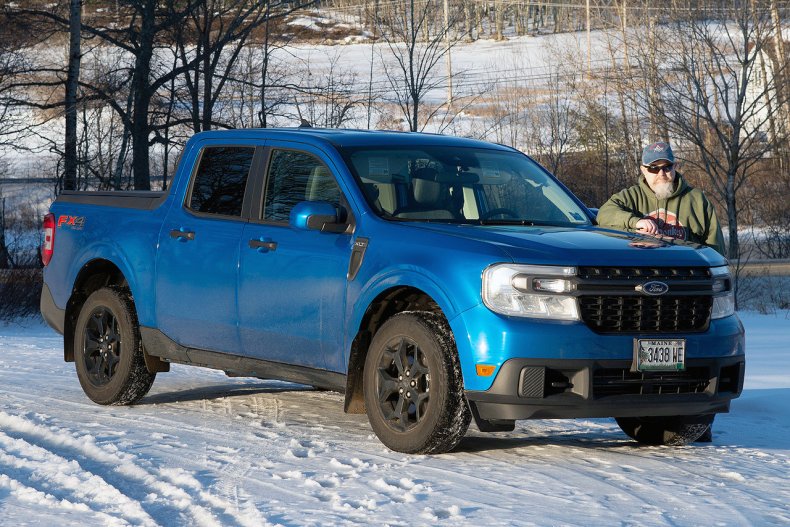 Within the first week I had the Maverick, I put a thousand miles on it. We did a round trip to New Jersey. The Maverick is probably one of the most comfortable vehicles I've ever owned. It is very well ergonomically designed. Wherever your hand would naturally go to find something, that's where it is.
There are real buttons and switches for the most common things. You don't have to go into the infotainment system. That's a major plus.
To go down to New Jersey and back, driving typical highway speeds, I averaged 32 miles per gallon. I am more than pleased with that. It has no lack of power, no lack of torque. Overtaking on the highway is a snap.
I'm still getting used to driving an automatic. For 37 years I drove a manual transmission. Around town, it does seem to hunt a little bit at slower speeds. When you're driving in 35 to 40 mile per hour traffic you can actually feel the transmission hunting for what gear it wants to be in. I'm not sure whether I'm causing that with my throttle input or if it's actually just the truck trying to figure out the best gear.
Unfortunately, it's not nimble. When you're pulling into a parking space or driving through a parking lot, it does feel like a typical truck there than it does anywhere else.
Being rural, we have a lot of roads that don't meet at 90 degrees. The blind spot from the A-pillar is just something I have had to learn to work around. If it's a 90 degree angle, you don't notice it. If it's not, you move your head forward or backward to see the road.
That being said, my new Maverick is an absolute pleasure to drive.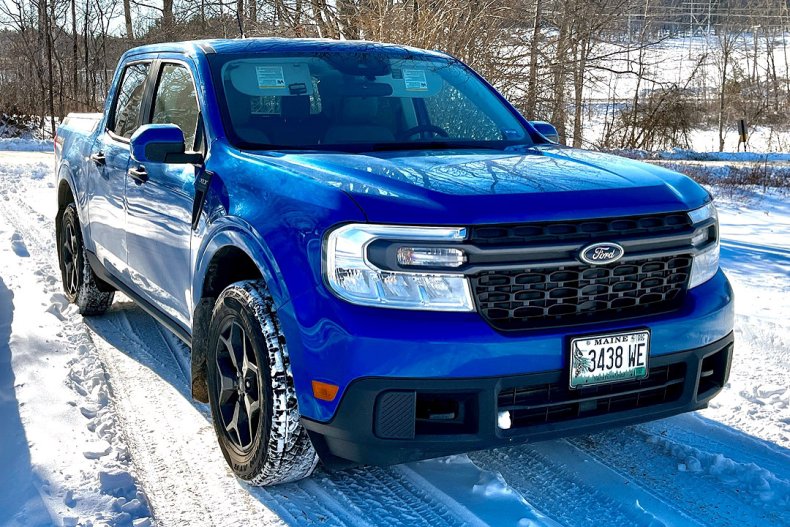 I plan on building a divider using the flex bed slots to make it easier to throw garbage or whatever in the bed. I've got other plans as well but weather this time of year is not real conducive to that kind of work.
I am planning on keeping this truck until it dies. I am looking at a minimum of 10 years owning this thing.
For a regular home, if you do regular weekend projects, if you go to the beach, camping or whatever, I'm hard pressed to say it's not the perfect vehicle.
George Adams is a photographer and retired firefighter who lives in Maine. All views expressed in the article are the author's own, as told to Newsweek's James McCandless.
Have a brand new car and want to talk about your first month of ownership? Reach out at j.mccandless@newsweek.com.