Drone Footage Shows Hundreds of Migrants Crossing Border Into Texas
New drone video footage shows hundreds of alleged migrants from Cuba and Venezuela entering the United States illegally through a border station in Texas, as local leaders in affected counties proclaimed an illegal immigrant "invasion."
The video showed a "massive single group of migrants" that reportedly numbered nearly 500 individuals who crossed illegally through the approximately 100-year-old Eagle Pass Station in the Del Rio sector, according to a tweet from Fox News' Bill Melugin.
"Many were smiling/waving to us & flashing thumbs up," Melugin wrote.
Dennis Smith, a spokesman for the Del Rio region of U.S. Customs and Border Protection, confirmed to Newsweek that border agents encountered 500-plus people who had entered the country illegally north of Eagle Pass.
This comes on the heels of multiple Texas state government leaders, judges and other officials from Uvalde, Kinney, Goliad and Terrell counties galvanizing Tuesday in Brackettville in Kinney County to implore Governor Greg Abbott to enforce federal immigration laws.
Dale Carruthers, county judge of Terrell County, said her county is "a desolate region" home to 91 miles of border frontage. She described how she has a 17,000-acre ranch "being inundated" with illegal migrants.
"We're here to protect the sovereignty of our nation, not just the border of Texas....Just [in] the month of May alone in a pasture right behind my house, there was [sic] 49 illegals apprehended," Carruthers said. "That's not all. In my community, we have less than a thousand residents; the thousand residents every day live in fear of the invasion."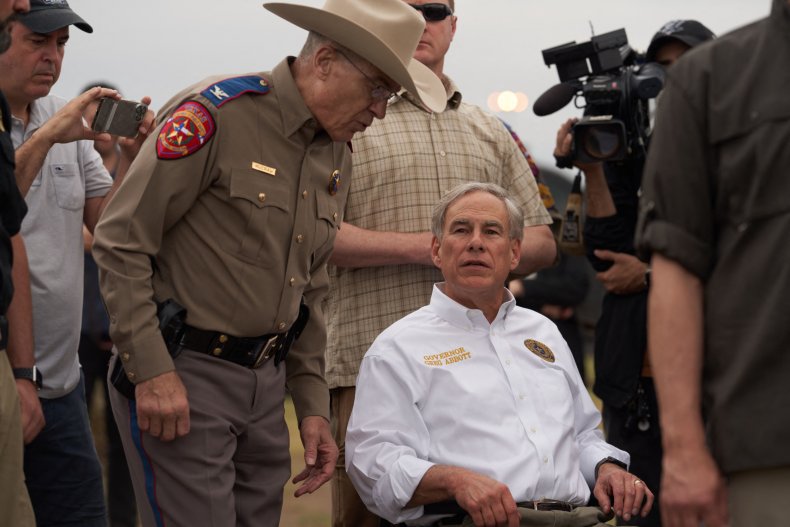 Abbott has provided some resources and support, she said, adding that her county and others along the border require more.
"My county is vast and I'm here to let you know the invasion is real and that we are doing the best we can with the limited manpower," she said. "Terrell County has the least to offer and the most to lose."
Mike Bennett is the judge of Goliad County, between Houston and Brackettville. He said his is "a very, very poor county" frequented by migrants for stopovers, which leads to fence damage, stolen vehicles and damaged private property.
Goliad County has two traffic lights and a sheriff's department with two deputies on duty, he said.
"This is not a situation where we're helping these illegal migrants come across," Bennett said. "It's a situation where many are dying along the way; there's a lot of carnage left in their wake. We're here today to ask the governor to do more. Clearly it's the responsibility of the United States government to do this and clearly they're not going to do a thing."
Roy Boyd, sheriff of Goliad County, went a step further.
"We will throw you in jail," Boyd said Tuesday. "Everybody goes to jail. It's engaging in organized criminal activity and smuggling of persons and the trafficking of persons. They're always evading. They're destroying the fences and are trespassing. You show up in our county and you conduct yourself in that manner, we're gonna throw you in jail. There is no deportation."
Republican Representative Chip Roy said that authorities' inaction is empowering well-armed cartels to bring fentanyl into Texas schools and communities—in addition to running down ranches and private property.
He also said Homeland Security Secretary Alejandro Mayorkas should be impeached.
"You're damn right that's an invasion. What else do you call it?" Roy said. "You want to sit back and hand-wring and sit around and wrap yourselves around the axle about the definition of an invasion when the people of Texas are experiencing an invasion?"
Just over a week ago, at least 50 migrants were found dead inside a tractor-trailer in San Antonio, Texas—described as "a horrific human tragedy" by San Antonio Mayor Ron Nirenberg.
In a statement on Wednesday, Abbott spokesperson Renae Eze said "all strategies remain on the table" for addressing officials' concerns, according to the Texas Tribune—putting the blame on President Joe Biden as well as other Democrats and Republicans.
"It's past time for President Biden—and for both parties in Congress—to do their jobs and secure our southern border," Eze said. "As the challenges on the border continue to increase, Texas will continue to take additional unprecedented action to address those challenges caused by the Biden Administration."
On June 30, the U.S. Supreme Court, in a 5-4 decision, scrapped the Trump-era Remain in Mexico policy, also known as Migrant Protection Protocols, which prevented thousands of migrants from entering the U.S. while going through legal proceedings.
Update 7/7/22, 9:13 a.m. ET: This story was updated with a comment from a Customs and Border Protection spokesman.