Drone Carrying Kilo of Meth Crashes Onto Roof Near U.S.-Mexico Border
Border Patrol agents in the Californian city of San Diego have seized a drone that was being used to smuggle drugs.
Chief Patrol Agent Aaron Heitke tweeted that the device had crashed onto the rooftop of a business in the district of San Ysidro, close to the border with Mexico.
Heitke also tweeted photos of the drone, along with the two bags of methamphetamine that had been taped to it.
"Sunday morning, Border Patrol agents were alerted to the presence of a crashed drone on the roof of a local business along the border in San Ysidro," Heitke wrote.
"The drone had 1 kilo of meth taped to it. Agents are investigating the incident."
Local residents say drones are frequently seen in the area.
"I see them all the time," one neighbor told Fox 5. "I also see people in cars that just sit there for hours. It looks strange."
Border Patrol said it was not uncommon for criminals to use drones to smuggle drugs, adding that there had been an increase in such activity in recent months
"They are using the cover of night mostly to smuggle illegal contraband into the U.S.," Agent Justin Castrejon told Fox 5.
Newsweek has contacted Border Patrol for further comment.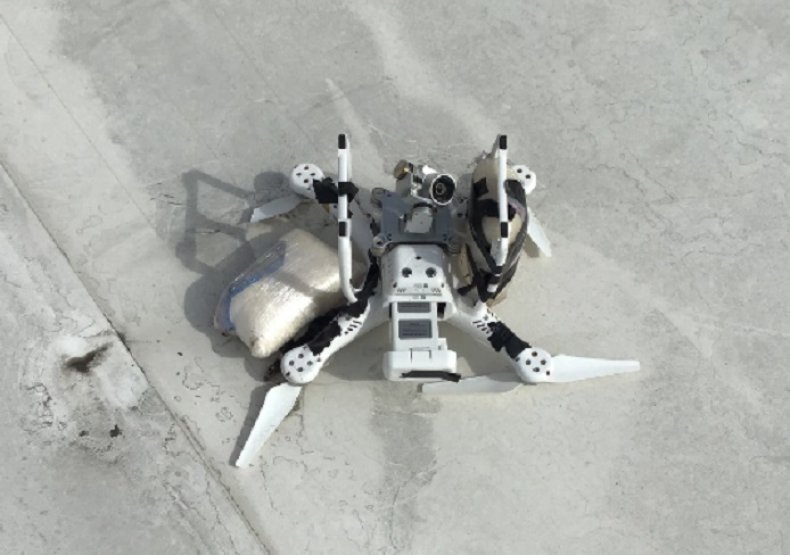 Last December, the Yuma Sector Border Patrol in Arizona asked the public to report drone drug smuggling in the area.
Border Community Liaison Agent Benjamin Rodriguez said drones being used to fly drugs across the border could typically carry 2 to 5 pounds of illegal substances.
"Drones are more easily available and, because of this, drug trafficking organizations are using them to transport drugs," Rodriguez said in a statement.
"They can easily fly the drugs over and drop them off [on the U.S. side].
"We are reaching out to the public to help us out should they see anything suspicious that may be a drone being used illicitly," Rodriguez added. "This is an ongoing effort by Yuma's chief patrol agent to secure our borders."
In November 2019, a teenage boy was arrested on suspicion of smuggling drugs using a remote control car near the Otay Mesa Port of Entry border in San Diego.
The boy was allegedly carrying the car and 50 packages of methamphetamine when he was stopped by agents.
Border Patrol spokesman Theron Francisco told The San Diego Union-Tribune that the car would have had to "make multiple runs and go back and forth" in order to take the drugs past the border.
"There is no way he would have been able to do it in one trip," he said.
Douglas Harrison, then the chief patrol agent of San Diego, added in a statement: "I am extremely proud of the agents' heightened vigilance and hard work in stopping this unusual smuggling scheme."