Dwayne Johnson and Alexandria Ocasio-Cortez Have The Same Odds To Be President in 2024
Dwayne Johnson is still considering running for president in 2024—if the people want it, he says.
Interestingly, that puts The Rock on par with Alexandria Ocasio-Cortez in terms of bookmakers betting odds for who will be the next commander in chief.
Ocasio-Cortez, the U.S. Representative from New York's 14th congressional district can officially run for the White House in 2024.
A spokesperson for betting website Covers told Newsweek: "Dwayne Johnson is currently priced at 25/1 (or +2,500) to win the 2024 Presidential Election, odds which carry an implied probability of 3.85%.
"This means that oddsmakers consider him equally likely to secure the top office as the up-and-coming Alexandria Ocasio-Cortez in four years' time.
"The two sit joint-sixth favorite to be the next presidents, behind current occupants Kamala Harris and Joe Biden, former occupants Mike Pence and Donald Trump, as well as Republican Nikki Haley."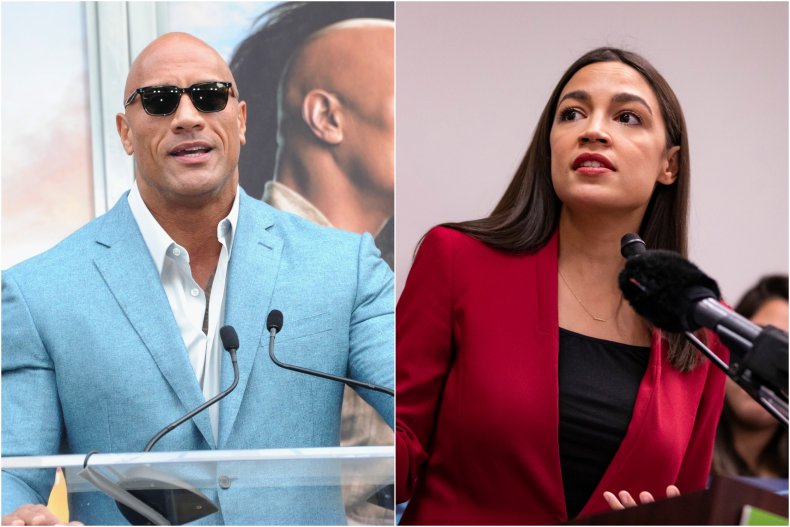 Johnson's new series Young Rock, an autobiographical look at the wrestler's life is premiering this week (February 16) on NBC and the sitcom's opening is set to show him actually running for president.
The sitcom follows the Jumanji star's upbringing, with specific chapters focusing on his 10-year-old, 15-year-old and 20-year-old self. Johnson will narrate those episodes, and he'll also star as a fictional, future version of himself who is running for president in 2032.
The show will feature the actor in mock interviews during this fictional campaign trail.
As for whether art could potentially imitate life in this respect, Johnson, 48, told USA Today: "I would consider a presidential run in the future if that's what the people wanted."
However, he urged that he would wait and listen to "the people."
"Truly I mean that, and I'm not flippant in any way with my answer," he said. "That would be up to the people... So I would wait, and I would listen. I would have my finger on the pulse, my ear to the ground."
The star backed the Democrats in the 2020 election and publicly showed his support for Joe Biden and Kamala Harris.
"As a registered Independent for years now with centrist ideologies, I do feel that Vice President Biden and Sen. Harris are the best choice to lead our country, and I am endorsing them to become president and vice president," Johnson said in an Instagram video at the time—which was viewed nearly 3 million times in just four hours.
Johnson has "not ruled out" a possible presidential run in the past, telling Rolling Stone in 2018: "I'm not ruling out the idea if I could make a bigger impact somehow, or potentially surround myself with good people."
When asked about a potential move into the world of politics in 2019, Johnson told IndieWire, "Certainly not right now."
He added: "I saw Kamala Harris' speech the other day and thought it was good. Just for me, I lack the experience, I lack a lot of things. Certainly not right now."