Economist Argues Stimulus Checks Won't Help, Biden's Plan Is 4.5 Times Too Big
As Democrats look to push President Joe Biden's $1.9 trillion relief plan through Congress, a director of economic policy studies at the American Enterprise Institute (AEI) warned that the package is too large and that two of its staples—unemployment benefits and stimulus checks—won't help the economy.
Democrats could have the votes they need to pass another round of relief without Republican support, and the Biden's administration's fear isn't doing too much but doing too little in terms of recovery. While not being bold enough with relief is a lesson learned from the 2008 recession, some have raised concerns about the impact Biden's package could have on the federal deficit.
During an interview with CNBC's Squawk Box, the AEI's Michael Strain said the "economic hole" from the coronavirus pandemic is likely to be about $420 billion in 2021, with the first quarter accounting for the "biggest part."
"The president's $1.9 trillion plan would fill that hole 4.5 times," Strain said. "If you add the $900 billion that Congress appropriated just seven weeks ago...[it] would fill the hole 6.5 times. It's just too big."
Newsweek reached out to Strain for further comment but did not receive a response in time for publication.
Larry Summers, who served as treasury secretary in President Bill Clinton's administration, shares Strain's opinion. He has said that the American economy can't sustain that amount of domestic spending, which would cause inflation. But Treasury Secretary Janet Yellen has pushed back on this argument, saying that "we have the tools to deal with that risk."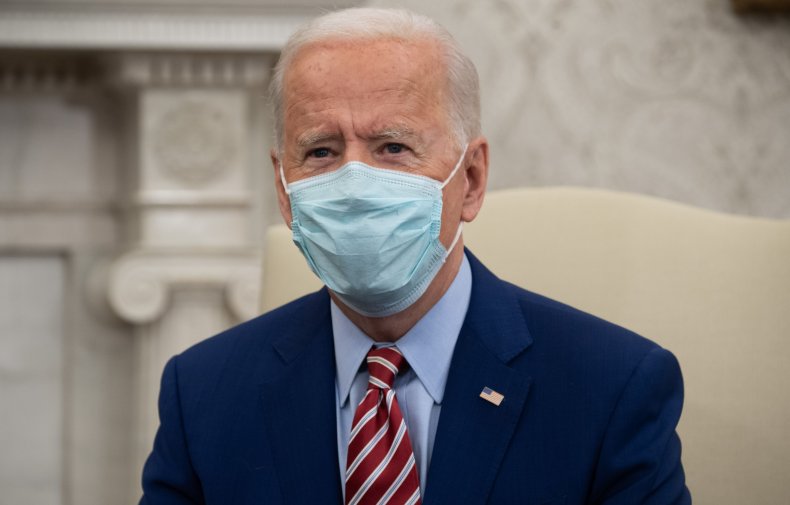 Congress has yet to come out with a finalized relief plan, and a draft proposal is making its way through the House committees. Included in the current proposal is a third round of stimulus checks worth $1,400. While Republicans attempted to limit eligibility, Democrats moved forward with a proposal that is largely in line with the Coronavirus, Aid, Relief and Economic Security (CARES) Act that passed last March.
As it stands now, individuals with incomes under $75,000 and joint filers with incomes below $150,000 would receive the full amount. An additional $1,400 would be allocated for dependents of all ages, not just children, as was the case with the CARES Act.
The proposal would also provide for an expanded unemployment benefit of $400 through August 29.
"The unemployment benefit checks would hold the recovery back while also costing a lot of money," Strain told CNBC. "The direct checks to households won't help the recovery but will also add considerably to the size of the bill."
Figures released by the Labor Department on Thursday show that 793,000 Americans filed for unemployment claims for the first time last week. Economists at Refinitiv had forecast 757,000.
Austan Goolsbee, an economics professor at the University of Chicago, who was also on Squawk Box at the time, said Strain was "missing the main thread of what's going on." The same mistake that was made in 2009—not doing enough—was made in 2020, when people wanted to "wait and see" what happened after the CARES Act was passed, he said.
That decision to wait for congressional passage of more economic relief "led us to where we are now," where the country was being told a rapid recovery would continue but it didn't, according to Goolsbee.
"We've now had three consecutive months of lousy job reports, and there's every bit of a possible danger of a double-digit recession if one of these new virus variants come in," Goolsbee said. "So I think you should be a little more circumspect about it when a third of the economy is really suffering."