Egypt Bans Sales of Yellow Vests for Fear of France-style Protests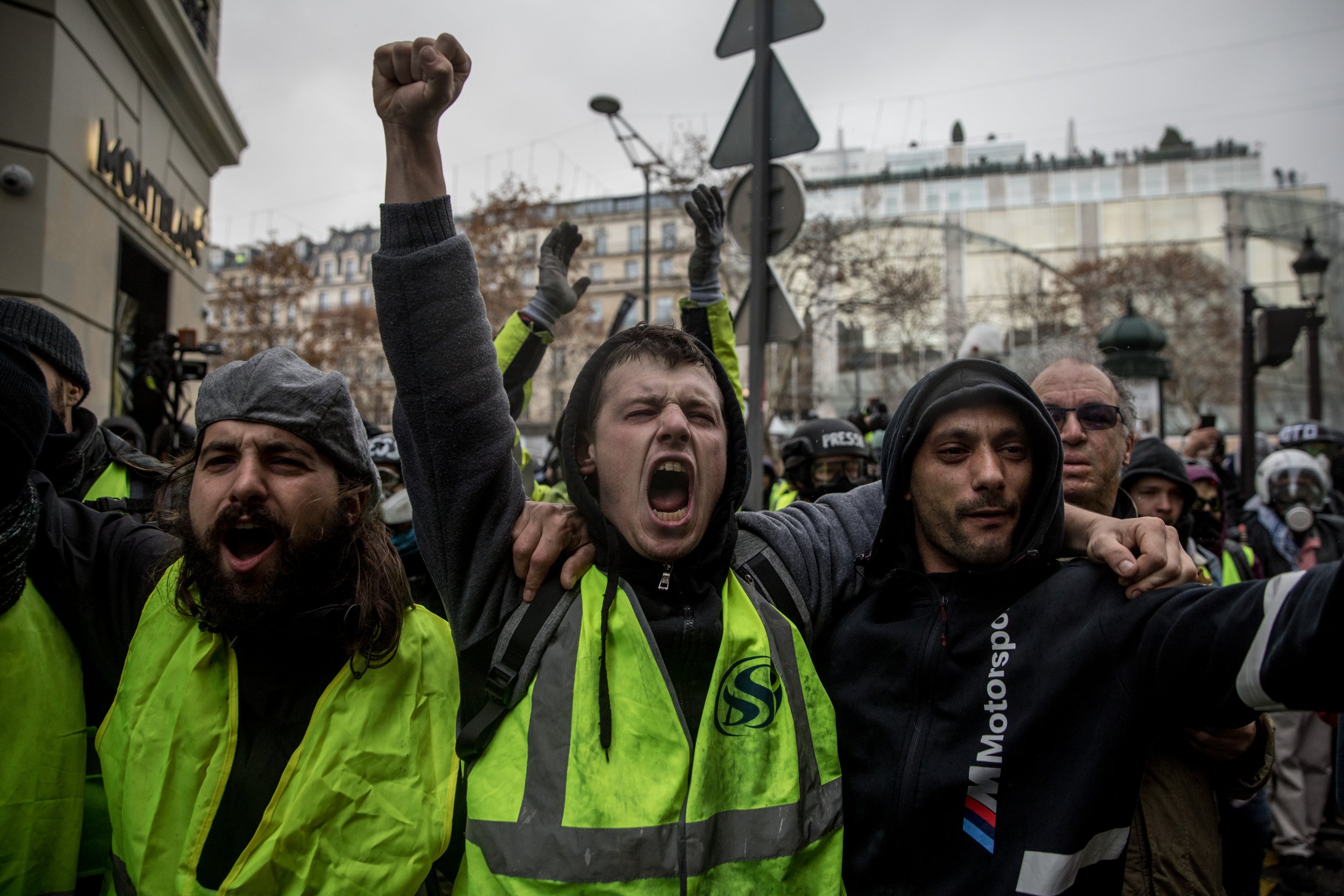 The Egyptian government has reportedly restricted the sale of yellow reflective vests out of fear that dissenters might take the lead of the "Gilets Jaunes" protesters wreaking havoc in France.
The Associated Press quoted security officials and retailers who said Monday that industrial safety equipment dealers had been ordered not to sell yellow vests to individuals buying in person and only to allow wholesale purchases by verified companies, and even then only after securing police permission.
Read More: What Trump Got Wrong About the Riots in France​
They were also warned that anyone flouting the new restrictions would be punished, though did not elaborate on potential penalties.
Egypt has been run by the military since the service toppled elected President Mohamed Morsi in 2013. Morsi himself was elected to power after Egyptians rose up against dictator Hosni Mubarak in 2011, deposing the autocrat who had ruled Egypt for 29 years.
January 25, 2019, will mark the eighth anniversary of the beginning of the 2011 revolution. Many of the freedoms won in the seismic uprising have since been reversed by the military government under current president and former army general Abdel Fattah el-Sisi.
Sisi has cracked down on critics, the media, pro-democracy activists, human rights groups and political opponents—including the powerful Muslim Brotherhood organization of which Morsi was a member. Sisi was elected president for a second time earlier this year, running virtually unopposed and securing 97 percent of the vote.
The government fears the anniversary of the revolution could provide a spark for anti-Sisi demonstrators to take to the streets and heightened security will be in place. The restrictions on yellow vests will remain in place until the end of January.
The AP spoke to six retailers in downtown Cairo who said they were no longer selling yellow vests. Two refused to sell them and offered no explanation, but the other four said they had been told not to by police.
Anti-government unrest has spead across France since November 17, when the Gilets Jaunes—meaning "Yellow Vests"—protesters took to the streets to demonstrate against a fuel tax proposed by President Emmanuel Macron. The protests have since morphed into a wider anti-Macron movement, with demands for improved living standards, economic reform and Macron's resignation—all symbolized by the now-iconic high-vis jackets.
Macron had been forced to reverse his planned tax and has vowed to increase the country's minimum wage in a bid to appease the Gilets Jaunes, though the demonstrations continued last weekend regardless.
One Cairo retailer told the AP, "They seem not to want anyone to do what they are doing in France."
Another told the agency, "The police came here a few days back and told us to stop selling them. When we asked why, they said they were acting on instructions." Both sellers requested anonymity out of fear of retribution.
Security officials—who told the AP they were not authorized to comment publicly—confirmed the restrictions, which they said were announced at a meeting between senior police officers and retailers this week.
Public protests had been all but banned by Sisi's authoritarian government. Nonetheless, the authorities remained wary of organized opposition. The AP noted that Egyptian media has emphasized riots, looting and arson in Paris, taking its leads from Sisi's warnings that organized street demonstrations would descend into violence and chaos.