Eight Times Harry and Meghan's Rift With Royals Flared Since Oprah Interview
Prince Harry and Meghan Markle's relationship with the royals has come under strain repeatedly in the year since their Oprah Winfrey interview.
The CBS tell-all issued a barrage of potentially devastating criticism at the monarchy and the sit down marks its one year anniversary since it was broadcast on March 7, 2021.
The Duke and Duchess of Sussex told Winfrey how an unnamed royal expressed concern about how dark their baby's skin might be before he was born, among its most notable allegations.
Efforts to rekindle struggling relations have been made since, including at Prince Philip's funeral in April, however, the moves did not stop a succession of further bombshells.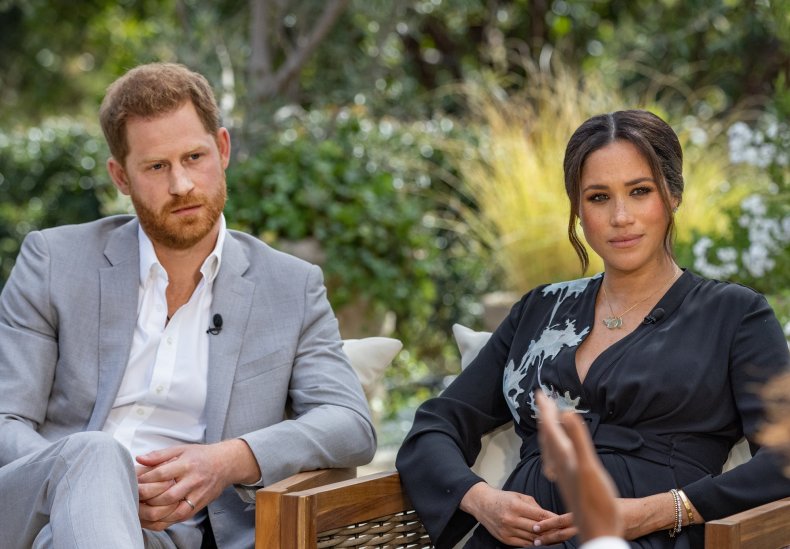 1. 'Some Recollections May Vary'
Queen Elizabeth II took two days to comment publicly on the bombshell tell-all using the now famous phrase: "Some recollections may vary."
Her statement spoke of sympathy for Harry and Meghan but the delicate wording did not appear to soothe feelings on the other side of the battlefield.
Meghan's friend, actress Janina Gavankar, went on U.K. network ITV to issue a strongly worded retort.
She said: "I thought I'm so thankful that they [Buckingham Palace] are finally acknowledging the experience. But on the other side I thought I know that the family and the staff were well aware of the extent of it and though their recollections may vary, ours don't because we lived through it with them.
"And there are many emails and texts to support that."
The queen's full statement released by Buckingham Palace read: "The whole family is saddened to learn the full extent of how challenging the last few years have been for Harry and Meghan.
"The issues raised, particularly that of race, are concerning. While some recollections may vary, they are taken very seriously and will be addressed by the family privately.
"Harry, Meghan and Archie will always be much loved family members."
2. Prince Harry's 'Genetic Pain'
Harry reignited the public debate over his relationship with his family during an appearance on the Armchair Expert podcast in May, 2021.
He told Dax Shepard: "There is no blame. I don't think we should be pointing the finger or blaming anybody, but certainly when it comes to parenting, if I've experienced some form of pain or suffering because of the pain or suffering that perhaps my father or my parents had suffered, I'm going to make sure I break that cycle so that I don't pass it on, basically.
"It's a lot of genetic pain and suffering that gets passed on anyway, so we as parents should be doing the most we can to try and say 'you know what, that happened to me, I'm going to make sure that doesn't happen to you.'"
3. Prince Harry and The Me You Can't See
Harry's onslaught against the royals continued later that month with his mental health series, also with Oprah, for Apple TV.
He told The Me You Can't See how he was unhappy with the way his family responded to pleas for help dealing with the media.
The duke said: "I thought my family would help but every single ask, request, warning, whatever it is, got met with total silence or total neglect."
He added: "My father used to say to me when I was younger, he used to say to both William and I, 'well it was like that for me so it's going to be like that for you.'
"That doesn't make sense. Just because you suffered that doesn't mean that your kids have to suffer.
"In fact, quite the opposite. If you suffered, do everything you can to make sure that whatever experiences you had, that you can make it right for your kids."
For more royal news and commentary check out Newsweek's The Royal Report podcast:
4. Prince Harry's Royal Funding
Harry told Oprah that his family cut him off financially but Buckingham Palace was careful to point out he did get funding in the 2020-21 financial year, after he finished his final royal duties.
The duke told CBS: "That was suggested by somebody else by the point of where my family literally cut me off financially, and I had to afford security for us.
"Yeah, in the first half, the first quarter of 2020."
Prince Charles' Duchy of Cornwall estate revealed in accounts published in June, 2021, that Harry was given a slice of a $6.1 million fund set aside for him and his brother for that year.
A senior Clarence House spokesperson told the BBC: "As we'll all remember in January 2020 when the duke and duchess announced that they were going to move away from the working royal family, the duke said that they would work towards becoming financially independent.
"That funding ceased in the summer of last year. The couple are now financially independent."
5. Lilibet Mountbatten Windsor
Harry and Meghan sought to pay tribute to the queen in the name of their daughter Lilibet Mountbatten-Windsor, born in June, 2021.
Lilibet is the monarch's childhood nickname among family, based on an early mispronunciation of Elizabeth.
However, the touching gesture was accompanied by controversy after a BBC story suggested the couple had not explicitly asked the monarch's permission.
Harry and Meghan's spokesperson told Newsweek at the time: "The Duke spoke with his family in advance of the announcement, in fact his grandmother was the first family member he called.
"During that conversation, he shared their hope of naming their daughter Lilibet in her honor. Had she not been supportive, they would not have used the name."
The BBC stood its ground in the face of a complaint from the Sussexes and did not delete its story.
6. Prince Harry Constantly Berated by His Family
Meghan's privacy and copyright lawsuit against U.K. tabloid The Mail on Sunday flared just when it appeared to have died down in November.
And as it did, private messages sent by the duchess to her former communications secretary were made public by the Court of Appeal in London.
One suggested Meghan felt Harry was being constantly berated by his family as far back as August 2018.
The dispute was over efforts by the royals to get Meghan to stop her father Thomas Markle from criticizing the monarchy in media interviews.
Explaining why she was sending Markle Sr. a letter, Meghan wrote in August 2018: "Even after a week with his dad and endlessly explaining the situation, his family seem to forget the context—and revert to 'can't she just go and see him and make this stop?'
"They fundamentally don't understand so at least by writing H will be able to say to his family…'she wrote him a letter and he's still doing it.'
"By taking this form of action I protect my husband from this constant berating, and while unlikely perhaps it will give my father a moment to pause.
"Obviously everything I have drafted is with the understanding that it could be leaked so I have been meticulous in my word choice but please do let me know if anything stands out for you as a liability."
7. Queen Elizabeth II and Climate Change
The queen paid tribute to several royals for their work on climate change in speeches for COP26 and on Christmas Day.
However, one notable absence was Harry, whose Archewell Foundation pledged to reach net zero and who set up eco-tourism venture Travalyst.
Elizabeth said in her Christmas Day broadcast: "He [Philip] was also an early champion of taking seriously our stewardship of the environment; and I am proud beyond words that his pioneering work has been taken on and magnified by our eldest son Charles and his eldest son William—admirably supported by Camilla and Catherine—most recently at the COP climate change summit in Glasgow."
8. Prince Harry's Judicial Review Over Security
Harry has sued the British government over a decision to remove his police protection taken by a committee which includes the Royal Household among its membership.
The duke applied for a "judicial review" of the decision and his lawyer recently told the court he wants to know more about the membership of the Royal and VIP Executive Committee.
The case could get tricky for the royals if his lawyers force the Home Office into naming specific royal staff behind the decision to remove his security detail. The case is ongoing.