El Chapo Trial: Who Will Testify, Security, Schedule, and Background on Man Behind Sinaloa Drug Cartel
Joaquin "El Chapo" Guzman is set to go on trial today in New York amid tight security for the Mexican drug cartel leader, witnesses who are set to testify against him and members of the jury.
Guzman has been in custody since January 2016, accused of running the notorious Sinaloa drug cartel, which prosecutors said was the largest illegal drug supplier to the U.S. The 61-year-old's arrest came after five months on the run—he had previously broken out of a Mexican prison through a mile-long tunnel.
Guzman stands accused of trafficking more than 440,000 pounds of cocaine (among other drugs) and using murder, kidnappings and torture to maintain control of his cartel and fight off competition, according to NBC News.
Guzman faces a 17-count indictment spanning a 25-year period—for a combination of crimes in six federal jurisdictions including New York, Chicago and Miami. If found guilty he faces life in prison, though the U.S. agreed not to seek the death penalty to secure his extradition from Mexico—which has abolished capital punishment—in 2017. Federal prosecutors seek to seize around $14 billion in assets from Guzman.
The trial will last around four months, drawing on hundreds of thousands of pages of documents and more than 100,000 audio recordings. The 12-person jury has been carefully selected from 1,000 candidates. All will remain anonymous and be kept under tight security while partially sequestered. The group will be escorted to and from court by U.S. marshals each day, the BBC explained.
Guzman's indictment says he helped make the Sinaloa cartel "the largest drug trafficking organization in the world," whose members "manufactured and imported multi-ton quantities of heroin, methamphetamine and marijuana into the U.S." generating "billions of dollars in profit."
The "highly sophisticated smuggling network" used tunnels under the border and fleets of submarines, airplanes, trucks and boats to transport the drugs. Meanwhile, Guzman and his fellow leaders were ruthless in their use of violence to maintain power, employing hitmen to kill and torture anyone considered a threat.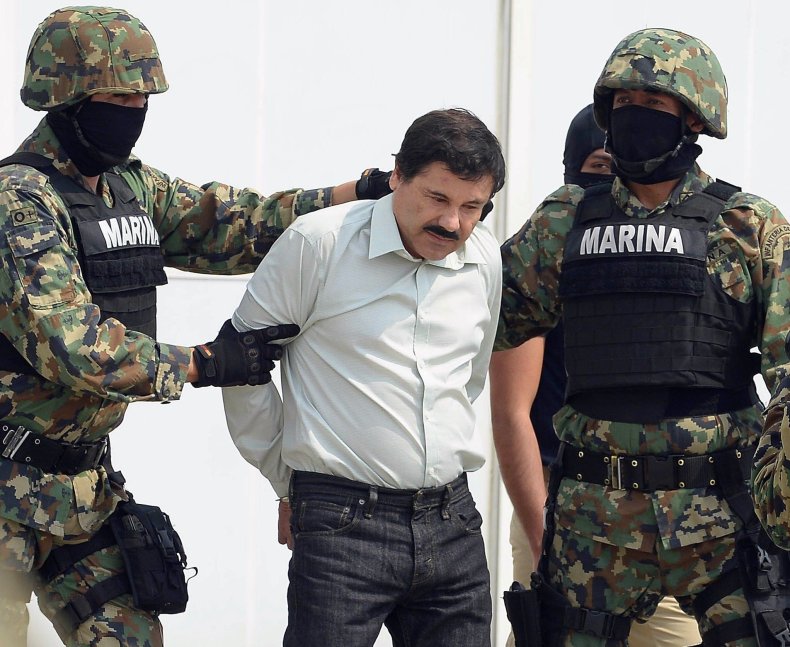 Former associates are expected to testify against Guzman over the next four weeks though the identities of most witnesses remain hidden to ensure their and their families' safety. Steps will also be taken in court to mask witness identities.
Jesus Vincente Zambada-Niebla, one of the kingpin's former lieutenants, had already admitted in a plea deal that he was a senior member of the cartel and trafficked thousands of pounds of cocaine and heroin in the U.S. He has also given information on the violence used by the Sinaloa cartel to protect and advance its business.
Prosecutors will also speak with law enforcement officials from the U.S. and Mexico, as well as narcotics and ballistic experts to shed light on the crimes linked to Guzman.
Guzman's defense is expected to suggest he was not a senior member of the cartel and cast doubt on witness testimony by stressing the crimes of the witnesses themselves, NBC News reported.
But the time and money invested in helping Guzman escape police custody twice before points to his importance. Guzman was only recaptured in 2016 after a bloody firefight between his guards and Mexican marines.
Guzman is currently being held in solitary confinement at the Metropolitan Correction Center in Manhattan—considered the most secure federal prison in the city. The trial is being held in Brooklyn, across the East River. Officials have closed the Brooklyn Bridge each time Guzman had been taken across to the court for previous hearings.
He will travel in a convoy of police cars, armored and emergency vehicles accompanied by heavily armed officers. He will be taken in and out of court via a below-ground garage. Courthouse security will be on high alert, with additional police and bomb-sniffing dogs deployed for the duration of the trial.