Electric 2024 Chevrolet Equinox Has the Tesla Model Y in Its Crosshairs
Chevrolet premiered its most mainstream electric vehicle since the Bolt EV on Thursday, the Equinox EV. The compact SUV will start around $30,000 USD and have a GM-estimated base model range of 250 miles on a single charge when it comes to market in 2024.
The Equinox EV complements the Silverado EV pickup and midsize Blazer EV SUV in the company's Ultium battery-powered electric lineup.
"We are at a turning point where EVs will be the mainstream choice for the next generation of customers and Equinox EV will lead this charge for us" said Mary Barra, Chair and CEO of General Motors in a press release. "With the flexibility of GM's Ultium Platform, we are bringing to market vehicles at nearly every price point and for every purpose."
The Ultium EV Platform and batteries underpin General Motor's electric vehicles of all sizes, from the GMC Hummer to the Cadillac Lyriq.
The Equinox EV will be offered LT and RS grades, with 19-inch wheels as standard. Upper trims can specify 20- and 21-inch wheels. LED head and taillights perform walkup animation as the owner approaches with a key. A two-tone roof is offered on both trims, LT has white and the sportier RS grade comes with black.
The cabin offers seating for five passengers and 57 cubic feet of cargo room when the second-row seats are folded. That's less storage space than the gas-powered Equinox, which comes in with 63.9 cubic feet. The Tesla Model Y offers 76 cubic feet of cargo space.
Heated front and rear outboard seats, steering wheel and windshield wiper are available as add-ons.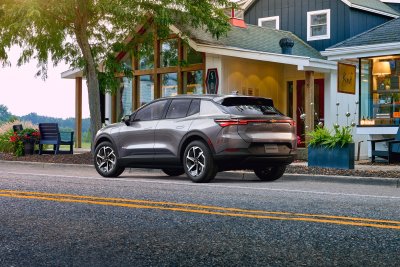 Base models Equinox EVs will come with an 11-inch infotainment touch screen and an 11-inch digital driver information cluster. Upgrading to the Equinox EV 3LT and 3RS gets buyers a 17.7-inch touch screen that is optional on the middle tier 2LT and 2RS trims.
Ambient lighting, a Bose audio system, sunroof and GM's hands-free, eyes-up Super Cruise driver assist technology are all available.
Equinox EV LT models are available in black with blue accents or Sky Cool Gray interiors. RS models offer black with red accents or Adrenaline Red.
The 2024 Chevrolet Equinox EV will come in front- or all-wheel drive (AWD) in all trims, just like Tesla offers with the Model Y. The Chevy's ranges start at 250 miles per charge and going up to 300 miles per charge. That's not enough power to beat the Tesla Model Y, which delivers up to 330 miles of range.
The battery-powered Equinox will be more powerful than its gasoline counterpart. Current versions of the Equinox use a turbocharged1.5-liter four-cylinder engine to make 175 hp and 203 lb-ft of torque. The front-wheel drive version delivers 210 horsepower (hp) and 242 pound-feet (lb-ft) of torque from a single motor while Equinox EV AWD ups that to 290 horsepower and 346 lb-ft of torque.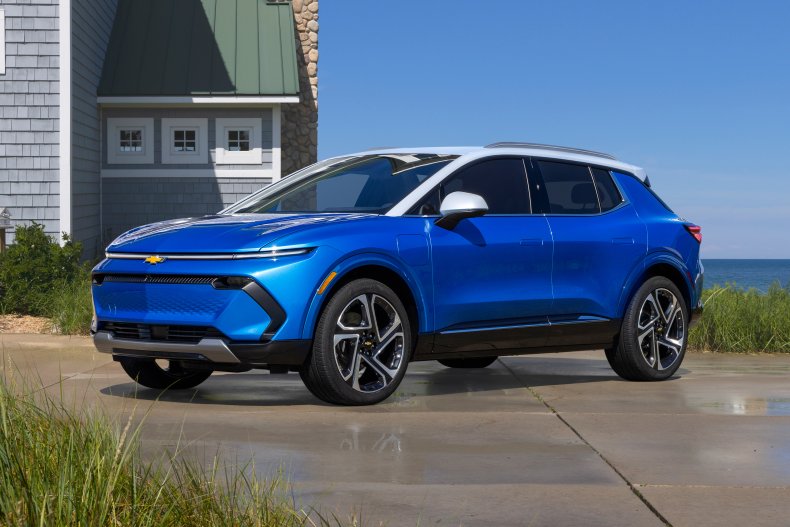 One-pedal driving is standard meaning it can be driven using only the accelerator, which brings the car to a complete stop when released. It converts the braking energy back into electricity for the battery.
The Equinox EV comes standard with 11.5-kilowatt level 2 (AC) charging, which can add up to 34 miles of range per hour of charging, according to GM. A 19.2 kW charging is available on the 3RS AWD trim, which can add up to 51 miles of range charging hour. It also has DC fast charging at up to 150 kW, which nets drivers 70 miles in 10 minutes. GM also covers the Equinox EV's battery with an 8-year/100,000-mile limited warranty.
Tesla's Model Y can add up to 162 miles of range in 15 minutes via the company's Supercharger network.
When asked about the range in a press event, Chevrolet's vice president Scott Bell explained one of the main issues of the electric vehicle market.
"It's been a journey to get people to understand that they don't need 450 miles on a charge, but that's changing," said Bell.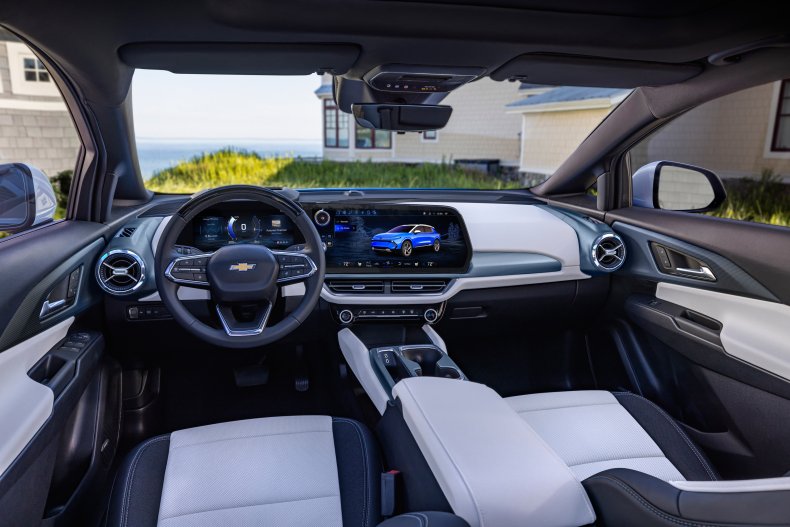 The average American drives about 39 miles per day, according to the U.S. Department of Transportation.
Chevrolet now has EV entries into the three most important segments in the industry, including compact SUV. While parent company GM's early electric vehicles like the GMC Hummer and Cadillac Lyriq were expensive, this Equinox EV is for the masses.
"Chevrolet is now positioned to offer a wide array of EVs," said Bell in a press release. "We know truck and SUV customers better than anyone and we've channeled that insight and experience into our new EVs. The Equinox EV is an EV for everyone, it's an affordable game-changer that won't change your daily routine — except that you will no longer have to stop at the gas station."
The electric Equinox is seen as a big deal by analysts, who see the need for more mainstream EVs as opposed to the six-figure type.
"The Chevrolet Equinox EV looks to be a tremendous value as even the basic model is very well equipped at its approximately $30,000 price point. That's cheaper than what Bolt EV used to be priced at, yet it's a much larger vehicle with much more size and equipment," Ed Kim, president and chief analyst at AutoPacific told Newsweek.
"Its pricing is very significant as most automakers are focusing on higher end EVs due to their much greater margins that help counteract the inherent high cost of batteries, so offering a well-equipped electric SUV at a very mainstream price point that's comparable to that of the gasoline-powered Equinox is a big deal indeed," he said.
Kim also noted that the most important step to getting EVs adopted is a price point that makes sense for most consumers, even if it doesn't greatly improve the bottom line.
"It's not likely that GM will be making much money if at all on more basic versions of the Equinox EV, but with help from the big profits from its large internal combustion engine trucks, GM is better able to afford to get this mainstream product into the market sooner than later. With its very appealing specs and design, Equinox EV should make a big splash in the marketplace," Kim said.