Cadillac officially unveiled the show car version of its Celestiq long-roof sedan on Friday, after teasing the new electric luxury vehicle last month. A production-focused version will come later as the pinnacle of what the company can do. It has a rumored price of more than $300,000.
"The Celestiq show car is the purest expression of Cadillac," said Magalie Debellis, manager, Cadillac Advanced Design in a press release. "It brings to life the most integrated expressions of design and innovation in the brand's history, coalescing in a defining statement of a true Cadillac flagship."
Cadillac says it dug into its archives for inspiration for the Celestiq, specifically at the V16-powered vehicles built before World War I and its hand-built 1957 Eldorado Brougham.
"Those vehicles represented the pinnacle of luxury in their respective eras, and helped make Cadillac the standard of the world," said Tony Roma, chief engineer in a release. "The Celestiq show car — also a sedan, because the configuration offers the very best luxury experience — builds on that pedigree and captures the spirt of arrival they expressed."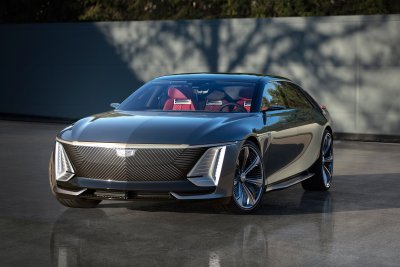 Designers also drew inspiration from mid-century architects like Eero Saarinen and others, creating the Celestiq from a clean sheet. Cadillac says it wants travel in cars like the Celestiq to be curated experience, "intended to evoke an emotional response".
The new Cadillac features a 55-inch diagonal LED interactive touchscreen display with a privacy screen that allows passengers to watch while the driver stays focused. Another first for Cadillac is the Smart Glass Roof that has passenger settings so each occupant can choose their own level of transparency in their own quadrant of the glass. The Celestiq will also feature Ultra Cruise, the latest iteration of the company's hands-free but eyes-on-the-road driver assist system.
For power, the Celestiq will use GM's Ultium platform though the company hasn't given a range or power specs. Like the GMC Hummer EV, it will offer four-wheel steering and all-wheel drive.
Like the Cadillac Lyriq, the Celestiq will feature LED lights in front and back that have both a welcoming and leaving sequence of lights.
It will compete with the large EV sedans like the Tesla Model S, Mercedes-Benz EQS, Lucid Air and others.
Cadillac says that even though this is a show car, these technologies will land on the production Celestiq, the start of which will be announced at a later date. To build it, GM is investing $81 million at its Global Technical center, coincidentally designed by Saarinen. It will be the first vehicle built there since the center's opening in 1956.