Elizabeth Warren Persists With Sessions Criticism on 'The Daily Show' and Twitter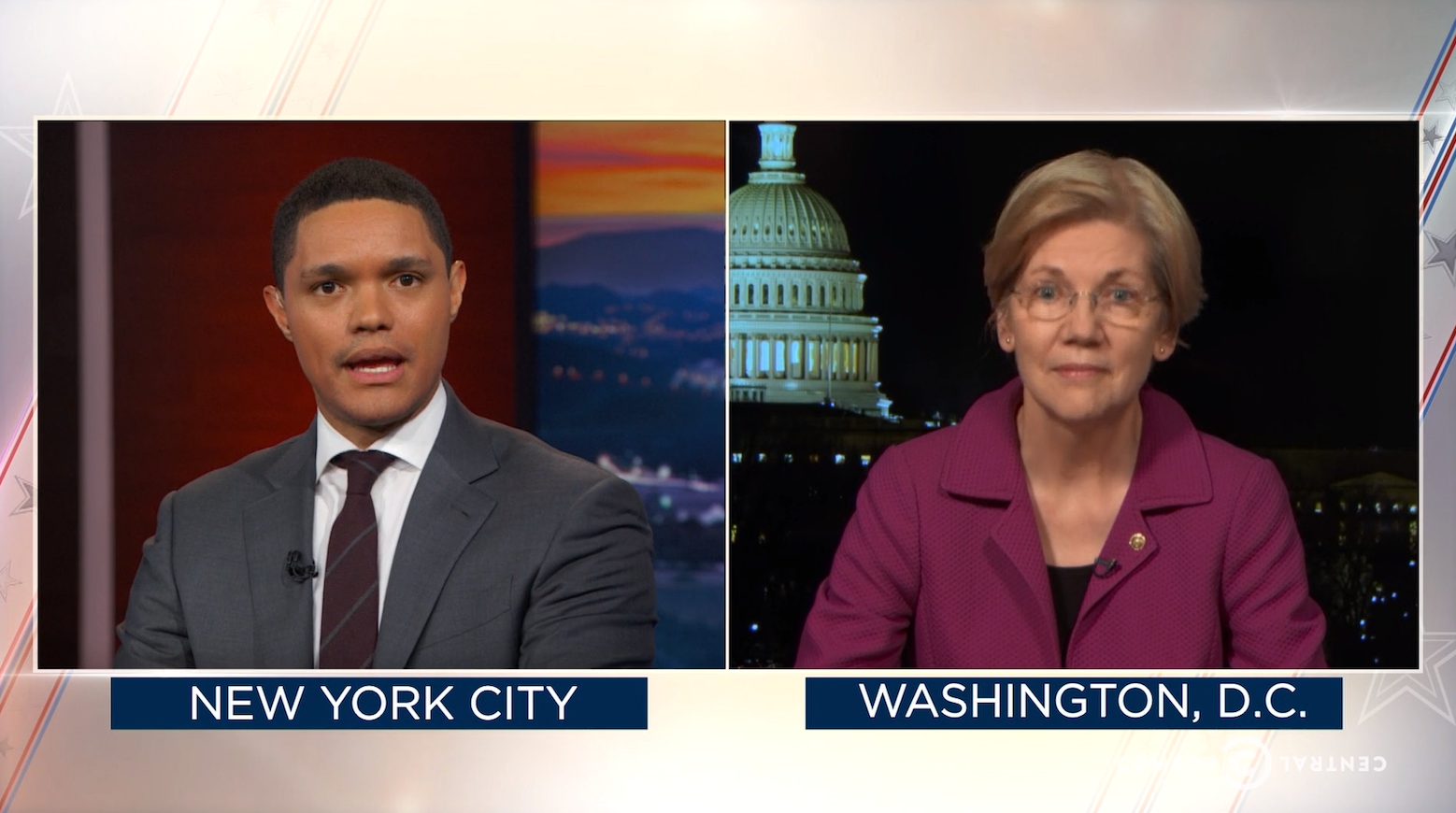 After the Senate voted to silence Elizabeth Warren on Tuesday, Majority Leader Mitch McConnell explained that despite that Warren "was warned" and "given an explanation," she nevertheless "persisted." #ShePersisted quickly became a trending hashtag on Twitter. A day later, Warren proved that her persistence is more than a meme.
During Tuesday's confirmation hearing for Donald Trump's attorney general nominee Jeff Sessions, Senate Republicans silenced Democratic senator Elizabeth Warren as she was reading a letter written by Coretta Scott King, the widow of Martin Luther King. The letter, written in 1986 to oppose Jeff Sessions' confirmation as a federal judge, detailed the attorney's role in black voter suppression. Warren read the letter in an effort to oppose Senator Sessions' confirmation, but was deemed to have "impugned the motives and conduct of our colleague from Alabama" by Senate Majority Leader Mitch McConnell. The Senate agreed that Warren violated its rules, and she was temporarily banned from speaking.
Related: Elizabeth Warren's Senate silencing prompts #ShePersisted on Twitter
On Wednesday night, Warren spoke with Trevor Noah on The Daily Show about the fallout from the previous day's controversy. "The main thing is that millions of people are now reading Coretta Scott King's letter," she said. "It is an amazing letter. It is a letter full of passion, it is a letter full of heart, and it is a letter full of advice to us. It talks about a moment in history when African-Americans were beaten away from the polls, and it talks about Jeff Sessions' role in that. I think it has an important lesson for today for all of America. I hope everybody reads her letter."
Because Democrats would not have been able to block Sessions' confirmation, anyway, McConnell's silencing of Warren has worked against Republicans. The letter—and Sessions history—would have received far less attention had Warren been allowed to read it to completion. "It's helped us have a better democratic conversation," she explained to Noah. "We don't have the votes in the United States Senate to block somebody like Jeff Sessions. Or yesterday, to block a secretary of education who doesn't believe in public education. We don't have those votes, so what we have to do is count on people all around this country to make their voices heard."
The Daily Show wasn't the only place Warren sounded off on Wednesday. She reiterated on Twitter that Sessions' "racism, sexism & bigotry" will not be tolerated.
Noah's final question to Warren on The Daily Show was whether she agreed that she technically violated Rule 19. It was a strange question, and Warren simply chose not to answer it, instead using the time to continue to excoriate Sessions and Senate Republicans.
"Coretta Scott King in her letter talks about how Jeff Sessions managed by prosecuting civil rights workers who were trying to help elderly African-Americans vote, that by prosecuting them they had done what local sheriffs had accomplished 20 years ago with clubs and cattle prods," Warren said. "She talks about what Jeff Sessions directly did as the U.S. attorney for Alabama. You notice the Republicans are not saying those aren't the facts or something has changed or he did all these other things after that. No, what they're saying is you don't get to talk about that."
As Noah put it at the top of the segment: "A senator can do bad things, but you can't point out that a senator is doing bad things."
Click here to read Coretta Scott King's letter from 1986.
Read more from Newsweek.com:
- Elizabeth Warren: Wall Street supports key proposed fiduciary rule
- Senate confirms Jeff Sessions as next U.S. attorney general
- Senate Dems ask Sessions to recuse himself from Russia probes