Elon Musk v. Bill Gates: Everything They Have Said About Each Other
Elon Musk and Bill Gates do not appear to see eye-to-eye based on recent comments they've made about one another—but that's hardly a surprise.
In recent days Musk, who is considered to be the world's richest person as the CEO of Tesla and SpaceX, has been critical of Gates due to short positions the Microsoft co-founder holds against Tesla.
In the world of finance, holding a short position means that you place a bet that the price of a certain asset, such as stocks in a company, will decline in value. Musk has estimated that Gates' Tesla short positions are worth billions of dollars.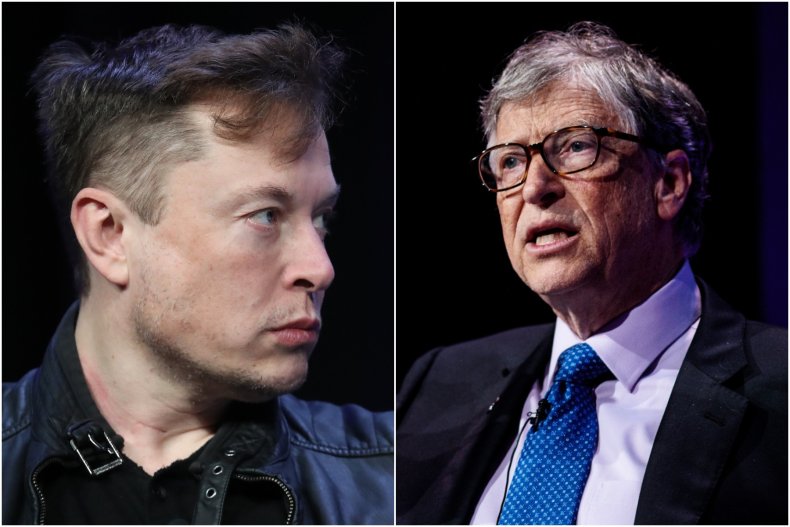 In April, screenshots from an alleged text message conversation between Musk and Gates appeared to show that Gates had invited Musk to discuss "philanthropy possibilities" with him. Musk declined on the basis that Gates continues to hold his short positions in Tesla—something Gates confirmed in that same conversation.
"Sorry, but I cannot take your philanthropy on climate change seriously when you have a massive short position against Tesla, the company doing the most to solve climate change," Musk wrote, according to the images.
Musk confirmed that the conversation was real in a tweet and suggested that it had been leaked to the press through "friends of friends."
Gates was asked about the exchange in an interview with journalist and YouTuber Hugo Travers on the HugoDécrypte channel.
"Well Tesla's not short of capital and Tesla's done a fantastic job; their cars are great," Gates said, but added: "I give a lot more money to climate change than Elon or anyone else.
"Cars are about 16 percent of emissions so we also need to solve that other 84 percent, he said. "[Musk has] done a great job, but somebody shorting the stock doesn't slow him down or hurt him in any way."
Musk replied to a clip of the interview posted to Twitter with, "sigh."
Musk criticized Gates on Twitter before for his short positions against Tesla, writing in a tweet on May 28 that he has "trust issues" with Gates because he "has a multi-billion dollar short position against Tesla while claiming to help with global warming."
Short positions aside, in 2021 Gates, speaking in an episode of journalist Kara Swisher's Sway podcast, praised Musk for making "one of the greatest contributions to climate change anyone's ever made" with Tesla but added that he doesn't "think rockets are the solution," referring to Musk's SpaceX venture.
He also said that Tesla was doing good work on "easy stuff" like cars but that the world isn't doing enough on "hard stuff" like steel, cement and meat.
In 2020, Musk called Gates a "knucklehead" during another episode of Sway after Gates cast doubt on Musk's knowledge about the coronavirus pandemic. That same year Musk accused Gates of having "no clue" about the value of electric trucks after Gates cast doubt on their usefulness due to their batteries being too bulky.
Gates wrote in an August 2020 blog post: "Even with big breakthroughs in battery technology, electric vehicles will probably never be a practical solution for things like 18-wheelers, cargo ships, and passenger jets. Electricity works when you need to cover short distances, but we need a different solution for heavy, long-haul vehicles."