Elon Musk's Political Philosophy—This Is What the Tesla CEO Believes In
He's perhaps better known for revealing outlandish inventions or announcing plans to take over Twitter, but now Elon Musk, the SpaceX and Tesla CEO, is generating headlines for wading into geopolitics.
The world's richest man has been attempting to solve global conflicts via the medium of tweets over the past few days, resulting in confusion, and no little consternation.
The controversies surrounding Musk's posts on Ukraine or Taiwan have brought up questions which have frequently been asked about the billionaire—what exactly are his political philosophies and how does he want the world to look?
While the political views of tech entrepreneurs are not normally discussed or debated, where Musk lies in the political spectrum gained significance amid his multi-billion-dollar takeover of Twitter, which has the potential to change how social media operates forever, not to mention his plans to change the course of human civilization with his space and transit technology.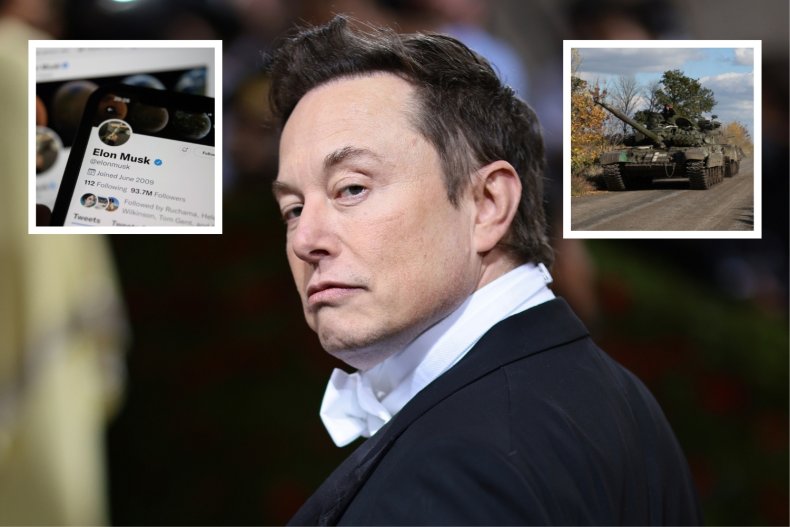 However, as noted by Alexandra Cirone, assistant professor of government at Cornell University, the viewpoint of a known troll who purposely makes provocative statements online should be considered carefully.
"Elon Musk is fundamentally performative on social media—he has a large following already, and he also knows that controversial content will be shared more widely," Cirone told Newsweek.
"Sensational and outrageous content, and disinformation, are also more likely to go viral. It's more likely he is trying to manipulate public opinion or the financial markets. Social media posts might give some clues to his worldview, or indicate he personally enjoys attention, but ultimately, they are strategic.
"We should be taking these posts with a grain of salt, and instead ask ourselves 'How does Elon Musk benefit from this post?' (Or tweet)?" Cirone said.
With this in mind, Newsweek has attempted to examine the often contradictory and seemingly random political views from Musk to determine where he may lie.
Russia-Ukraine War
Musk was recently criticized after he put his suggestions on how to end the Russia-Ukraine conflict in a Twitter poll, and asked his 108 million followers if they agreed with them.
Musk's ideas included a "redo" of elections in annexed regions under supervision of the United Nations, and that Russia will leave the territories if that was the "will of the people."
He also suggested that Crimea formally becomes part of Russia, eight years after Moscow annexed the region from Ukraine, and that Ukraine "remains neutral," seemingly suggesting it does not join NATO.
On Tuesday, Musk denied suggestions from Ian Bremmer, president of political risk research firm Eurasia Group, that he spoke to Vladimir Putin before tweeting out his ideas to end the Ukraine invasion which heavily favor the Russian president.
Ruling - Non-interventionism
Musk's view appears to be in line with a number of Republican figures who have been calling for an end to the war by seemingly asking Ukraine to willingly hand over territory to Russia.
Musk also did not advocate for the U.S. to involve itself to end the conflict, such as backing Ukraine by way of military aid, which suggests he is also leaning towards a non-interventionism stance, thus preventing the U.S. from getting involved in a war it is not directly involved with.
Taiwan
Musk also waded into the tensions between China and Taiwan by suggesting there could be some sort of arrangement between the two governments, which he admitted would not suit both sides.
In an interview with the Financial Times published on October 8, Musk said his recommendation would be to "figure out a special administrative zone for Taiwan that is reasonably palatable, probably won't make everyone happy."
Musk said the arrangement could be "more lenient" than what occurred with Hong Kong, which ended British rule and returned to China while still operating as a capitalist society in 1997.
The arrangement idea for Taiwan, a self-ruled island which China claims as part of its territory, was praised by Beijing but rejected by Taipei.
Ruling - Non-interventionism
As with his Ukraine solution, Musk's idea for Taiwan appears to appease the aggressor/authoritarian force.
From China's perspective, Musk is suggesting a solution similar to Beijing's. From Taiwan's perspective, it is appeasement.
U.S. Politics
The area that has sparked the most debate down the years is whether Musk is a Republican, Democrat, or libertarian.
In a September 2021 tweet, Musk claimed he preferred to "stay out of politics" while adding he believes the government "should rarely impose its will upon the people, and, when doing so, should aspire to maximize their cumulative happiness"—a viewpoint which can best be described as libertarian.
In the past, Musk was a registered independent voter who described his views as moderate, while spending millions lobbying for both main political parties.
On the eve of the 2016 election, Musk said he is not a supporter of Donald Trump, before joining the former president's business advisory council in 2017. Musk quit the council after the Trump administration pulled out of the Paris climate change agreement.
Musk has also denied that he voted for Trump in 2020, while suggesting Florida Governor Ron DeSantis would "easily win" against Biden at the next election.
The only time Musk has given an outright backing of a presidential candidate was in August 2019, when he threw his support behind Democratic presidential candidate Andrew Yang because he supported universal basic income.
In May this year, Musk vowed that in the future he would be voting Republican having usually voted Democrat. In June, Musk claimed he voted for Mayra Flores, a Republican who won the special election for Texas' 34th district.
The same month, Musk tweeted he was considering creating a moderate super PAC to support centrist candidates while also suggesting there would be a "massive red wave" in 2022.
Two months later, Musk described how he backs moderate Republicans as well as moderate Democrats.
"To be clear, I support the left half of the Republican Party and the right half of the Democratic Party!" the billionaire tweeted.
Ruling - Unclear
With Musk's views and actions seemingly going back and forth down the years, it seems fair to suggest Musk is a moderate swing voter, who now by his own admittance is a GOP voter who leans center-right.
However, it still remains to be seen where his allegiances will be in 2024, especially if Trump is in the running once more.
Free Speech
One of Musk's main desires to take over Twitter was to make the social network a "digital town square" where free speech is not restricted, and content is not harshly monitored.
This led to speculation that Musk would allow those who have been previously banned from the platform, such as far-right extremists, conspiracy theorists and Trump, to return and loosen censorship moderation policies which Twitter implements to remove hate speech.
Ruling - Civil libertarianism
By painting himself as a bastion of free speech in his plans to take over Twitter, Musk seems to be expressing a civil libertarianism philosophy in that a person's individual freedom should outweigh corporate or state rules.
However, Musk's views are in danger of aligning with the far-right, who will wait and see if the billionaire will turn Twitter into more extreme social networks such as Gab or Parler by removing all censorship and moderation policies.
Climate Change
The Tesla CEO who is attempting to pioneer electric vehicles expressed concerns about the risk of climate change to the planet.
In a 2018 interview with Rolling Stone, Musk referred to climate change as the "biggest threat that humanity faces this century."
While announcing that he would be leaving Trump's business advisory council in protest of the president pulling the U.S. out of the Paris climate agreement, Musk tweeted: "Climate change is real. Leaving Paris is not good for America or the world."
Musk has also suggested his main business goal is to sustain life on this planet, or any other.
"Tesla is to protect life on Earth. SpaceX to extend life beyond," Musk tweeted in July 2022.
Ruling - Environmentalist
The Tesla CEO is certainly no right-wing climate change denier, and his advocating for the protection of the planet squares his views with the more liberal environmentalist philosophy.
Taxes
Musk has frequently spoken out against government subsidies, all while his companies have benefited from billions of dollars in tax breaks, and has opposed introducing higher taxes for the rich.
In an October 2021 tweet discussing Democrats' plans to tax billionaires to pay for their social spending plans, Musk wrote: "Eventually, they run out of other people's money and then they come for you."
Musk has also bragged, or complained, that he has paid more taxes than anyone else in history, including a December 2021 tweet suggesting he was due to pay more than $11 billion in taxes that year.
Ruling - Conservative
Musk has frequently expressed right-wing views against using money from the richest to help the poorest in society.
His October 2021 tweet even appears to be referencing a famous quote from former Conservative British Prime Minister Margaret Thatcher, who once said: "The trouble with socialism is that eventually you run out of other people's money."
However, it should be noted that Musk's opinions on taxes could more be to protect his multiple business interests, rather than political views.