Elon Musk Talks About Truth Social as Trump Twitter Rumors Swirl
Tesla CEO Elon Musk tweeted about rival social media site TRUTH Social early on Wednesday morning as rumors continue to swirl that former President Donald Trump's Twitter account could be reinstated.
Musk, who recently agreed to buy Twitter for $44 billion, shared a screenshot from the Apple's App Store showing that Trump's site, TRUTH Social, was leading Twitter and TikTok in downloads.
"Truth Social is currently beating Twitter & TikTok on the Apple Store," Musk wrote.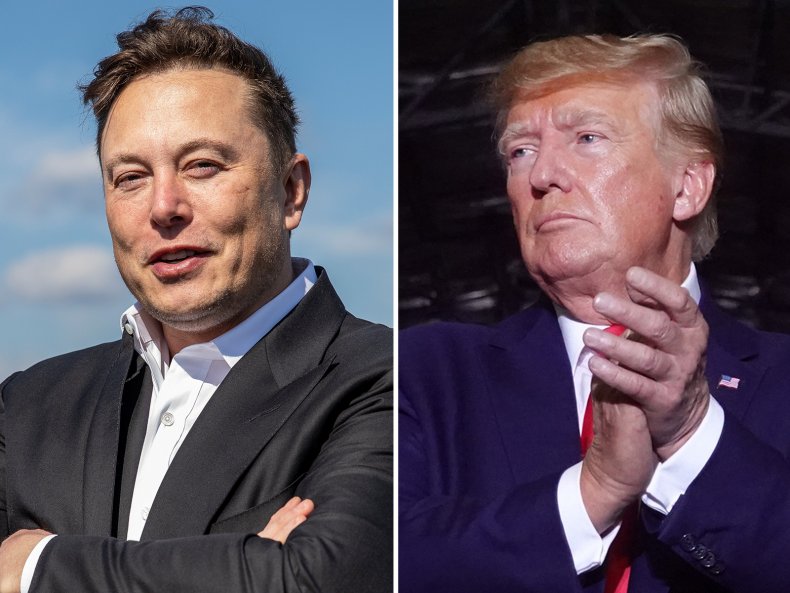 The former president told Fox News on Monday that he would not be returning to Twitter and would instead begin posting on TRUTH Social, which is owned by the Trump Media & Technology Group.
"I am not going on Twitter, I am going to stay on TRUTH," Trump said. "I hope Elon buys Twitter because he'll make improvements to it and he is a good man, but I am going to be staying on TRUTH."
Rumors that Trump could make a return to Twitter have been rife since Musk first announced his attempt to purchase the social media site. He was a frequent user of the site, often tweeting controversial statements and offering criticism of his political opponents.
Trump was permanently suspended from Twitter, as well as Facebook, Instagram, and Snapchat, following the Capitol riot on January 6, 2021. Twitter has said his suspension is permanent but once Musk owns the company, he could choose to reactivate the former president's account.
The former president discussed his suspension from Twitter during an interview with Piers Morgan that aired on Tuesday and called those running the social media platform "mentally ill."
However, he did not respond to a question about whether he missed Twitter but did say the site had become "boring" since his ban.
Musk has not said whether Trump's account will be reinstated or not, but he has repeatedly referred to the importance of free speech as he's moved to take over the company. He has also described himself as a "free speech absolutist."
"Free speech is the bedrock of a functioning democracy, and Twitter is the digital town square where matters vital to the future of humanity are debated," Musk said in a joint statement with Twitter announcing the deal.
Trump's TRUTH Social has been beset with problems since its launch in February and underwent "major capacity upgrades" aimed at improving the "performance and reliability" of the app on April 22.
Tens of thousands of potential users had been left on a waiting list for weeks, with no movement, or were faced with error messages when trying to join after the app launched on February 21.
Conservatives have long criticized Twitter and other social media platforms, often accusing major social media sites of censorship and seeking alternatives.
Trump told Fox News on Monday that he did not see TRUTH Social and Twitter as competitors. He said he would be formally set up on the site within seven days.
"This is a platform for my voice. TRUTH is a platform for my voice and for my supporters," he said. "But I want everybody to come over to TRUTH—conservatives, liberals, whatever."
Newsweek has asked Twitter and the Trump Media & Technology Group for comment.
Update 04/27/22 3:45 a.m. ET: This article was updated to include more information and a new image.